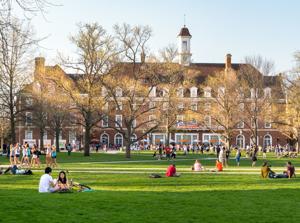 Reaction to affirmative action reversal 
Illinois leaders addressed the U.S. Supreme Court's decision to strike down affirmative action in college admissions Thursday. Many who spoke out after the ruling were not happy. The court overturned admissions plans at Harvard and the University of North Carolina. Gov. J.B. Pritzker said in a statement the ruling was a setback and discrimination has not been reversed in this country. The Illinois Board of Higher Education said the ruling is an attack on people of color. 
Storm's aftermath widespread 
Clean-up is underway in several Illinois communities after powerful fast-moving storms raced across the state Thursday. ComEd crews are heading downstate to respond to power outages, which are widespread and have left more than 100,000 customers without power. The city of Springfield declared a state of emergency and was under a curfew. The storm also caused damage in Bloomington-Normal, and in nearby Farmer City, where survey teams are investigating whether a tornado hit the area. 
Company sued for COVID fraud
Two recently unsealed federal lawsuits allege massive fraud was committed by Aaron Rossi, the owner of Reditus Laboratories, which resulted in taxpayers being bilked out of hundreds of millions of dollars. The suits, filed last year in Peoria by two whistleblowers on behalf of the federal government and the state of Illinois, make several allegations including that Reditus added diagnosis codes to all COVID-19 tests to imply there was suspected COVID to insure payment.