Michigan lawmakers approved an $82 billion budget centering on education, infrastructure and the environment in what was the first opportunity in decades that Democrats have had to craft a budget that reflects their legislative priorities.
The state's highest-ever budget was passed late Wednesday after Democrats — who hold a two-seat majority in the House and Senate — were able to receive the Republican support needed for it to take effect by the start of the next fiscal year on Oct. 1 once Democratic Gov. Gretchen Whitmer signs it as expected.
"We go back home our constituents will ask us, 'What have you done for us? How have you made our lives better?' This budget does that," said House Speaker Joe Tate, a Detroit Democrat.
Included in the budget is $24 billion in funding for Michigan's schools as the state looks to remedy learning setbacks from the pandemic. Schools will receive a 5% increase in per pupil funding, to $9,608 from $9,150, in addition to a $205 million increase across the state in funding for at risk students.
MICHIGAN LAWMAKERS APPROVE LEGISLATION BANNING CONVERSION THERAPY FOR MINORS
Democratic state Sen. Darrin Camilleri, a former teacher who helped shape this year's education budget, called it "truly historic" and said that Michigan is now "leading the nation when it comes to helping our at risk students.
A program to provide free breakfast and lunch for all students, regardless of income, is included in the budget as Michigan and other states look to fill the gap left by lapsed federal pandemic-era benefit programs and address the strain to family budgets caused by food prices.
The budget will also create universal pre-K for all 4-year-olds, a plan first unveiled by Whitmer earlier this year that she said will help "parents, especially moms, go back to work."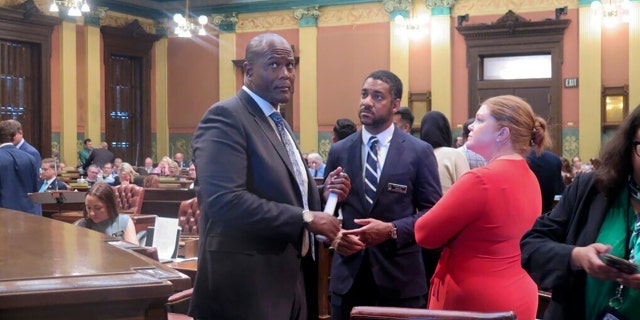 Michigan teachers could receive monthly payments toward student loans under a $250 million proposal in the budget as the state looks for ways to address educator shortages. Teachers in at risk districts could receive up to $450.
WHITMER REQUESTS DISASTER DECLARATION FOR SPRING FLOODING ON UPPER PENINSULA
Educational performance in Michigan has fallen steadily over the past decade in areas such as reading and mathematics, according to findings from the National Assessment of Educational Progress, often referred to as the nation's report card. The state ranks 43rd in fourth grade reading, according to the report.
Michigan's current budget is $76 billion but lawmakers began the budget process in February with an estimated surplus of over $9 billion because of high tax revenues. The new budget will leave about $300 million in general fund and $100 million in school aid fund dollars left unspent.
Republicans decried the transparency of the process after the $82 billion budget was first released publicly hours before it was voted on. They also said that the budget was too large and that more funding should have gone towards fixing roads.
Even with the objections, the budget received the six Republicans votes need in the Senate for it to take effect in time.
"Regardless of which side of this chamber you sit on, no budget is perfect. This one is no different," said Republican state Sen. Jon Runstead, the vice-chair of the Senate Appropriations committee. "But this budget before us incorporates many Republican priorities and I ask for a yes vote."
CLICK HERE TO GET THE FOX NEWS APP
The $57 billion general budget provides funding for state departments, including over $6.5 billion for Transportation and $1 billion for the Environment, Great Lakes and Energy. It also provides hundreds of millions in grants for public safety and infrastructure within communities.
Tate said on the House floor prior to the final vote that the general fund budget would help fix local roads, repair and replace water infrastructure, support public safety and enhance local communities, among other things.