President Biden and former President Donald Trump are in a virtual dead heat in a key general election battleground state in a potential 2024 rematch, according to a new poll.
Trump stands at 47% support and Biden at 46% among registered voters in Pennsylvania, according to a Quinnipiac University poll released Wednesday.
The survey indicates Trump winning the support of Republicans 89% to 7% and Biden with overwhelming 94% to 4% backing from Democrats. Among independent voters, the former president holds a 51% to 37% advantage.
WHAT A NEW POLL IN A CRUCIAL 2024 PRESIDENTIAL PRIMARY STATE SHOWS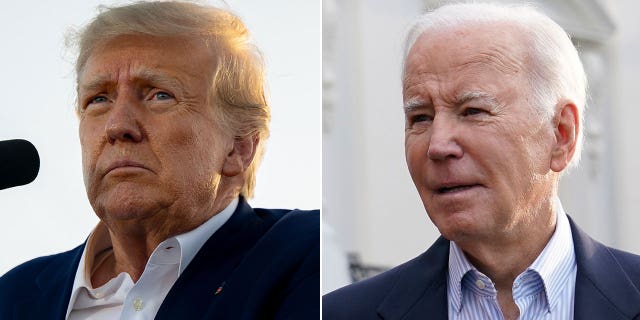 Biden, a Pennsylvania native who spent his early childhood in Scranton, edged Trump by just over 1% in the Keystone State in the 2020 election. Pennsylvania was one of six swing states where Biden narrowly defeated Trump to win the White House.
The president remains underwater with Pennsylvania voters, according to the survey.
HERE'S WHAT THE LATEST FOX NEWS NATIONAL POLLS SHOW 
"Voters give President Biden a negative 39-57% job approval rating, with 4% not offering an opinion," a release from Quinnipiac University noted.
But Trump was also in negative territory, with a 41%-57% favorable/unfavorable rating among Keystone State voters.
For Pennsylvania's Republican presidential primary, the poll indicates Trump would top Florida Gov. Ron DeSantis 49% to 25%, with every other candidate in a large field of GOP contenders in single digits.
WHO'S IN AND WHO'S ON THE SIDELINES — YOUR GUIDE TO THE 2024 GOP PRESIDENTIAL NOMINATION RACE
In the Democratic presidential primary, Biden grabs 71% support, with Robert F. Kennedy, Jr. at 17% and Marianne Williamson at 5%.
Pennsylvania is scheduled to hold its 2024 primary in late April, but there's an ongoing effort to move the date to mid-March, earlier in the presidential nominating calendar.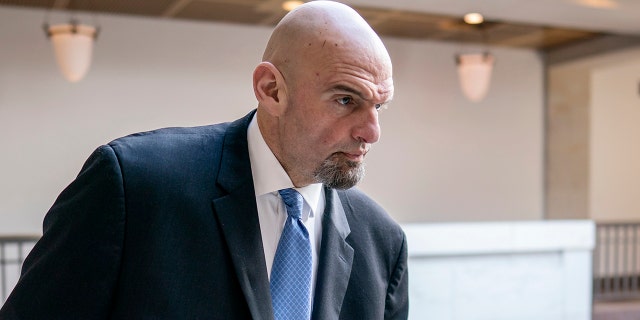 The poll indicates Democratic Sen. John Fetterman, who was elected last November, is underwater with a 39% to 50% job approval rating.
Longtime Democratic Sen. Bob Casey Jr. — who is seeking re-election next year — stands at 44% to 32%.
CLICK HERE TO GET THE FOX NEWS APP
And Democratic Gov. Josh Shapiro, who along with Fetterman was elected last year, stands at 57% approval and 23% disapproval.
The poll was conducted June 22-26 among 1,584 registered voters in Pennsylvania. The survey's overall sampling error was plus or minus 2.5 percentage points.