A conservative watchdog group is accusing Air Force Gen. Charles Q. Brown Jr. of embracing race-based hiring and promotions in the military for the sake of "diversity."
The American Accountability Foundation (AAF), an opposition research group that has claimed credit for dismantling several Biden nominations, is now targeting Brown, who is the president's nominee to serve as the next chairman of the Joint Chiefs of Staff. At issue for the group are various public statements Brown has made in which he offered full-throated support for the military's diversity, equity and inclusion, or DEI, programs.
Brown, the first Black man to lead any branch of the U.S. military, has been outspoken in his belief that the military should be proactive in elevating diverse candidates to key positions. His previous public statements that articulated his views provide ample ammunition for critics like AAF and Republican opponents of DEI policies to attack his nomination.
"All of us have to seek out those diverse candidates to bring them in. And that's what we're trying to do in the Air Force," Brown said in a 2020 interview with the Chicago Council on Global Affairs. "It's – you almost got to purposely manage some of this. You can't let it – if you do it by happenstance, we won't change."
WHO IS AIR FORCE GEN CHARLES BROWN JR, LIKELY REPLACEMENT FOR GEN MILLEY AS JOINT CHIEFS OF STAFF CHAIR?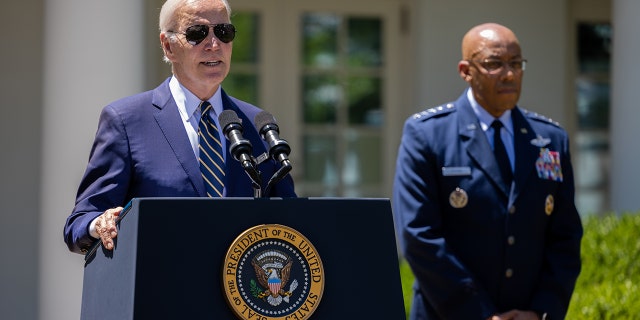 "I mean, I get so much out of it. I purposely build my office, my front office, and my team with [diversity], and I hire for diversity because they all bring a different perspective," Brown said.
Those comments, which were obtained by AAF and shared with Fox News digital, are one of many examples in which Brown has voiced support for diversity-focused hiring in the military.
"The things I think about is not only having diverse, you know, slates of candidates for some key positions, but it's also that you have to select some of those individuals into those key positions," Brown said earlier in the interview.
"You can't let it just be happenstance that brings in diversity, whether it be race, gender, ethnic background, sexual orientation or socio background," he said, explaining that the military should "identify diverse candidates and ensure that we are grooming them for opportunities."
BIDEN TO NOMINATE AIR FORCE GEN CHARLES BROWN JR AS JOINT CHIEFS OF STAFF CHAIR TO REPLACE ARMY GEN MARK MILLEY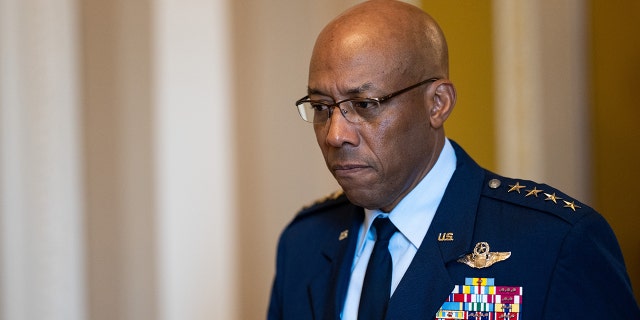 Brown made similar comments in a December 2020 virtual town hall posted to Facebook, emphasizing the need for diverse groups to "have opportunities to be in key positions and compete in those positions" and that "there's aspects of that on the enlisted side based on how we do their promotions as well."
And in a January 2021 interview with Washington Post columnist David Ignatius, Brown said the Air Force under his command works to "ensure that we have diverse candidates" on lists for panels and boards. "And the last thing I would say on that is how we encourage and mentor some of those diverse candidates because sometimes they may feel like they're not qualified to put their name in, and we've got to actually nudge and pull and actually purposely manage to ensure that we have diverse candidates that can compete," said Brown.
AAF President Tom Jones told Fox News Digital there's no place for "diversity games" in military hiring and advancement.
"The American people deserve to be defended by the most highly qualified soldiers, sailors and airmen in the world, selected by merit, not race. More importantly, our troops deserve to be led by officers who are the best at their jobs. They deserve to put their lives in the hands of officers chosen for their skill and courage, not the color of their skin," Jones said. "Gen. Brown's obsession with race-based hiring and promotions is extremely disturbing."
'WE MAKE THE LAWS': TUBERVILLE HOLDS THE LINE AGAINST DOD'S ABORTION POLITICES DESPITE PUSHBACK FROM DEMS, GOP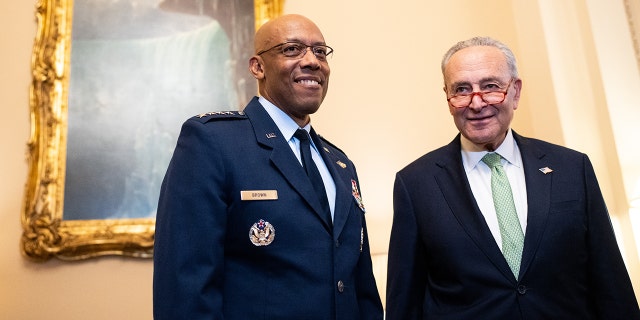 Reached for comment, an Air Force spokesperson said in a statement that the military branch "agrees the American people deserve to be defended by the most highly-qualified Airmen in the world, selected through a merit-based system of performance."
"General Brown's remarks reflect his and the Air Force's commitment to providing an opportunity for all to serve and an environment where every member of our organization can reach their full potential – to include serving in key positions and offices – so our warfighters can benefit from the best talent and leadership our Nation has to offer," the spokesperson wrote.
Biden announced his intention to elevate Brown to chair of the Joint Chiefs of Staff in early May, calling him a "warfighter" with "unmatched firsthand knowledge of our operational theaters."
Asked about AAF's opposition to Brown, the White House referred to the president's remarks in support of Brown's nomination.
SEN TUBERVILLE VOWS TO CONTINUE HOLD ON BIDEN DEFENSE NOMINEES OVER 'ILLEGAL' PENTAGON ABORTION FUNDING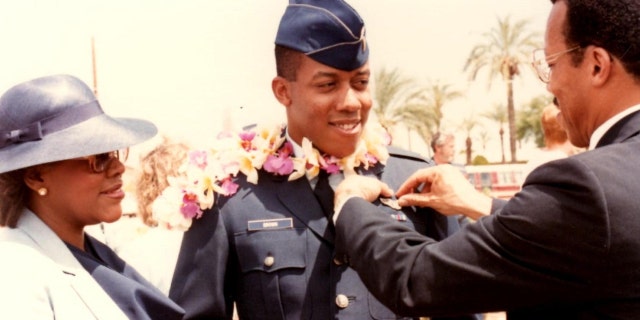 "General Brown has built a reputation across the force as an unflappable and highly effective leader; as someone who creates an environment of teamwork, trust and – and then executes with excellence; and someone who smokes a mean brisket," Biden said at the time.
Brown, a decorated F-16 fighter pilot with more than 3,000 flight hours, has received bipartisan support as he advanced through the ranks of the Air Force. Former President Donald Trump, a Republican, initially nominated Brown to be the 22nd Air Force chief of staff in March 2022. He was confirmed via a unanimous Senate vote shortly after in June 2022, making him the first African-American officer to serve as chief of staff of a military service.
Initial reports indicated Brown is a by-the-book officer, referencing talking points during public appearances and speeches. However, Brown released an emotional video shortly after George Floyd's death in 2020, wherein he detailed his experiences with racial prejudice in the military.
CLICK HERE TO GET THE FOX NEWS APP
Though Biden nominated Brown in May, he has yet to have his nomination heard by the Senate Armed Services Committee. Sen. Tommy Tuberville, R-Ala., has put a blanket hold on Biden's Department of Defense nominees over what he said was the Pentagon's "illegal" policy to reimburse travel for abortion and provide paid time off for service members or their family members who choose to terminate a pregnancy. Brown is included in that hold.
In a recent op-ed for the Wall Street Journal, Tuberville wrote that "our new national obsession with sexuality, race and gender is focused on self rather than on purpose, ability or service." If the Alabama Republican ever permits Brown's nomination to move forward, expect him and other GOP lawmakers to put Brown's statements under a microscope.
Fox News' Kyle Morris, Adam Shaw and Houston Keene contributed to this report.