Former Vice President Mike Pence took a shot at Florida Gov. Ron DeSantis in a piece published Monday, saying his 2024 challenger was "was following in the footsteps of the radical left" by warring with Disney. 
The former Indiana governor pointed to DeSantis as an example of Republicans abandoning free market principles, saying that his actions were an affront to American principles. 
"Another prominent example is Disney, a company that trumpeted its left-wing values by condemning conservative education and parental rights reforms in Florida. Governors around the country are right to pursue these policies and protect our kids," Pence wrote. 
"But when the governor of Florida decided to launch a full-scale campaign of governmental retribution against Disney, he wasn't taking a page out of the conservative playbook — he was following in the footsteps of the radical left," he added. 
MIKE PENCE VOWS TO PROTECT THE SANCTITY OF LIFE, PROMOTE ADOPTION: 'TO BE PRO-LIFE, YOU MUST BE PRO-ADOPTION'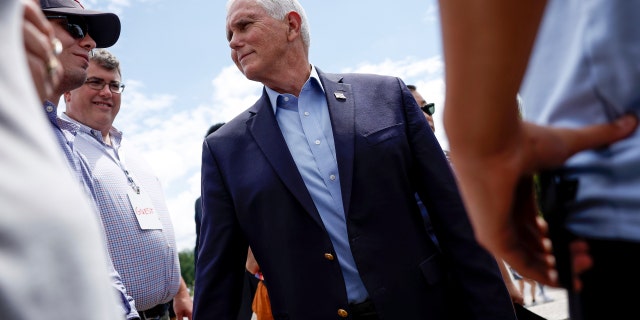 With his actions, Pence said DeSantis risked billions of dollars of investment, thousands of jobs and had "turned his back on the principles that make our country great."
"None of this was necessary. The best way to change businesses' behavior is to hit them where it hurts — the pocketbook. The American people seemingly understand this truth, as evidenced by their grassroots boycotts and changes in purchasing habits," Pence said, pointing to recent losses from "woke companies" Target and Bud Light. He stated that such companies are being called to account for "their ideological excesses."
"The bottom line is this: Conservatives can either be for politically motivated government intervention in the private sector, or we can be against it," Pence added. 
Pence, who officially launched his campaign earlier this month, also placed blame on Democrats for what he deemed an abuse of power and the constitutional order with the aim of serving its agenda and punishing foes.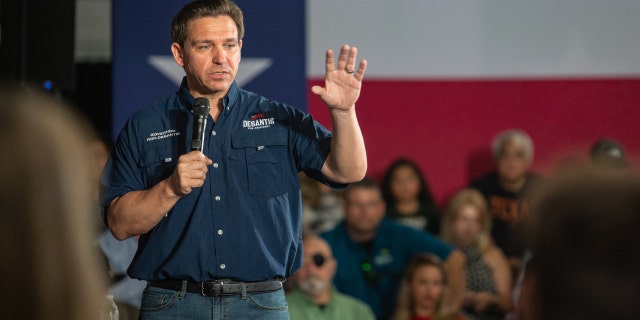 DESANTIS PLEDGES TO DEPUTIZE STATE, LOCAL LAW ENFORCEMENT TO ENFORCE IMMIGRATION LAW AS PART OF BORDER POLICY
He claimed that some Republicans would have his fellow party members "emulate" Democrats and "become progressive conservatives."
"We do not need to abandon our principles in order to win. We simply need leaders with the courage to speak hard truths, and faith that the American people will rally to our cause. Now as always, the physicians of the American soul must resist the temptation to put what is popular over what is wise," Pence concluded. 
Fox News Digital's requests for comment from DeSantis were not immediately returned, but a spokesperson for his campaign pointed the Tallahassee Democrat to a June 5 interview on the "Brian Kilmeade Show."
"But I think there's also the other issue of, you know, as Republicans, you can't just be a lackey for corporate America. You've got to be willing to stand up for individual taxpayers. You've got to be willing to stand up for small business. So the days of Republicans just deferring to large corporations, I think, need to be over," the governor told the "Fox & Friends" co-host.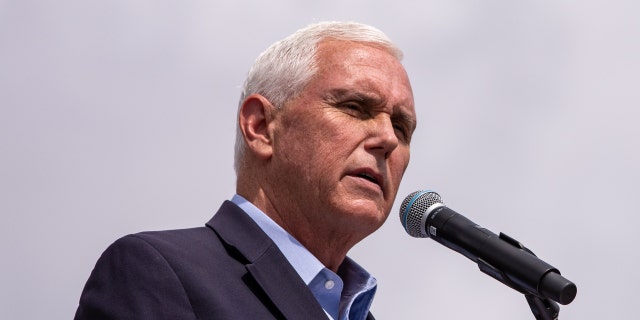 CLICK HERE TO GET THE FOX NEWS APP 
"Not all these other Republicans are willing to do that. But I think with me and what we've been able to do by fighting well, corporations and kneecapping ESG in Florida, we're willing to stand up to these people because I think they're trying to pursue an agenda that's not in the best interests of our country," he asserted.
The governor's yearlong feud with Disney goes back to last year, resulting in lawsuits both from Disney and the Central Florida Tourism board. 
The Associated Press contributed to this report.