Florida Gov. Ron DeSantis' 2024 campaign has released a video previewing the Republican presidential hopeful's release of his border security policy on Monday — promising that his administration will 'stop the invasion" at the southern border.
"We will secure the border. We will stop the cartels. We will build the wall. We will stop the invasion," the video says. "No excuses."
The video describes the border as a "complete disaster" and describes how "dangerous criminals and deadly drugs are pouring into the country."
"Every day, Americans are less and less safe," the video says, pointing to the record number of apprehensions of people on the terror watch list, as well as the large amounts of fentanyl being seized.
"Every year it just keeps getting worse."
DESANTIS TO UNVEIL PLAN TO SECURE SOUTHERN BORDER AS 2024 CAMPAIGN HEATS UP
DeSantis will formally unveil his policy in Eagle Pass, Texas on Monday – an area that has seen some of the busiest migrant traffic during the migrant crisis, which exploded in 2021.
The policy rollout will mark the first formal policy rollout by the governor. In advance, the campaign released new merchandise – emblazoned with slogans including "Build The Wall. No Excuses."
Combating illegal immigration is expected to be a top priority for DeSantis, who has made a number of anti-illegal immigration moves as governor of the Sunshine State. Earlier this year, he signed a sweeping anti-illegal immigration bill that mandates the use of E-Verify by employers, ups penalties for human and drug smuggling — and bars local jurisdictions from issuing IDs to illegal immigrants.
DESANTIS ANNOUNCES NATIONWIDE COALITION OF 90 SHERIFFS TO PUSH BACK AGAINST BORDER CRISIS
He has controversially sent illegal immigrants to Martha's Vineyard, Massachusetts, and most recently California as part of a program to relocate illegal immigrants. He recently secured a $24 million boost in funding for that program.
Florida also responded to a request for help from Texas Gov. Greg Abbott by deploying law enforcement – including National Guard troops – to the border, as well as drones and other resources.
As a presidential candidate, DeSantis has promised to shut down the border and declare a national emergency if elected and to resume border wall construction, end Biden-era policies and reinstate the "Remain-in-Mexico" policy. 
DESANTIS DEFENDS MIGRANT FLIGHTS TO CALIFORNIA, BLAMES SANCTUARY JURISDICTIONS FOR ENCOURAGING 'OPEN BORDER'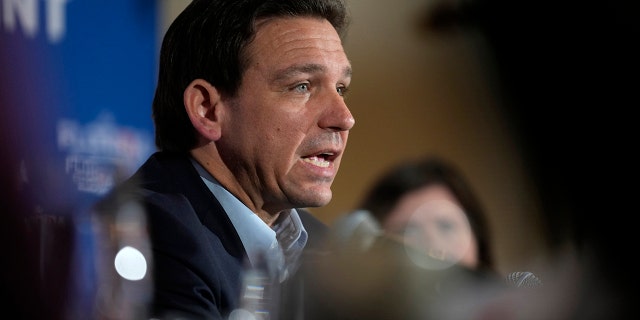 "We are going to shut down the border. We are going to build a border wall, we're going to end mass migration, and we are going to hold the Mexican drug cartels accountable," he said last month.
DeSantis visited the border earlier this month, receiving briefings and touring incomplete parts of the border wall — and last week he announced a nationwide 90-sheriff coalition to join forces to protect communities against the effects of the crisis. 
The rollout comes as the border crisis is still ongoing, with over 204,000 encounters in May, even though the Biden administration has touted a sharp drop in encounters since it put policies in place coinciding with the end of the Title 42 public health order on May 11.
CLICK HERE TO GET THE FOX NEWS APP
Republicans have continued to hammer the administration for what they call "catch-and-release" policies while winding back Trump-era policies. Florida recently successfully challenged a DHS policy to release migrants into the interior without court dates in the case of overcrowding. That policy is currently blocked as the case continues.
The administration has criticized lawsuits targeting its policies, and has called on Congress to pass a sweeping immigration bill to fix what it says is a "broken" system – but that legislation has yet to pick up significant Republican support.