Last week, two antisemitic demonstrations took place outside synagogues near Atlanta, Georgia. 
Gov. Brian Kemp condemned the neo-Nazi demonstrations and called the act shameful and disgusting.
A 2022 report found that antisemitic incidents have been on the rise across the country.
Georgia Gov. Brian Kemp condemned two neo-Nazi demonstrations that took place outside synagogues in Macon and near Atlanta on Friday and Saturday.
"There is absolutely no place for this hate and antisemitism in our state. I share in the outrage over this shameful act and stand with Georgians everywhere in condemning it," the Republican tweeted Sunday morning. "We remain vigilant in the face of these disgusting acts of bigotry."
A group of about a dozen neo-Nazi extremists — waving swastika flags and displaying antisemitic propaganda — gathered in front of an East Cobb synagogue, about 20 miles from Atlanta during services Saturday, The Atlanta Journal-Constitution reported.
VA. BOARD MEMBER BRAGS ABOUT USING TAXPAYERS' $3B FOR 'MUSLIM POWER,' PUSHING PALESTINIAN AGENDA IN SCHOOLS
County officials identified "these individuals as part of a small group that travel around the country in order to spread their hateful message," the Chabad of Cobb County said in a statement to WSB-TV.
"We are working closely with Cobb County officials and the Police Department to ensure the security and safety of our campus. There is no threat whatsoever at this time," the statement read.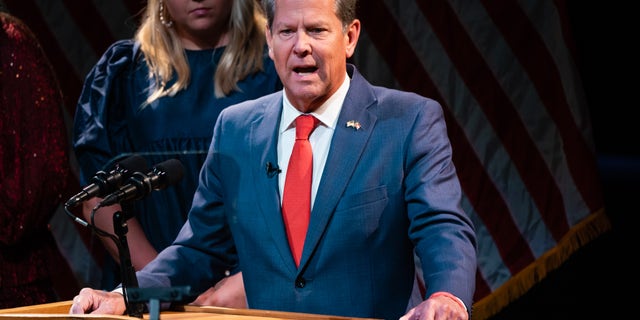 Similarly, on Friday a group of 15 protesters yelling antisemitic messages gathered outside Temple Beth Israel in downtown Macon.
The demonstrations drew outrage from politicians and residents, with hundreds of people gathering at Temple Beth Israel to take a stand against antisemitism.
CLICK HERE TO GET THE FOX NEWS APP 
"Yesterday we saw antisemitism on display in Macon, and now in metro Atlanta. This has got to stop," U.S. Sen. Raphael Warnock tweeted Saturday. "Praying for our Jewish community in Georgia and beyond. We must all raise our voices loudly against this vile hate."
Antisemitic incidents have been on the rise across the country. In 2022 there were 192 antisemitic incidents reported in Georgia, Alabama, South Carolina and Tennessee – a 120% increase from the previous year, according to a report from the Anti-Defamation League. In Georgia alone, there was a 63% rise in such incidents between 2021 and 2022.