Florida Gov. Ron DeSantis Monday will roll out his plan to secure the southern border at one of the most overwhelmed parts of the U.S-Mexico border in Texas.
DeSantis will roll out the policy in Eagle Pass, Texas, which has been one of the central hotspots of the crisis now into its third year. It marks the first formal policy rollout of his 2024 presidential campaign.
"Joe Biden's open border policies have destroyed our sovereignty, and Ron DeSantis will not rest until it is restored," DeSantis campaign spokesman Andrew Romeo said in a statement. 
"He will stop the invasion and secure the border once and for all, and there will be no excuses," he said. 
DESANTIS ANNOUNCED NATIONWIDE COALITION OF 90 SHERIFFS TO PUSH BACK AGAINST BORDER CRISIS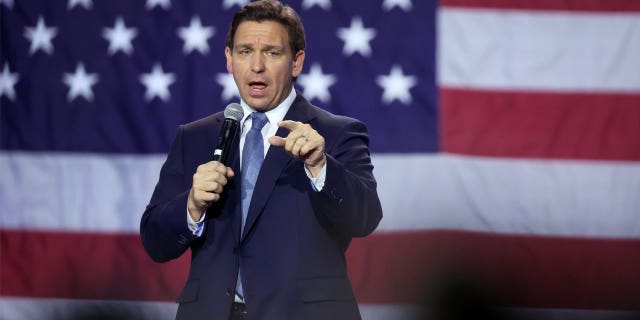 DeSantis has taken a hard line against illegal immigration. As governor, he has signed a sweeping anti-illegal immigration bill which mandates the use of E-Verify by employers, enhances smuggling penalties and bars local jurisdictions from issuing IDs to those in the country illegally.
DESANTIS DEFENDS MIGRANT FLIGHTS TO CALIFORNIA, BLAMES SANCTUARY JURISDICTIONS FOR ENCOURAGING 'OPEN BORDER' 
He has also sent illegal immigrants to Martha's Vineyard and California as part of a broader Republican push to transport illegal immigrants to "sanctuary" jurisdictions. Recently he sent law enforcement — including National Guard troops — to the southern border in response to a call for help from Texas.
As a presidential candidate, DeSantis has promised to shut down the border and declare a national emergency if elected, and vows to resume border wall construction, ending Biden-era policies and reinstating the "Remain-in-Mexico" policy. 
MIGRANT NUMBERS EXCEEDED 200,000 ENCOUNTERS AGAIN IN MAY AS TITLE 42 EXPIRED
"We are going to shut down the border. We are going to build a border wall, we're going to end mass migration, and we are going to hold the Mexican drug cartels accountable," he said last month.
The rollout of the policy will come just days after he announced a 90-sheriff coalition to join forces to protect communities against the effects of the crisis. The coalition includes sheriffs from Florida, California, Colorado, South Dakota, Maryland, Illinois, New York, Arizona, and Oregon.
DeSantis also visited the border earlier this month. There he held a roundtable with sheriffs from multiple states and received a confidential briefing from border sheriffs and prosecutors, as well as a tour of the border where the Trump-era wall remains incomplete.
CLICK HERE TO GET THE FOX NEWS APP
Republicans have criticized the Biden administration for expanding "catch-and-release," reversing Trump-era policies and reducing interior enforcement — arguing that those actions have fueled the historic crisis. 
The administration has said it is expanding lawful pathways for migration while restoring an asylum process decimated under the prior administration. It has linked a recent, sharp drop in encounters at the border to policies it has put in place with the end of Title 42 on May 11. However, migrant encounters for May were still over 204,000 overall.