Progressive House Democrats plan to boycott Indian Prime Minister Narendra Modi's speech to a joint meeting of Congress on Wednesday to protest India's human rights record.
"A joint address is among the most prestigious invitations and honors the United States Congress can extend," Rep. Alexandria Ocasio-Cortez, D-N.Y., said in a statement on Wednesday evening.
"We should not do so for individuals with deeply troubling human rights records – particularly for individuals whom our own State Department has concluded are engaged in systematic human rights abuses of religious minorities and cast-oppressed communities," she added.
Modi is scheduled to address Congress on Thursday afternoon after meeting with both President Biden and House Speaker Kevin McCarthy. He dined with Biden on Wednesday and will be the guest of honor at a White House state dinner, the same tradition extended to the leaders of South Korea and France during their recent visits.
INDIA GRAPPLES WITH SHRINKING FEMALE WORKFORCE AS POPULATION SOARS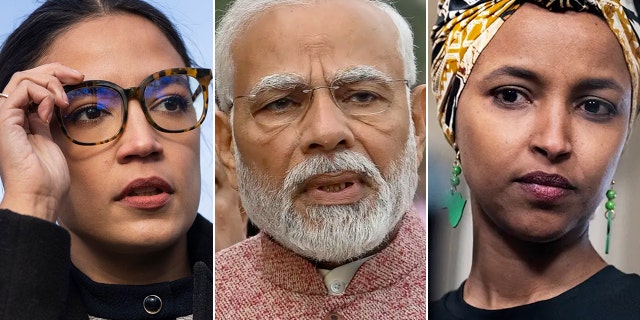 However, Biden's progressive allies are blasting Modi's anti-Muslim record and crackdown on journalistic freedom, including raids on BBC India's offices. His government has been accused of oppressing and endangering the roughly 220 million Muslims who call India home.
"It's shameful that Modi has been given a platform at our nation's capital —his long history of human rights abuses, anti-democratic actions, targeting Muslims & religious minorities, and censoring journalists is unacceptable. I will be boycotting Modi's joint address to Congress," Rep. Rashida Tlaib, D-Mich., said this week.
INDIA SET TO OVERTAKE CHINA AS WORLD'S MOST POPULOUS COUNTRY IN NEXT 3 MONTHS: UN REPORT
She and Rep. Ilhan Omar, D-Minn., the only two Muslim women to serve in the U.S. Congress so far, shared similar sentiments.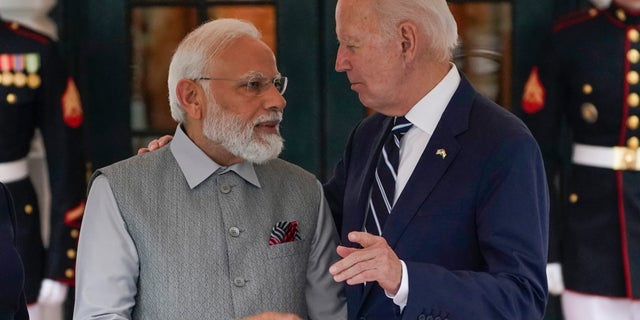 Omar wrote in a statement, "Prime Minister Modi's government has repressed religious minorities, emboldened violent Hindu nationalist groups, and targeted journalists/human rights advocates with impunity. I will NOT be attending Modi's speech."
Instead, she announced a "briefing with human rights groups to discuss Modi's record of repression and violence."
OC'S TWEETS ATTACKING CNN 'PUMPED UP' TRUMP DURING TOWN HALL: REPORT
Rep. Jamaal Bowman, D-N.Y., called Modi's appearance before Congress "unacceptable."
"We've seen how Prime Minister Modi has incited dangerous nationalism and violence in India, has promoted Islamophobia, and more. Inviting someone like him to speak to Congress is unacceptable, and I will not be attending his speech," Bowman said.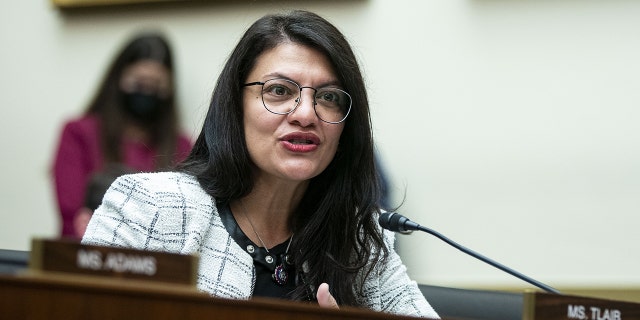 Rep. Cori Bush, D-Mo., said she would be skipping Modi's address "in solidarity with the communities that have been harmed by Modi and his policies."
CLICK HERE TO GET THE FOX NEWS APP
Modi and Biden are expected to hold a press availability Thursdsay afternoon, a rare occurrence for the Indian leader – he has not taken media questions at a press conference in his near-decade in the prime minister's office. The two leaders are slated to take just one question from a U.S. journalist and one from an Indian journalist.
Pressure is on the White House to deepen its connection with Modi, with India's allegiances to the U.S., Russia and China sure to play a critical role on the world stage as tensions continue to rise.