FIRST ON FOX: A group of Senate Republicans introduced legislation Wednesday that would disallow regulations targeting traditional gas-powered vehicles.
The Preserving Choice in Vehicle Purchases Act — introduced by Sen. Markwayne Mullin, R-Okla., along with Sens. John Barrasso, R-Wyo., Kevin Cramer, R-N.D, Ted Cruz, R-Texas, John Hoeven, R-N.D., Roger Marshall, R-Kan., Pete Ricketts, R-Neb., Dan Sullivan, R-Alaska, and Roger Wicker, R-Miss. — would block the Environmental Protection Agency (EPA) from issuing waivers to states seeking to ban or limit internal combustion engine vehicles. 
The Clean Air Act currently empowers the EPA to grant California a waiver to implement stricter emissions standards than the federal government.
"California's waivers are not about clean energy, they are about control," Mullin said in a statement to Fox News Digital. "Democrats want to control every aspect of Americans' lives – including what car they drive. If it were about clean energy, banning tailpipe emissions in favor of electric vehicles that strain an unstable grid is not the solution."
"This bill will ensure Americans can choose what vehicle is best for themselves and their families, and allow that choice to dictate the market," he continued.
MORE THAN 150 REPUBLICANS UNITE TO CONDEMN BIDEN'S 'ILL-CONSIDERED' ELECTRIC VEHICLE PUSH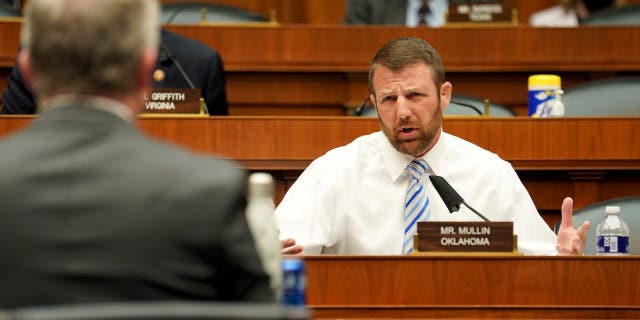 In March 2022, the EPA reinstated California's authority under the Clean Air Act to implement its own emission standards and electric vehicle sales mandates, and allowed other states to adopt California's rules. The move came after the Trump administration revoked the state's authority to pursue its own standards countering federal rules.
Months later, in August, the California Air Resources Board, a leading state environmental agency, approved regulations mandating that all car purchases in the state — which leads the country in annual car sales — are zero emissions by 2035. California Gov. Gavin Newsom celebrated the regulations, saying the state would continue to "lead the revolution towards our zero-emission transportation future."
CALIFORNIA'S GRID FACES COLLAPSE AS LEADERS PUSH RENEWABLES, ELECTRIC VEHICLES, EXPERTS SAY
In addition, 17 states have laws in place that tether their vehicle emissions standards to those set in California, meaning the electric vehicle mandate would impact Americans nationwide. Overall, it is estimated that the states adopting California's 2035 rule represent more than 40% of total U.S. car purchases.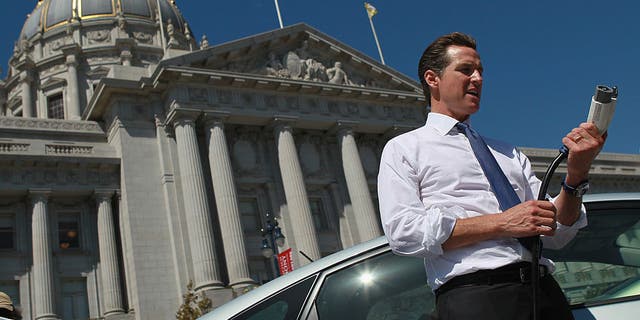 "Capitalism has already proven that internal combustion engine vehicles continue to contribute to the overwhelming majority of vehicle purchases in America," Mullin added. "Not to mention, America is less secure when we are dependent on foreign adversaries for critical mineral supply." 
"I will not sit back and allow the federal government to make purchasing choices for consumers in Oklahoma, especially when our national security is at stake."
CLICK HERE TO GET THE FOX NEWS APP
Mullin's bill is companion legislation to one introduced by Rep. John Joyce, R-Pa., and three fellow House Republicans earlier this year.
"California's discriminatory waiver request would set a costly and dangerous precedent," Joyce said in a statement. "One state should not be able to set national policy and Americans should not be coerced into making purchases they cannot afford." 
"Congress must immediately pass the Preserving Choice in Vehicle Purchases Act to stop this heavy-handed proposal that only takes away choices from American consumers."