A federal judge on Tuesday ruled an Arkansas law that bans hormone treatment, puberty blockers or surgery for transgender minors is unconstitutional.
U.S. District Judge Jay Moody said that the first-in-the-nation law violated the due process and equal protection rights of transgender youth and their families and it violated the First Amendment rights of health care providers by prohibiting them from referring patients elsewhere. 
"Rather than protecting children or safeguarding medical ethics, the evidence showed that the prohibited medical care improves the mental health and well-being of patients and that, by prohibiting it, the state undermined the interests it claims to be advancing," Moody wrote. 
Republican Attorney General Tim Griffin said he was "disappointed" in the ruling and plans to appeal it to the Eight Circuit. 
TRUMP-APPOINTED JUDGE RULES AGAINST TRANSGENDER STUDENT'S DEMAND TO WEAR HEELS AND DRESS TO GRADUATION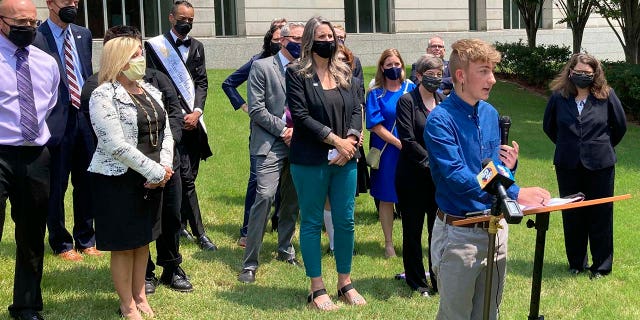 "I am disappointed in the decision that prevents our state from protecting our children against dangerous medical experimentation under the moniker of 'gender transition,'" he wrote in a statement. "Unfortunately, Judge Moody misses what is widely understood across the United States and in the United Kingdom and European countries: There is no scientific evidence that any child will benefit from these procedures, while the consequences are harmful and often permanent. I will continue fighting as long as it takes to stop providers from sterilizing children."
Last year, the Eighth Circuit upheld Moody's temporary block of the law in 2021. 
The ban was enacted in 2021 after the state legislature overrode a veto by former Gov. Asa Hutchinson who argued the law went too far by blocking current patients from continuing treatment. 
EUROPE PUMPS THE BRAKE ON TRANSGENDER CARE FOR MINORS AMID UPROAR IN US 
"This decision sends a clear message," Holly Dickson, executive director of the ACLU of Arkansas, said in a statement after the ruling. "Fear-mongering and misinformation about this health care do not hold up to scrutiny; it hurts trans youth and must end. Science, medicine, and law are clear: gender-affirming care is necessary to ensure these young Arkansans can thrive and be healthy." 
The ACLU had brought a lawsuit over the ban on behalf of four transgender youth and their families and two doctors.
In March, Arkansas Gov. Sarah Huckabee Sanders, signed legislation to make it easier to sue providers of transgender procedures for children. The law takes effect later this summer.
In a statement posted to her Twitter after the ruling, Sanders said "This is not 'care' – it's activists pushing a political agenda at the expense of our kids and subjecting them to permanent and harmful procedures.  Only in the far-Left's woke vision of America is it not appropriate to protect children.  We will fight this and the Attorney General plans to appeal Judge Moody's decision to the Eighth Circuit."
Dylan Brandt, a transgender 17-year-old testified about receiving hormone therapy in the state before the ruling. 
CLICK HERE TO GET THE FOX NEWS APP
"I'm so grateful the judge heard my experience of how this health care has changed my life for the better and saw the dangerous impact this law could have on my life and that of countless other transgender people," Brandt said in a statement released by the ACLU.
Other Republican-led states have since adopted similar laws restricting transgender procedures with some facing legal challenges. 
The Associated Press contributed to this report.