Republican Florida Gov. Ron DeSantis made a campaign stop in San Francisco on Tuesday and was upset by what he witnessed in the "once great city."
In a one-minute video released by the GOP hopeful's presidential campaign, DeSantis said San Francisco has "collapsed" because of "leftist policies."
"We saw people defecating on the street. We saw people using heroin, we saw people smoking crack cocaine," DeSantis said. "The city is not vibrant anymore. It's really collapsed because of leftist policies, and these policies have caused people to flee this area. They don't prosecute criminals like they do in most parts of the country, and the wreckage is really sad to see."
Crime and rampant drug use have recently spurred retailers and businesses to leave downtown San Francisco in droves as the city faces a record budget deficit.
DESANTIS TAKES AIM AT CALIFORNIA HIGHLIGHTING RISING CRIME, HOMELESSNESS IN NEW CAMPAIGN VIDEO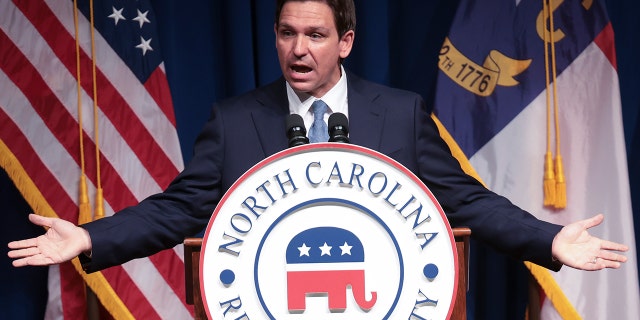 "It just shows you that policies matter, leadership matters," DeSantis said as he criticized the number of boarded-up businesses and expressed dismay at the "riffraff" on city streets.
"They are doing it wrong here," the governor added. "No wonder why we've had so many people move from San Francisco to Florida over the last few years."
California lost 117,552 people between Jan. 1, 2021, and Jan. 1, 2022, according to the state's Department of Finance, bringing its population back to where it was in 2016.
'GRAPHIC MATERIALS' WARNING APPEARS ON DESANTIS SUPER PAC MAILINGS TO PRIMARY VOTERS IN IOWA, SC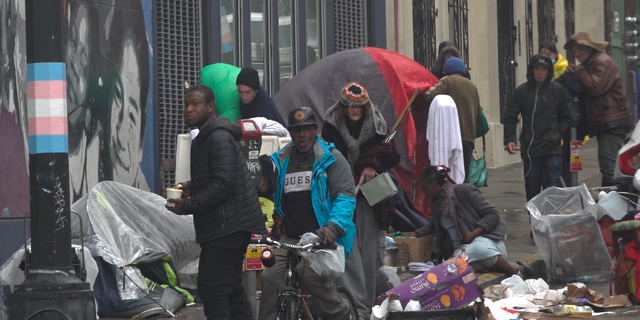 In 2022, Florida saw the biggest rush of new residents migrating from predominantly blue states with steep taxes, with about 319,000 Americans making the move there, according to data from the National Association of Realtors. That amounts to a population increase of nearly 2% – well above the 0.4% national growth rate recorded in the U.S. between July 2021 and July 2022.
DeSantis' criticisms come after Democrat California Gov. Gavin Newsom has waged a war of words against Florida, accusing GOP policies of diminishing LGBTQ+ rights, contributing to gun violence, harming migrants and infringing on abortion rights.
"Republican leaders, they're banning books, making it harder to vote, restricting speech in classrooms, even criminalizing women and doctors. I urge all of you to join the fight, or join us in California, where we still believe in freedom," Newsom said in a television ad that aired in Florida.
TRUMP SAYS DESANTIS ATTACKS ARE PERSONAL, CALLS HIM 'DISLOYAL' FOR RUNNING AGAINST HIM: 'I GOT HIM ELECTED'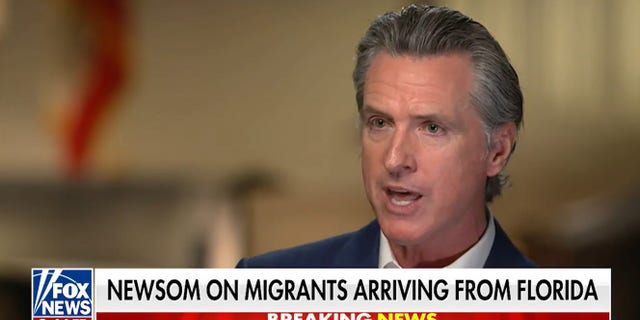 The California governor has set himself up as a foil to DeSantis' policies – though unlike DeSantis, Newsom has repeatedly said he will not run for president in 2024 and has endorsed President Joe Biden for reelection. He has even gone so far as to threaten DeSantis with criminal kidnapping charges after a Florida-linked contractor flew migrants to Sacramento, California's capital.
During a Thursday press conference last week in Fort Pierce, Florida, DeSantis poked fun at Newsom for having a "fixation" on Florida and dared the California Democrat to "stop pussyfooting around" and enter the 2024 presidential race. 
CLICK HERE TO GET THE FOX NEWS APP
"I think it's just bizarre that [Newsom] does that," DeSantis said. "What I would tell him is, 'You know what? Stop pussyfooting around. Are you going to throw your hat in the ring and challenge Joe?'"
Fox News' Bradford Betz contributed to this report.