President Biden, while attending a fundraiser in California on Tuesday, called Chinese President Xi Jinping a dictator.
The U.S. president also echoed comments about a Chinese spy balloon that drifted across the U.S. earlier this year, saying Xi was embarrassed that the balloon was blown off course.
Reuters reported that Biden made the remarks at a fundraiser in California, a day after Secretary of State Antony Blinken met with the Chinese president in China to ease tensions between the two countries.
BIDEN ATTENDS SILICON VALLEY FUNDRAISER HOSTED BY BILLIONAIRE WHO TRAVELED TO JEFFREY EPSTEIN'S ISLAND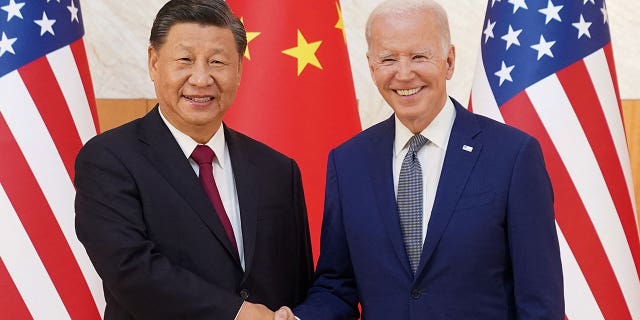 Following his meeting with Xi on Monday, Blinken told reporters the relationship between the U.S. and China took a "positive step" during his trip, as both agreed on the need to stabilize the relationship.
Biden said over the weekend he hopes to speak with Xi about how the U.S. and Beijing can "get along."
CLICK HERE TO GET THE FOX NEWS APP 
Biden planned to attend four fundraisers in California since his arrival on Monday, as he ramps up his 2024 campaign.
Reuters contributed to this report.