Underdog Democratic presidential candidate Marianne WIlliamson has amassed an enthusiastic following on social media, something she believes can translate into real votes as she seeks to unseat President Biden in the party's primary.
"American politics is very unpredictable," Williamson told Fox News Digital. "That's part of what makes it exciting and what makes it kind of challenging at times. If you're running, you run to win. You run to get your ideas out in front of the voters."
WIlliamson, who is making her second bid for president, is seen by most as a long shot to secure the Democratic nomination. The New York bestselling author's first bid for president in 2020 saw her participate in two Democratic debates and generate some interest from voters who may not have known who she was previously. But Williamson ultimately fell short of gaining the traction she needed and dropped out of the race before the first nominating contest in Iowa.
MARIANNE WILLIAMSON CAMPAIGN MANAGER PREVIOUSLY ACCUSED OF MISUSING GROUP FUNDS TO BUY CONCERT TICKETS: REPORT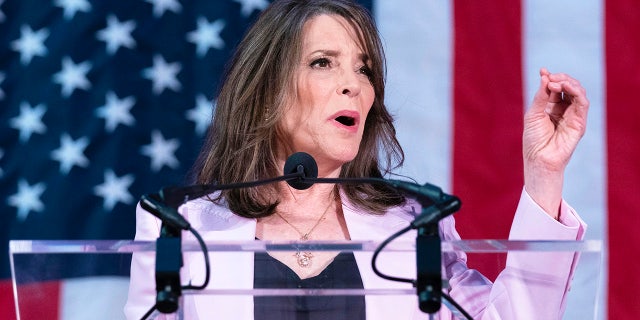 Her 2024 bid faces perhaps an even bigger test in attempting to keep an incumbent president from regaining his party's nomination, a feat that hasn't been accomplished since 1884, well before voters were tasked with choosing the nominee.
But there are signs Williamson can be more than just an also-ran in the 2024 race, with the latest Fox News polling data showing she has the support of 9% of Democratic primary voters. She's also effectively leveraged social media, amassing an enthusiastic following on platforms such as TikTok.
According to a report from the Intercept in April, Williamson had already amassed over 11 million views on videos posted to TikTok despite only publishing 65 posts. Accounts dedicated to posting her every media appearance and speech have also proven popular, raising her profile significantly with young voters.
Asked about her success on social media, Williamson believes she has tapped into the feelings of many young Americans.
2024 HOPEFUL MARIANNE WILLIAMSON BLASTS BIDEN, DNC FOR NOT HOLDING DEBATES: 'CANDIDATE SUPPRESSION'
"I think young people understand the message I'm giving," Williamson told Fox News Digital. "I don't understand why they should have to live their lives at the effect of bad economic ideas left over from the 20th century."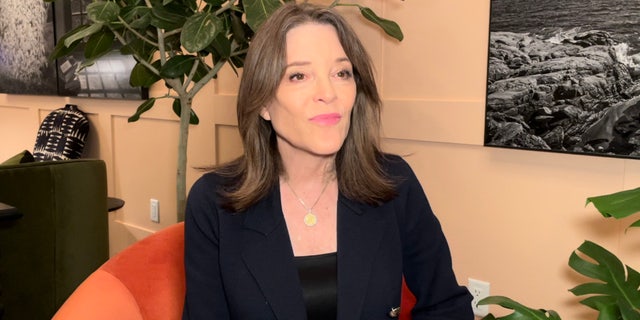 WIlliamson boasts a platform that places her firmly in the progressive wing of the Democratic Party, supporting universal health care under a "Medicare-for-all" type model, an aggressive approach to combating climate change, and the forgiveness of all public and privately held student debt.
Such a message, Williamson believes, will especially appeal to the country's young.
"They look at young people in other countries, for every other advanced democracy as a matter of fact, and they say…. 'Why don't we have universal health care? Why don't we have tuition-free college and tech schools?' And they're right to ask that question and I think they appreciate the fact that I'm asking."
HUGE MAJORITY OF AMERICANS OPPOSE BIDEN RUNNING AGAIN, CITING ONE 'MAJOR' FACTOR: POLL
When it comes to how to translate social media success into actual votes, Williamson is pinning her hopes on the quality of her message.
"What I'm counting on is that… my conviction about these ideas and the quality of the ideas is enough. The sheer importance of the message and truth of the message," she said. "That's what you're hoping for, you know, ideas go viral in the United States."
But Williamson acknowledges the road to an upset will not be an easy one, something she argues is because of how the media covers elections.
"It's unfortunate, isn't it?" Williamson said. "We have a political media industrial complex and a lot of mainstream media on both left and right clearly makes its decisions what candidates it's willing to highlight and which candidates it chooses to blackball."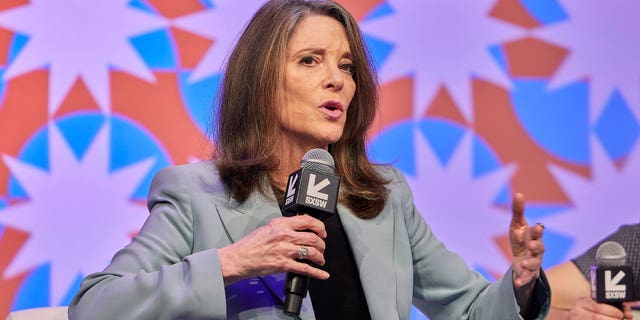 CLICK HERE TO GET THE FOX NEWS APP
Williamson also took aim at the major political parties themselves, saying they "exert a lot of power," while she believes it is the "voters who should be making these decisions."
"My contention is simply that – and this is also the contention of eight out of 10 likely Democratic voters – is that the Democratic electorate should decide… that's part of the democratic process," Williamson said. "I think it's very important… particularly at a time like this in America, that all voters across the political spectrum hear their options." 
Continuing to get her message out, despite the obstacles, will be the key going forward, Williamson said.
"You just do what you can to put your word out there and be on whatever independent media you can," she said. "Create your own media on social media, you hit the ground running. You go to places, you go to cities, you talk to people, and that's really the beauty of American democracy. It's people talking to people."