Republican presidential candidate Francis Suarez — the current mayor of Miami — has taken aim at Florida Gov. Ron DeSantis over his efforts to prevent school employees or third parties from instructing kids on sexual orientation and gender identity in the state of Florida.
"I think that that's excessive," Suarez told NBC News of the effort in an interview released last week.
Suarez has vocally supported LGBTQ issues, including statements praising Maimi's transgender community, as the issue has become a lightning rod for many in the GOP.
DeSantis worked to pass the Parental Rights in Education Act last summer to protect the innocence of children by banning school employees or third parties from instructing kids on sexual orientation and gender identity in grades kindergarten through third, according to a previous Fox News report. In April, at the request of DeSantis, the Florida Board of Education extended the effort to cover all grades.
"I think we need to make sure that, you know, young adults do get sex education training," the Miami Republican said Friday. "We need to make sure that our children can grow up in an environment where they can make good choices, but I don't think it should be indoctrination. And I think that's where… there can be a debate."
MIAMI MAYOR FRANCIS SUAREZ FILES TO RUN FOR PRESIDENT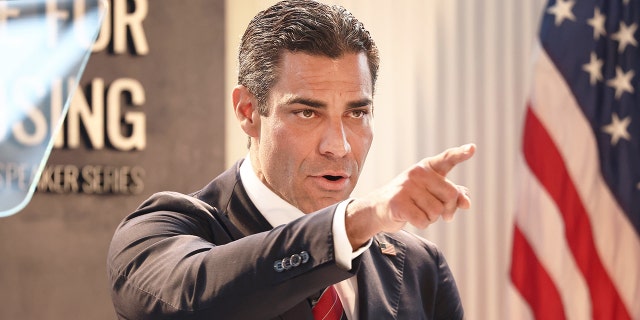 No stranger to Miami's LGBTQ residents, Suarez has worked during his tenure to advance causes and efforts favored by those in the community, many of which ideas would be considered out of step with many GOP presidential hopefuls.
In June 2021, Suarez shared a video to social media recognizing Pride Month and said he would be "celebrating all month long."
"June is Pride Month! What began as a statement of defiance against outdated laws now serves as a reminder and commemoration of where this movement all began over 50 years ago," he wrote in a tweet at the time. "As the Mayor of Miami, I stand with the LGBTQ+ community in celebrating all month long."
One year prior, in September 2020, Suarez signed the city of Miami's LGBTQ Ordinance, which, according to Suarez at the time, recognizes "decades of contributions by the LGBTQ Miami residents to the economy and diversity of the city!"
Suarez noted at the time that the ordinance would establish the creation of a database, "assigning LGBTQ businesses in Miami as a designated minority businesses," among other things.
The mayor also "honored Transgender Day of Rememberence [sic] and Resiliency with a very special luncheon" during the fall of 2019. "This is #miamiforeveryone," he wrote in a social media post at the time.
TRUMP, HALEY, DESANTIS? HERE'S EVERYONE RUNNING, RUMORED, OR SITTING OUT THE GOP 2024 PRESIDENTIAL PRIMARY
Additionally, Suarez was photographed in 2018 attending the Boston Pride Parade alongside a number of mayors from around the country.
"There is nothing about being a conservative that requires me to hate anyone," Suarez said in a statement to Fox News Digital. "Anyone in our party that believes hate is a fundamental element of our party is mistaken and misguided. I get over 80 percent of the vote in my city because I prefer to build unity over throwing people out of the tent. I serve every citizen and as President I will value every American."
Suarez's decision to engage with the LGBTQ community in Miami, as well as celebrate pride month with residents in the populous Florida city, stands in contrast with that of not only DeSantis, but other 2024 GOP contenders — like former President Trump, former Vice President Mike Pence and former South Carolina Gov. Nikki Haley. They, too, hold positions similar to that of DeSantis on issues pertaining to the LGBTQ community, specifically when it comes to sex change surgeries for minors and forcing Americans to fall in line with the use of pronouns in the federal armed forces.
Earlier this year, in a video shared to Truth Social, Trump vowed to "stop" sex change treatments for minors, which he said were like "child abuse" and "child sexual mutilation." Similarly, Haley has taken aim at the use of pronouns in the military, saying it is "too much" and "what a small minority want on the majority of Americans."
During a February stop in Des Moines, Iowa, Pence took aim at the "radical gender ideology" that he said plagued the American way of life.
"It's invaded our schools, our colleges and our workplaces," Pence told a crowd at Cedar Rapids Pizza Ranch. "Every day we are told not only that we have to tolerate the left's increasingly bizarre obsessions with race and sex and gender, but that we have to enthusiastically participate or face severe consequences."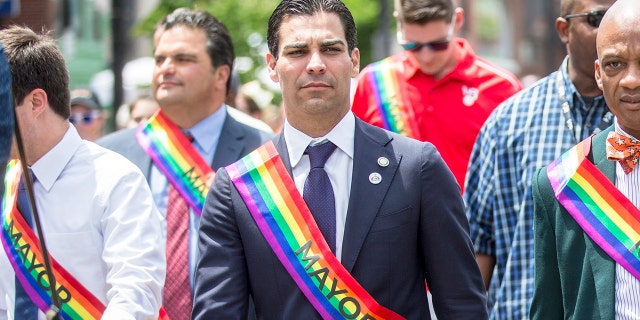 Suarez's comments to NBC News, which were published two days after he filed paperwork declaring his campaign for president in 2024 as a Republican, come as the mayor faces an ethics investigation. Earlier this year, the Miami Herald reported that Suarez, who receives $130,000 in compensation to serve as mayor, is facing an ethics investigation for outside payments he received for private consulting.
The Miami-Dade Commission on Ethics and Public Trust has opened an investigation in coordination with the Miami-Dade State Attorney's office into Suarez's work for developer Rishi Kapoor, who paid him at least $170,000 since 2021, according to the report.
Suarez has repeatedly denied any possible conflicts of interest. Speaking to Fox News, he accused the Herald of liberal bias.
"All of a sudden, they assign three reporters and come up with all these allegations in advance of what appears to be a major announcement that you indicated next week," he told anchor Shannon Bream.
The Democratic National Committee (DNC) has slammed Suarez as "yet another contender in the race for the MAGA base who has supported key pieces of Donald Trump's agenda."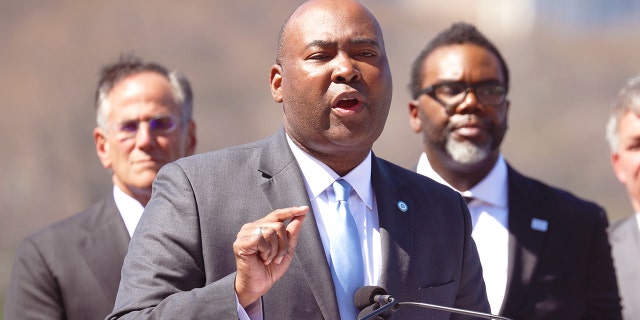 "As mayor of Miami, Suarez has repeatedly used his position to benefit himself, prioritizing pay raises for himself, accepting lavish gifts, and taking shady payments – all while ignoring the biggest challenges facing the people he was elected to serve," DNC Chairman Jaime Harrison said. "As the MAGA field keeps growing, we'll keep reminding the American people that there's not a dime's worth of difference between these extreme, self-serving candidates."
CLICK HERE TO GET THE FOX NEWS APP
According to the Reagan Foundation, Mayor Suarez, whose father, Xavier Suarez, was Miami's first-ever Cuban-American mayor, was "elected with a mandate of 86 percent" in 2017 and then "re-elected with a mandate of nearly 79 percent" in 2021.
Fox News' Maria Lencki, Jessica Chasmar, and Paul Steinhauser contributed to this report.