Indiana Attorney General Todd Rokita is leading a Republican state charge to overturn a key Biden-era asylum rule, accusing the administration of aiding an "invasion" of the U.S. southern border as the policy faces a barrage of lawsuits.
"This is naked lawlessness being orchestrated by our own leaders," Indiana Attorney General Todd Rokita told Fox News Digital in an interview.
Eighteen states, led by Indiana, are challenging the "Circumvention of Lawful Pathways" rule that was implemented on May 12 as rapid expulsions under the Title 42 public health order expired.  
The Biden administration rule presumes migrants to be ineligible for asylum if they have entered illegally and have failed to claim asylum in a country through which they have already traveled — although it includes a number of exceptions. The administration has said it is designed to discourage irregular migration and encourage migrants to use the expanded legal pathways it has expanded significantly.
GOP-LED STATES TAKE AIM AT 'SMOKE SCREEN' BIDEN ASYLUM RULE WITH NEW LEGAL CHALLENGE 
That ineligibility presumption can be challenged if migrants show exceptional circumstances. The provision has already faced a legal challenge from many on the left who argue it unnecessarily limits the right of migrants to claim asylum.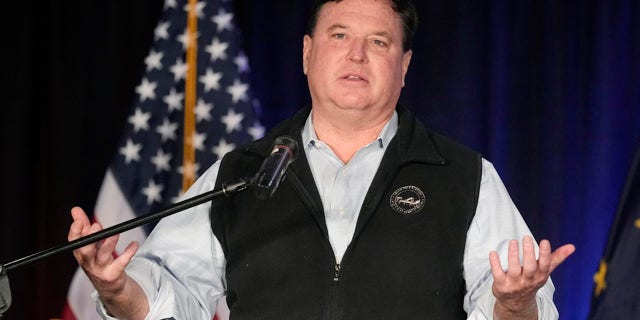 But Republicans have also bristled at the rule, arguing that it is part of a system that moves otherwise illegal immigrants into thinly-veiled legal pathways. The lawsuit by the Republican states argues that the rule "tries to define the problem away by re-characterizing what would be illegal crossings as 'lawful pathways.'"
"The Defendants claim that the Circumvention Rule will deter illegal border crossings, decrease the number of new unlawful aliens in the United States, and reduce reliance on human smuggling networks. The truth, however, is that the Circumvention Rule is some combination of a half measure and a smoke screen," the states argue. "It is riddled with exceptions, and it is part of the Biden Administration's broader effort to obfuscate the true situation at the Southwest Border."
KEY BIDEN ASYLUM RULE FACING MOUNTING LEGAL BATTLES IN WAKE OF TITLE 42 EXPIRATION
The lawsuit goes on to argue that the accompanying parole policies used by the administration "will increase the number of unlawful aliens in the United States by guaranteeing a quicker path to quasi-legal status in the United States (with accompanying work permits and access to entitlement programs and social services)."
The Biden administration has, however, cited a 70% drop in overall encounters at the border since the highs just before the end of Title 42, which it says are signs that the new methods are working, although officials have also warned against concluding that numbers will remain relatively low.
"As a result of planning and execution—which combined stiffer consequences for unlawful entry with a historic expansion of lawful pathways and processes—unlawful entries between ports of entry along the Southwest Border have decreased by more than 70 percent since May 11," a recent DHS statement said, citing removals of over 38,000 migrants between May 12 and June 2. "DHS has overseen significant expansions in lawful pathways even as we have repatriated a significant number of migrants."
But critics note the use of the parole programs — including 30,000 migrants a month being admitted from Cuba, Haiti, Venezuela and Nicaragua — as well as an increased 1,250 appointments a day being held at border ports scheduled by the CBP One app as indicators that the administration is still releasing migrants into the U.S. via other means as well.
"I see this and many do as an invasion not only of our country's sovereignty but our state sovereignty," Rokita said. "And that invasion, again, is being aided and abetted, if not directly orchestrated, and I think it's more the latter by socialists in the White House who don't want us to be sovereign, don't want us to be strong." he said. 
"No country can have any independence if it doesn't have its own borders, language and culture. And they are destroying that on all fronts," he said. "And so what do states do? Well, we take the lead." 
The Biden administration has pushed back against Republican claims of neglect at the border. The administration says it has been working to create a safe, orderly and humane system at the border which it says was gutted by the prior administration, while tackling root causes of migration. Meanwhile, it has taken aim at Republicans in Congress for failing to pass an immigration reform bill — which Republicans rejected for the inclusion of an amnesty for illegal immigrants — and for not providing additional funding for its border processing
"Instead of pointing fingers and pursuing baseless attacks, Congress should work with the Department and pass comprehensive legislation to fix our broken immigration system, which has not been updated in decades," a DHS spokesperson said recently.
But Republican criticism has been getting louder, including of the CBP One App — which has been savaged as a "concierge" service for illegal immigrants by some lawmakers. Rokita was similarly unimpressed by the app, which allows migrants to upload images and schedule appointments at ports of entry, dismissing it as "optics" and a way to allow people into the U.S. without big lines at the border.
TEXAS AG PAXTON SLAPS BIDEN ADMIN SLAPS BIDEN ADMIN WITH LAWSUIT OVER CBP ONE APP
 "It's amnesty on the highest scale, not done by Congress, done by rulemaking. And that's what we're suing on to try to stop," he said. 
Rokita noted that the illegal immigration crisis is not just a border-state issue and highlighted an increase in sex trafficking as well as the financial costs to a state like Indiana.
"They are costing us $12,000 a pupil in education alone, $10 million a year, which to a state like Indiana means something," he said. "That's a real cost. And that's not our duty under our Constitution, either the state one or the federal one."
The breadth of the Republican challenge to the asylum rule is highlighted in the 18 states that have combined to support the lawsuit.
"It shows how strongly these states feel about the costs they're incurring about the rule of law not being followed and about the sovereignty of their own state lines and our country's borders. So it's a very unifying issue in that sense for people who love America, who love their states," he said.
CLICK HERE TO GET THE FOX NEWS APP
The rule now hangs in the balance, along with a number of other Biden immigration policies which have been challenge. Another disputed policy briefly saw migrants released without court dates as Title 42 ended due to overcrowding.
Rokita told Fox Digital that "these are long baseball games."
"So we're at the top of the first. And the federal government delays and delays," he said, but stressed that lawsuits create pressures.
"I'll see it to the end. I want to be clear about that. We'll go all nine innings, and then we'll go extra innings, we're going to do whatever we do to keep the pressure on and to win this thing."