Former Vice President Mike Pence says he will fire FBI Director Christopher Wray and insisted that former President Donald Trump's "policy is the same" as President Biden's.
The comments from Pence — who launched a Republican presidential primary campaign earlier this month — came during an interview released Saturday by the New York Post. During his conversation with the outlet, Pence, 64, discussed a range of subjects and homed in on what he believes are missteps by the Department of Justice and Trump, as well as the potential for America to lose its positioning on the world stage if a different Republican gets elected.
"The American people have lost confidence in the Department of Justice. And if I'm President of the United States on day one, we're going to clean house on the top floor of the Department of Justice and bring in a whole new group of people," Pence said, adding that he would fire Wray, a Trump appointee, if he's elected president.
The former vice president also took aim at Trump on a number of fronts and concluded during the discussion that he "was" his friend at one time.
PENCE FLAMES TRUMP IN 2024 CAMPAIGN LAUNCH, SAYS FORMER BOSS PUT HIMSELF 'OVER THE CONSTITUTION'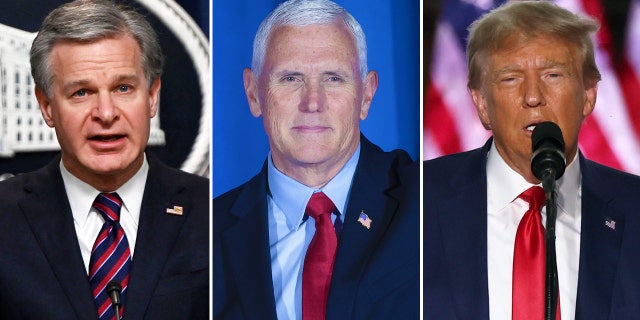 Pence, who served in the Trump administration for the totality of his tenure, also said he believes the recent indictment wielded against Trump "includes serious charges, and I can't defend what is alleged."
On Tuesday, Trump pleaded not guilty to 37 federal charges stemming from Special Counsel Jack Smith's investigation into his alleged improper retention of classified records at Mar-a-Lago in federal court in Miami.
Pence said he will "always be proud of the record of the Trump administration" and reiterated that he "was always loyal to President Trump… right up until when my loyalty to the Constitution required me to do otherwise."
Asked about the differences between the documents found at Trump's Mar-a-Lago estate and those found within his own home, Pence, a former governor of Indiana, noted that he was fully cooperative with authorities and overturned the materials quickly.
"I'm pleased that they concluded that it was an innocent mistake. But let me be clear. It was a mistake. I took full responsibility for it because the protection of classified materials of the United States is a very serious matter," he said.
Pence also recognized that the Trump administration didn't meet certain expectations for spending, which contributed to the nearly $32 trillion national debt of today.
TRUMP'S GOP OPPONENTS TEST OUT DIFFERENT RESPONSES TO HIS INDICTMENT AS THEY JOCKEY FOR POSITION BEHIND HIM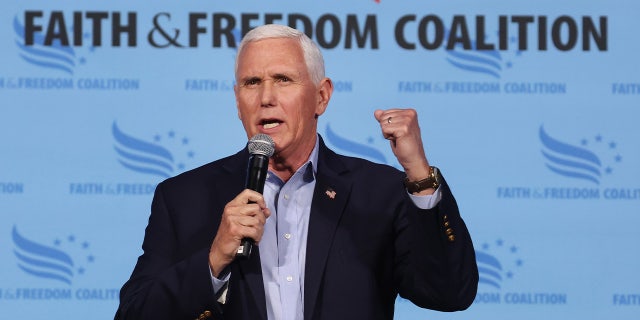 "Frankly, we didn't do as good a job as we could on controlling spending. And truth is, we have a national debt the size of our nation's economy today," he said.
Under the Trump administration, the national debt grew by $7.8 trillion, with a total of three debt ceiling increases by Congress and no cuts to spending.
"Donald Trump's policy is the same as Joe Biden's. I mean, they both have refused to engage in any discussion about reforming Social Security and Medicare," Pence said.
Reaffirming his support for the pro-life movement, Pence bashed Trump for his take that the 2022 midterm election losses were a result of the Supreme Court's decision last year to overturn Roe v. Wade and allow states to rule on the issue.
"My former running mate has taken to blaming overturning Roe versus Wade for election losses of '22, suggesting that pro-life legislation in states around the country is too harsh," he said.
As for the coronavirus pandemic and whether he believes Trump should have fired Dr. Anthony Fauci from his post during his time in the White House, Pence declined to comment.
"I've thought very deeply about that," he said. "I regret the way Dr. Fauci became a symbol for and a justification for the heavy hand of government by Democrat governors and mayors. And it's among the lessons that we should learn."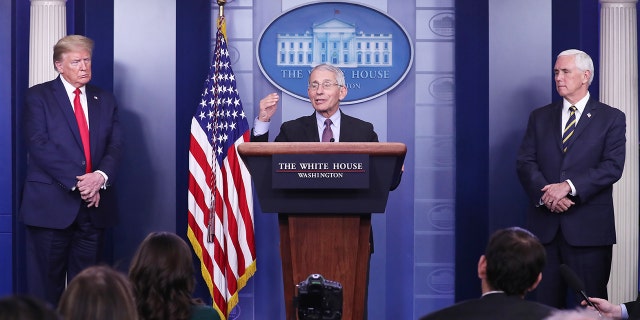 CLICK HERE TO GET THE FOX NEWS APP 
"But at the end of the day, I'm very proud of what the American people accomplished during the worst pandemic in 100 years," Pence added.
Taking aim at his fellow apresidential hopefuls, Pence also expressed concern over how they would handle the ongoing Russia-Ukraine war and its impact on the world.
"When I look at where my former running mate and frankly, others in the field want to take our party … You know, as war rages in Eastern Europe, my former running mate and others in this primary would diminish America's obligation as the leader of the free world and the arsenal of democracy," Pence said.
Fox News' Brooke Singman contributed to this report.