A group of Maine lobstermen won a big legal victory in court Friday in their lawsuit against the Biden administration over regulations they said threatened their livelihood. 
Last year, the Maine Lobstermen's Association (MLA) sued the Biden administration's National Marine Fisheries Service (NMFS) for its new rule that the government said was aimed at protecting the endangered North Atlantic right whale, but that lobstermen claimed threatened to put family-owned lobster fisheries out of business.
That rule imposed operating limits on lobster fisheries and set new technical standards on how much lobster trap rope could be in the water, which would cut in half the number of traps that could be deployed.
NMFS defended its rule in court by saying that the Endangered Species Act (ESA) demands that the agency make rules based on assumptions of worst-case scenarios and "give the benefit of the doubt" to the endangered species.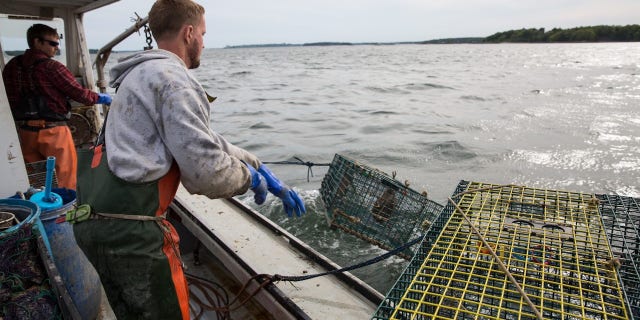 HOW MAINE LOBSTERMEN TURNED A 'SLAP IN THE FACE' FROM THE WHITE HOUSE INTO A POLICY VICTORY
But Judge Douglas Ginsburg of the U.S. Court of Appeals for the District of Columbia Circuit, who was part of the three-judge panel that decided the case, lambasted the government's theory in an opinion issued Friday.
"The Service's legal reasoning was not just wrong; it was egregiously wrong. The Service's argument rested entirely upon a half-sentence in the legislative history. This 'approach is a relic from a bygone era of statutory construction,'" Ginsburg said. 
"Under the Service's approach, legislative history may supply duties that, as the Service now concedes, are not found in the enacted law. As the Supreme Court recently said, 'We cannot approve such a casual disregard of the rules of statutory interpretation.' The reason is obvious; as any high school Civics student should know, legislators vote on and the president signs bills, not their legislative history," he continued. 
Judge Ginsburg also seemed to call out the agency for historical hypocrisy in its rulemaking. "Only a few years ago, the Service, revisiting its interpretive rules, agreed with commenters that 'nothing' in the ESA required it to use 'a "worst-case scenario" or make unduly conservative modeling assumptions,' and rejected comments arguing it should give the benefit of the doubt to a species by evaluating 'effects or activities that were possible even if not likely.'" he said.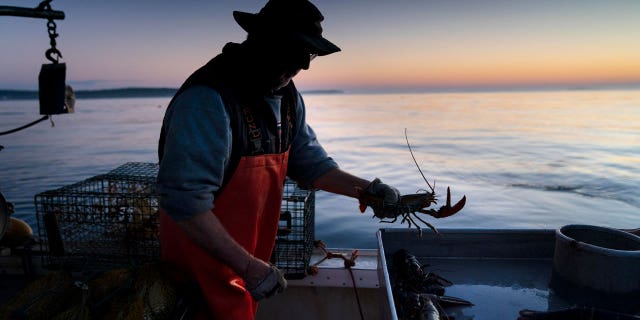 SUPREME COURT ACCEPTS CASE THAT HAS POTENTIAL TO ERODE POWER OF FEDERAL REGULATORS
Dustin Delano, former vice president of the MLA and now chief operating officer of the New England Fishermen's Stewardship Association (NEFSA), said Friday's court decision is a welcomed moral boost to the fishing industry that he says has been drowning in overreaching regulations.
"Today's decision is a rare and long-sought victory for lobstermen. Regulators must confront the human cost of their skewed and unjustified approach. NMFS' rules could have destroyed an iconic trade based on a distorted analysis of data that the law does not justify," Delano said.
"Lobstermen, like all New England fishermen, are formed in an ethic of conservation that long predated federal regulations and the environmental movement. We are deeply sensitive to the marine environment," he added. 
The North Atlantic right whale is an endangered species, with fewer than 400 left in the ocean. They are vulnerable to vessel strikes or entanglement with fishing gear.
But the MLA says that right whales do not inhabit the coast of Maine, and there has not been a documented right whale entanglement associated with Maine lobstermen since 2004. There has also never been a documented instance of Maine lobstermen seriously injuring or killing a right whale.
Delano says that for decades, the NMFS has been imposing rules based on assumptions and bad data, because it has been "caving" to the environmental groups without input from the fishing community. 
"Enough's enough," Delano said.
"I just I really can't stress enough obviously what this will do for the people in our industry," Delano said of the Friday ruling. 
"Everybody's under a great deal of stress between multiple things. 2022 being one of the worst seasons, the threat of offshore wind development off our coast. So to have some positive news, and to get a win for the fishing industry. You know, it gives me goosebumps, because it's not something that we've experienced in quite a while," he said.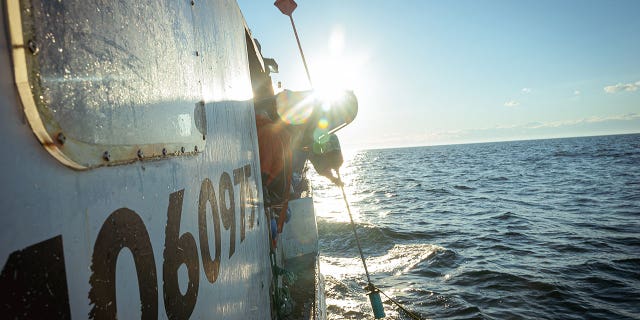 NEW JERSEY FISHERMEN HOPE TO REEL SUPREME COURT INTO A FIGHT OVER FEDERAL REGULATORY OVERREACH
Delano helped launch NEFSA earlier this year, a group that aims to represent New England fisherman to beat back federal regulations that are crippling the industry.
Delano praised the work of the MLA for Friday's court victory and said that he hopes his new organization can follow in its footsteps. 
"You know, growing up, half of the kids in my class were fishermen. We'd go to school, and we talked about what we got in our traps the night before. That's what we've been doing since we were 10 years old. And that still continues today," Delano said. 
CLICK HERE TO GET THE FOX NEWS APP
"And that's part of why NEFSA was formed, because we want more than anything to continue that tradition. And we need a larger presence in Washington, D.C., and that's why we really wanted to try to get all the fishing associations together to represent all fishermen all across New England to have a larger voice," he said.