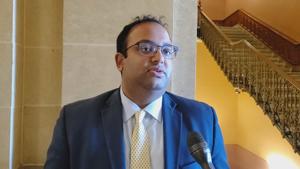 (The Center Square) – Two measures that look to protect striking union workers have some questioning the impact on businesses in the state of Illinois.
House bills 2907 and 3396 were signed into law earlier this month by Gov. J.B. Pritzker. 
HB2907 prevents striking workers from being sued for unintentional property damage as a result of a strike, while HB3396 provides that any person with the intent of obstructing or interfering with a picket line commits a Class A misdemeanor and a minimum fine of $500.
State Sen. Ram Villivalum, D-Chicago, sponsored both measures and explained why he is in support of the bills during a Senate debate. 
"House Bill 3396 deals with an ongoing increasing dangerous issue facing those who are lawfully engaging in picketing," Villivalum said. "There has been an increase in the public right of way blockages, designed to prevent picketers from engaging in their right. House Bill 3396 protects that right." 
State Rep. Dan Ugaste, R-Geneva, voted against both measures and told The Center Square that those who damage property should be held responsible. 
"The issue is that if you cause damage to someone else's property, our law says that if they can prove that your conduct caused some damage, then you are responsible for that, whether it is a criminal violation or not," Ugaste said.  
Such issues should be left to the employers and their employees, Ugaste said, and the laws could have a negative impact on businesses. 
"The business community should have a level playing field, and we are moving away from that," Ugaste said. "That causes businesses to leave, and ultimately that causes our people to leave because they go elsewhere where there is more opportunity." 
National Right to Work Committee Vice President John Kalb issued a statement to The Center Square opposing the measures. 
"Union-label legislators in Illinois are outrageously seeking to give legal cover to union agents who commit violent property destruction and intimidate workers who exercise their legal right to defy union boss strike orders," Kalb said. "Illinois legislators continue to make the state a case study and a warning to the rest of the country about why union bosses need less coercive power, not more, and until Illinois reverses course, taxpayers and businesses will continue to flee it for Right to Work states."
Both measures take effect Jan. 1, 2024.