The Chinese government has posted a bizarre video of female Chinese soldiers marching in various settings to its official account for its embassy in France — and featuring music that was made for a famous 1996 military strategy video game.
The video, captioned "Les femmes de l'armée chinoise" ("The women of the Chinese army"), was posted on Sunday and features a number of clips of female soldiers marching in different contexts.
However, the music featured over the top of the clips is well-known to real-time strategy gaming buffs who grew up in the 1990s.
TAIWAN SCRAMBLES JETS AS CHINESE WAR PARTY CROSSES MEDIAN LINE FOR SECOND TIME IN DAYS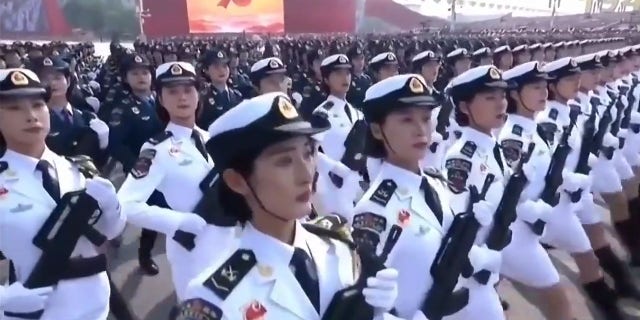 The music, peppered by the sound of boots and militaristic commands, is from the opening to the 1996 title "Command & Conquer: Red Alert." That game, which is widely regarded as one of the best titles in its genre, is premised in an alternate timeline where Albert Einstein discovers time travel in a lab in New Mexico. As a result, in 1946 he transports back to pre-war Germany and removes future dictator Adolf Hitler from history altogether.
Einstein reappears in 1946 and is congratulated by his assistant for preventing World War II. Einstein warns that the celebration is premature.
BIDEN ADMIN CONFIRMS CHINA SPU BASE EFFORTS IN CUBA, CALLS IT 'ONGOING ISSUE'
"Time will tell," he says. "Sooner or later, time will tell."
The game then opens to scenes of war in the new timeline where Joseph Stalin's Russia has become the dominant superpower due to lack of German militarization. The game itself places the player on either side of the new, alternative conflict between the Allied Forces (including Germany) and the Soviets.
REPORTED CHINA-CUBA SPY STATION DEAL SHOWS BEIJING PREPARING FOR CONFLICT WITH US, HOUSE REP SAYS
It is unclear what sparked the tweet from China, or if it is drawing any ties or connection to the game itself.
But it comes amid growing aggression from the Chinese, both at home and abroad. The communist regime has been ramping up its deployments near Taiwan, which it sees as its own and a breakaway province. 
CLICK HERE TO GET THE FOX NEWS APP
Recently, the Biden administration confirmed media reports that China has been seeking to ramp up its surveillance capabilities in Cuba. That comes after it floated a spy balloon across the U.S. earlier this year.
"Our experts assess that our diplomatic efforts have slowed the PRC down," the official added. "We think the PRC isn't quite where they had hoped to be. There are still challenges, and we continue to be concerned about the PRC's long-standing activities with Cuba. The PRC will keep trying to enhance its presence in Cuba, and we will keep working to disrupt it."