Gov. Maura Healey recommended pardons for seven individuals Thursday, an unusual move for a Massachusetts governor just five months into her first term.
In recent decades, governors have typically waited until near the end of their time in office to make similar recommendations.
Healey, the state's former attorney general, said the seven individuals had been fully vetted.
MA LAUNCHES 'GREEN BANK DEDICATED TO AFFORDABLE HOUSING' IN EFFORT TO ADDRESS CLIMATE CHANGE, HOUSING MARKET
"I believe deeply in our justice system and the important work of making it more fair and equitable for all of our residents," Healey said at the Statehouse. "Justice delayed can be justice denied."
Healey said the seven had been convicted of crimes years ago at a young age, had accepted responsibility, and had spent decades abiding by the law. The crimes ranged from drug possession to assault to breaking and entering.
Healey said the past convictions have blocked the individuals from fully continuing on with their lives.
"These men and women have been carrying the burden of convictions and dealing with the consequences far beyond their legal sentences," she said. "They deserve compassion and pardoning them is the right thing to do."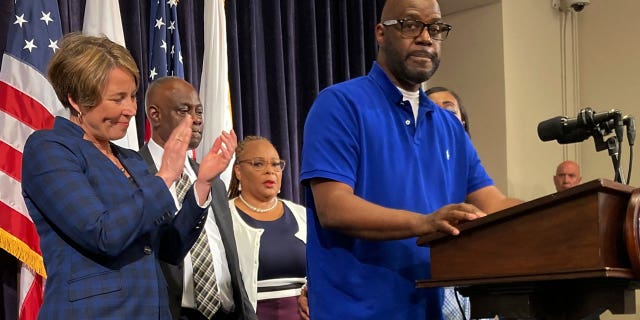 The pardons must be approved by the eight-member Governor's Council.
Healey said the administration is working to revise clemency guidelines — taking into account factors like racial disparities and brain development in young people — and added that clemency provides an opportunity to "soften the harshest edges" of the criminal justice system.
One person recommended for a pardon is Glendon King. In 1992, at the age of 30, King was convicted of a number of drug charges. He had served in the U.S. Army and the Army National Guard and later joined the Boston Fire Department.
MA SUPREME COURT JUSTICE TO RETIRE, MAKE WAY FOR GOV. HEALEY'S FIRST APPOINTMENT
King said he succumbed to peer pressure in the events leading up to his conviction.
"Unfortunately that was the wrong decision. I regret that up until this day," he said. "There's the right way and the wrong way. I eventually took the wrong way for a short moment of time, but I got right back on track."
Terrance Williams was convicted of assault and battery with a dangerous weapon in 1984 after he got into an altercation at age 15 with a friend, who he said remains a friend. He's worked at the Boston Water and Sewer Commission for the past three decades but has been denied a job at a private security company.
CLICK HERE TO GET THE FOX NEWS APP
"We were just horsing around in school," he said. "Here I am 39 years later getting a pardon."