Maine lawmakers are backing a proposal to include language about the state's obligations to Native American tribes in future printings of the state's constitution.
The Maine Legislature voted Wednesday to advance the proposal, which would restore language that requires Maine to honor treaties the state inherited when it broke away from Massachusetts and became its own state more than 200 years ago.
Although the treaty language still technically applies, it was removed from printed versions of the constitution later in the 19th century. It's also absent in the official online version of the constitution.
PORTLAND CITY COUNCIL APPROVES CONTRACT FOR SHELTER FOR ASYLUM SEEKERS
Democratic House Speaker Rachel Talbot Ross proposed restoring the language, which she said should not be obscured from state residents. Tribal groups agreed, but Democratic Gov. Janet Mills did not, underscoring an ongoing discord between the governor and the tribes.
Both chambers of the Legislature will have to vote again and approve of the proposal by a two-thirds majority to send it to state voters.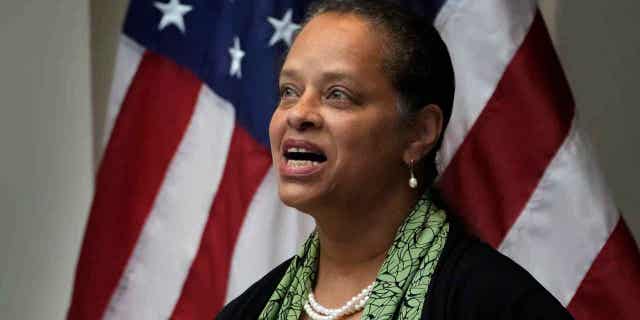 "I don't believe anyone in this effort is attempting to hold anyone accountable for the wrongs of the past but instead we are trying to find ways to make progress together," Maulian Dana, Penobscot Nation tribal ambassador, in testimony prior to the votes. "This is best accomplished when truth is a touchstone of the work."
MAINE COMMITTEE BACKS GOV. MILLS' PLAN TO SIGNIFICANTLY LIBERALIZE STATE ABORTION LAWS
Maine Attorney General Aaron Frey said he supported the change because it would promote transparency in the state constitution.
Mills' office came out against the change. Gerald Reid, chief legal counsel to the governor, testified that the removal of the language was made in 1876 as part of an effort to make the constitution more concise and better organized. He said prior to the vote that returning the language to printed versions of the constitution "would not solve any real world problem, but would instead create new confusion."
CLICK HERE TO GET THE FOX NEWS APP
Mills has sparred with the tribes over the issue of tribal sovereignty in recent years. A proposal to grant sovereignty was tabled last year when she threatened to veto it. Proponents of greater tribal sovereignty are trying again this legislative session.
Tribal groups in Maine have long argued that they are at a disadvantage compared to peers across the country because of the Maine Indian Land Claims Settlement Act of 1980, which treats reservations like municipalities that are subject to state law.