A California Democratic lawmaker accused his Republican colleague, the state assembly's first Muslim member, of White supremacy for declining to back a bill that would allow state funds to go toward programs based on race in what critics are calling state-sanctioned discrimination.
Democratic Assemblymember Corey Jackson, who proposed ACA-7, said it's meant to address "persistent disparities in health, education, and economic outcomes for certain communities" in California. 
Jackson's bill would amend the state's constitution in order to allow taxpayer money to fund "culturally specific programs in any industry if those programs are established or otherwise implemented by the state for purposes of increasing the life expectancy of, improving educational outcomes for, or lifting out of poverty specific groups based on race, color, ethnicity, national origin, or marginalized genders, sexes, or sexual orientations."
The bill passed the state assembly's Judiciary Committee along party lines Tuesday and was referred to the state Appropriations Committee.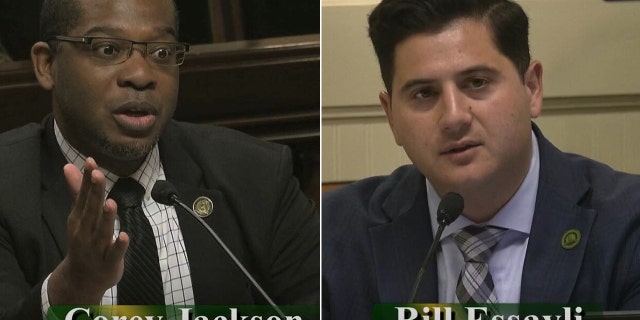 CALIFORNIA GOV. NEWSOM DECLINES TO BACK REPARATIONS CHECKS, SAYS SLAVERY'S LEGACY IS 'MORE THAN CASH PAYMENTS'
During the vote, Jackson and California Assemblymember Bill Essayli, a Republican, got into a tense exchange after Essayli tried to express his disagreement.
"I appreciate your perspective, I just fundamentally disagree," Essayli said,
"Not a perspective," Jones fired back. "This is a fact. So let's not let's not get it twisted here. This is a fact. There is no opinion that I am exercising. This is not something that, you know, that I am willing to engage in a cultural narrative over. The fact is, is that this is the right thing to do."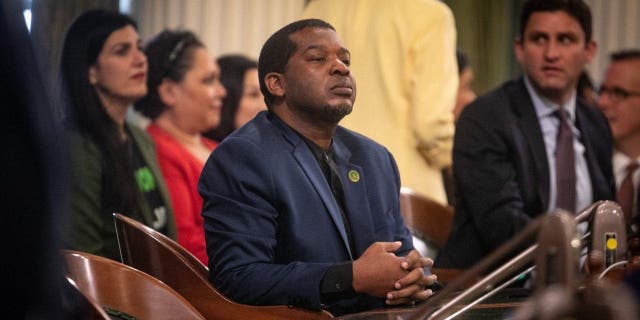 "I appreciate your comments," Essayli said. "I respectfully disagree. I think fifty-seven percent of Californians disagree—"
"But you're wrong!" Jones interrupted.
"Excuse me, I'd like to finish speaking," Essayli continued. "Fifty-seven percent of Californians disagree who approved Prop 209. I believe it is a mistake in the United States of America to go backwards and to inject race into government policy."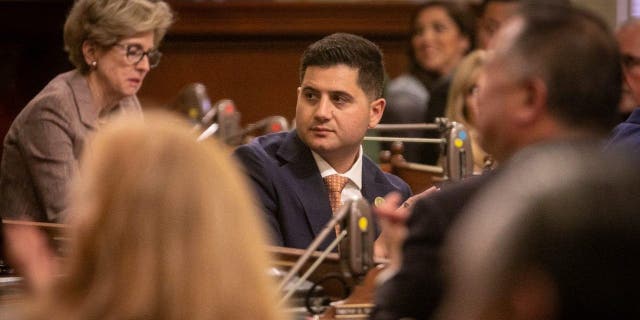 "I think all people are created equal, and the government should treat people equally," he continued. "And we can provide services to disadvantaged communities without making race a factor, and I support that. I think everyone should have an equal-opportunity United States. I am a minority, I came from minority background, and I don't want the government to, you know, treat me differently than anyone else. I want to be treated equally. And so with that, I respect your viewpoint. I respectfully disagree. Thank you, Mr. Chairman."
After the vote, the fighting continued on Twitter after Essayli blasted Jones' bill as "backwards."
"The judiciary committee just voted to allow government to discriminate based on race when providing services, as proposed by #ACA7," Essayli wrote. "I fundamentally disagree with this backwards policy as do 57% of Californians who voted to prohibit Affirmative Action when they adopted #Prop209."
CALIFORNIA REPARATIONS RECOMMENDATIONS HAVE NEWSOM BETWEEN ROCK AND HARD PLACE
Jackson then accused Essayli of trying to curry the favor of White people.
"This is a perfect example how a minority can become a white supremacist by doing everything possible to when white supremacist and fascist affection," Jackson wrote. "History will judge him poorly. His politics is dangerous and should be combated at every turn. #antiracism."
Essayli didn't directly respond to Jackson but retweeted a critic who called his attack "disgusting."
CLICK HERE TO GET THE FOX NEWS APP