Sen. John Barrasso, R-Wyo., issued a formal request for an inspector general investigation into Energy Secretary Jennifer Granholm after she admitted to making false statements about her stock ownership.
Barrasso — the ranking member on the Senate Energy and Natural Resource Committee — penned a letter Wednesday to Department of Energy (DOE) Inspector General Teri Donaldson, arguing that Granholm's repeated financial mishaps required a probe. On Friday, Granholm quietly acknowledged that she owned individual stocks despite her past testimony and disclosures indicating the opposite.
"Secretary Granholm's repeated noncompliance with established financial rules and regulations, in addition to her disregard for ethical standards, has contributed to the erosion of the public's trust not only in her, but the Department of Energy as a whole," Barrasso wrote to Donaldson.
"It is imperative that impropriety on the part of cabinet officials is taken seriously, the dignity of the offices in which they serve is upheld, and that officials are held accountable when they fail to follow the letter of the law," he continued. "I respectfully request that your office determine the facts surrounding any impropriety in connection with the matter."
TOP REPUBLICAN PRESSES BIDEN ADMIN OVER APPARENT MANIPULATION OF ENERGY COMPANY'S STOCK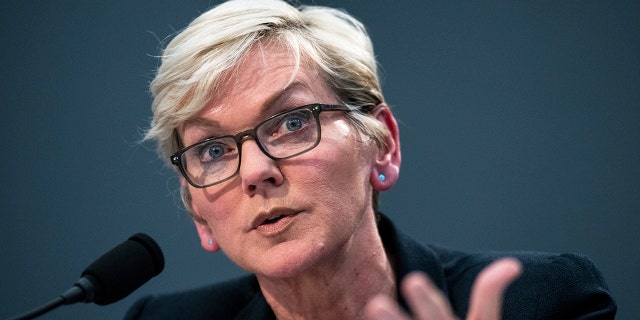 In a letter to Energy and Natural Resource Committee leadership Friday, Granholm said she owned shares of six unnamed individual companies and that her husband owned $2,457.89 worth of shares in Ford Motor Company at the time of her under-oath testimony before the panel in April. During the April 20 hearing, Granholm told Sen. Josh Hawley, R-Mo., she was "not owning individual stocks."
On May 15, Granholm sold her husband's Ford shares and, on May 18, she sold her remaining individual stock holdings, according to her letter Friday. She vowed to clearly identify the stock sales in her annual financial disclosure report later this month.
REPUBLICANS DEMAND BIDEN'S ENERGY SECRETARY RETRACT 'UNSERIOUS' COMMENTS PRAISING CHINA
In addition, Barrasso, noted in his letter to the DOE inspector general that Granholm has boosted Ford projects while leading the agency, maintained shares of electric vehicle maker Proterra while the White House promoted the company, was found guilty of violating the Hatch Act, and violated the STOCK Act nine times by failing to disclose $240,000 worth of stock sales within the legally-mandated timeframe.
"Secretary Granholm lied to the committee about her family's stock holdings," Barrasso said Friday. "This comes after her failure to follow basic ethics and disclosure rules. This is a troubling pattern. It is unacceptable."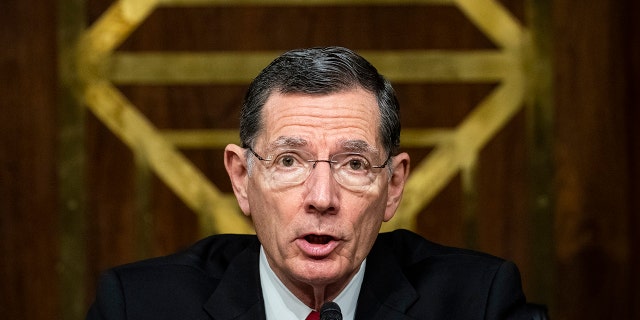 And Hawley announced his own probe of Granholm's finances on Tuesday, writing a letter to her demanding to know why she didn't immediately notify the Senate Energy and Natural Resources Committee when she discovered her disclosure error and why she took four weeks to sell her shares in the six unnamed companies.
He also requested Granholm provide the committee with a complete list of her stock transactions over the past 10 years "for an evaluation of any additional conflicts of interest."
CLICK HERE TO GET THE FOX NEWS APP
"Three times you told me, and this committee, that you did not own individual stocks," Hawley wrote to Granholm in his letter. "But we now know that was false. Last Friday, you informed the committee that you did own stocks at the time of your testimony on April 20, 2023. In fact, you still held stocks in six companies."
"You then divested from these holdings on May 18, 2023," he continued. "But you chose not to notify the committee until last Friday—over seven weeks after the hearing and at least three weeks after you sold these stocks. So I want to know: why?"
After Hawley sent his letter to the DOE, David Mayorga, the director of public affairs at the Department of Energy, vigorously defended Granholm in a statement to Fox News Digital.
"Secretary Granholm always puts the interests of the American people first," Mayorga said. "As part of her commitment to the highest ethical conduct and transparency, Secretary Granholm timely divested of all conflicting assets that were known at the time of her confirmation, and subsequently even divested of assets she wasn't legally required to sell."