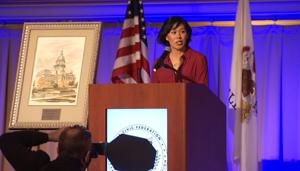 (The Center Square) – After years of abuse allegations against a state-run facility for people with developmental disabilities, the Illinois Department of Human Services says changes are coming, but some say more needs to be done. 
The Office of Inspector General for IDHS released a report last week recommending changes to fix issues of abuse that have been occurring at the Choate Mental Health and Development Center in Anna, Illinois.
According to the OIG, more than 1,500 incidents of abuse and neglect were reported over the past decade. Allegations include physical harm and lack of attention to the patients' well being. 
The report also shows a cover-up culture in which employees would collude with each other and provide false information to investigators about incidents at the facility.
In 2022, a previous report indicated there were 84 reports of physical abuse, nine reports of sexual abuse, 39 reports of mental abuse, two reports of financial exploitation, 25 cases of neglect and three deaths.  
IDHS Secretary Grace Hou responded to the OIG report and stated their goal is to fix these issues. 
"IDHS continues to diligently respond to any and all allegations of misconduct, in partnership with your Office, the State Police, and the Illinois Department of Public Health," Hou said. "I also want to note the outstanding, compassionate, and life-supporting work that the vast majority of the more than 600 dedicated employees at Choate do on behalf of residents and patients every day." 
The OIG report provided a different perspective. 
"According to a CMHDC employee, the [mental health technician] used to be more caring; now it seems that MHTs are just showing up for work like you would at a factory," the report said. "Another CMHDC employee stated, though, that overall most staff treated the individuals well. A small percentage did not. The employee estimated that it was an 80-20 split."
Hou said the implementation of the recommendations are currently ongoing. 
"Your independent and expert views and recommendations strengthen our system of care. We are well into the implementation of the recommendations you have made," Hou said. "Your work confirms the importance and urgency of our work to transform Choate and to carry out best practices for quality and safety across the [Illinois developmental disability] residential system in Illinois." 
The department said it will be appointing new leaders, installing cameras, and working to address staffing issues and develop new training techniques. 
State Rep. Charlie Meier, R-Okwaville, filed multiple measures aimed at addressing the ongoing issues in Anna and told The Center Square that first and foremost, the facility manager, who was indicted but later had the charges dropped, needs to go. 
"You tell me with what this Inspector General shows and how long this has been going on because it has been years, why that director is still in charge," Meier said. 
Meier hopes officials will assign an interim director or assistant director to lead the facility and also suggested changes to implement ongoing staff training, a mass hiring of qualified staff to help increase administrative and security inspections and to remind employees if they see something is wrong to report it. 
In April, Gov. J.B. Pritzker said he set money aside in this year's budget to improve care for those throughout the state. 
"That's why I've proposed historic new investments in behavioral and mental health care in this year's budget," Pritzker said. "We are creating our first ever portal for families that are seeking care so that they can learn about the resources that are available to them and be matched with what best meets the needs of their family members."
The annual budget for CMHDC is $49.8 million for the fiscal year that ends June 30, according to the OIG report.