In contrast to other Republican governors who have pushed for anti-transgender policies across the country, Nevada GOP Gov. Joe Lombardo of Nevada has signed two bills into law this month protecting transgender rights. 
On Monday, Lombardo signed into law a measure that requires all sex reassignment surgeries to be covered by health insurance companies.
Lombardo also signed another bill earlier this month pushing prisons to adopt certain medical and mental health standards for transgender inmates. 
Nevada Gov. Joe Lombardo has signed two bills related to transgender rights and vetoed another, bucking trends from other Republican governors across the country who have pushed anti-transgender policies.
Lombardo's signing of a bill Monday requiring health insurance companies including Medicaid cover all gender-affirming surgeries was the third major bill related to transgender health and rights to reach his desk.
Another bill he signed earlier this month requires the state's Department of Corrections to adopt mental and medical health standards for transgender and gender-nonconforming people inside the state's prisons, including cultural competency training for guards.
TEXAS DEMOCRAT SIDES WITH REPUBLICANS ON BANNING ON SEX-CHANGE TREATMENTS, PUBERTY BLOCKERS FOR MINORS
A half dozen Democratic-controlled Legislatures like Nevada's have moved bills protecting transgender health care, civil rights and legal protections. But Lombardo's signature comes as Republican governors elsewhere have gone in the opposite direction, signing legislation curtailing the rights of transgender people.
"Nevada has for a very long time been a live-and-let-live type of state," said transgender rights advocate Brooke Maylath, who worked on all three bills. "And I'm glad to see that this governor has not been hijacked by the divisiveness that we've seen in other states."
Still, Maylath criticized Lombardo for vetoing a bill earlier this month that would have protected providers of gender-affirming services from losing their medical license and prohibited the executive branch from assisting in out-of-state prosecution. She said that the absence of those protections would exacerbate Nevada's already-existing provider shortage.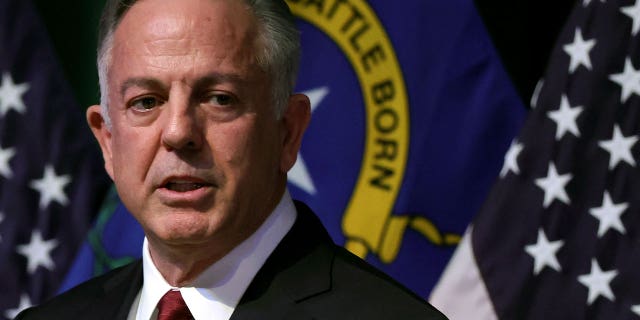 In his veto message, Lombardo said the bill would hinder his office's ability to "be certain that all gender-affirming care related to minors comports with State law," and to ensure public health and safety standards.
Lombardo's latest signature for the bill requiring health insurance companies to cover all gender-affirming surgeries comes after Oregon's Democratic governor signed a nearly-identical law in May.
Signing that bill has led to internal party criticism for Lombardo, the former sheriff of Clark County who was the only Republican to unseat a Democratic incumbent governor in the 2022 midterms.
Nevada's Republican National Committeewoman Sigal Chattah called Lombardo a "laughingstock across the nation" in a tweet.
FEMALE CYCLIST, DEFEATED BY TRANS WOMAN, SPEAKS OUT AFTER RACE: 'I FEEL A SEPARATE CATEGORY IS APPROPRIATE'
"I implore people to read the bill in its entirety," Lombardo told reporter Tuesday, adding that it mainly shores up already-existing procedures. "And you will see it's not as draconian or detrimental or immoral as people are portraying it to be."
One of the sponsor's of the bill signed Monday, Democratic Senator Melanie Scheible, had framed the legislation as a way to save the state money due to potential losses in lawsuits against state Medicaid. She cited a 2015 declaration from the state's division of insurance that prohibits the denial of medically necessary care on the basis of gender identity.
"The idea is to clear up any ambiguity and to put the answer in the statute, instead of waiting for an answer from a court," Scheible said in an interview earlier in the session.
CLICK HERE TO GET THE FOX NEWS APP
Many credit the declaration as to why more major gender-affirming surgeries are increasingly deemed "medically necessary" rather than "cosmetic" in Nevada by insurance companies, thus making more gender-affirming surgeries covered.
Still, many procedures — hair transplants, facial feminization surgery and voice modification among them — are often still classified as "cosmetic" despite their role in treating gender dysphoria, regarded as a medical condition that results in severe distress because of a mismatch between gender identity and gender assigned at birth.
The bill passed along party lines in the state Senate and Assembly, with Republicans opposed.
Lombardo also bucked party trends earlier this month when he signed another bill into law that further codified existing protections that ensure commissions that oversee medical licenses do not discipline or disqualify doctors who provide abortions.