The Ohio Ballot Board voted Tuesday to alter language on the state's August ballot ruled misleading by the state Supreme Court.
The ballot language in question specifically pertained to a controversial move raising the vote threshold required to amend the state constitution.
The ballot now defines the Republican-backed proposal as "elevating the standards to qualify for an initiated constitutional amendment and to pass a constitutional amendment."
A state panel in Ohio voted on Tuesday to tweak language describing an upcoming statewide ballot proposal, while stopping short of making additional changes advanced by the opposition campaign, Democrats and voting rights advocates.
The Ohio Ballot Board's party-line vote came a day after the Ohio Supreme Court ruled that its previous wording stood to mislead voters as they decide in August whether to make it tougher to amend the state's constitution. Issue 1 calls for raising the threshold for passing future constitutional amendments in Ohio from a simple majority to 60%.
Statehouse Republicans created a special August election for taking up the issue, in hopes that a victory would thwart a November proposal to enshrine abortion access in the Ohio Constitution. Such proposals have passed with well over half the vote in other states, but under 60%.
OHIO SUPREME COURT ORDERS REWRITE OF CONSTITUTIONAL AMENDMENT BALLOT LANGUAGE
The high court ruled unanimously that the ballot board was wrong to describe the measure as increasing the standards to qualify "any" constitutional amendment for the ballot, since its steep new signature-gathering requirements apply only to citizen-led ballot initiatives, not those advanced by the Ohio General Assembly.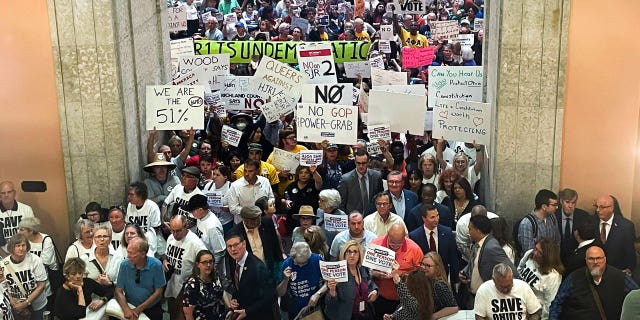 New wording written by Republican Secretary of State Frank LaRose's office and approved Tuesday removes the word "any," falling on the title: "Elevating the standards to qualify for an initiated constitutional amendment and to pass a constitutional amendment."
OHIO CONSTITUTIONAL AMENDMENT QUESTION MAKES IT ONTO AUGUST BALLOT
Opponents again tried and failed to get LaRose to adjust the verb to something like "changing" or "modifying," which they — and three dissenting justices — said would be more neutral. LaRose declined.
Summary language approved by the panel now explains that citizen-led amendment campaigns must gather signatures equivalent to 5% of the vote for governor, not of all electors, in "each county."
It stops short of explaining that the amendment would double the number of counties where those signatures must be gathered, from the current 44 to all 88. The description also leaves out that Ohio would be amending a simple majority standard that has been in place since 1912, something opponents seek to highlight.
CLICK HERE TO GET THE FOX NEWS APP
Voters will learn from the summary that the proposed 60% amendment also calls for eliminating an existing cure period, during which campaigns that fall short by a few signatures get a handful of days to make up the difference.