FIRST ON FOX: The head of the Department of Health and Human Services will testify before a House subcommittee hearing on the unaccompanied child migrant crisis — after Republicans on the committee had pressured him to appear on the matter.
The House Energy and Commerce Committee's subcommittee on Oversight and Investigations Chair Morgan Griffith announced that HHS Secretary Xavier Becerra will appear at the July 26 hearing called: "Stopping the Exploitation of Migrant Children: Oversight of HHS' Office of Refugee Resettlement." 
The hearing will examine the Office of Refugee Resettlement's management of the unaccompanied child migrant program "including HHS' responsibility to keep children in their care safe and prevent their exploitation after release," according to the announcement, seen by Fox News Digital.
TOP HOUSE COMMITTEE RAMPS UP PRESSURE ON HHS CHIEF BECERRA TO TESTIFY OVER CHILD MIGRANT CRISIS
"President Biden's open-border policies are leading to a surge of unaccompanied children coming to America. HHS has lost track of tens of thousands of children after hastily releasing them from its custody, many of whom are tragically being exploited," Griffith and Committee Chair Cathy McMorris Rodgers said in a statement. 
"We must hear from Secretary Becerra on what specifically HHS is doing to rescue those children released into forced labor and unsafe households and what he is doing to prevent it from happening moving forward," they said.
The hearing comes amid continued scrutiny over the Biden administration's handling of a surge in unaccompanied children at the border and reports that the administration ignored signs of a spike of those being trafficked into the labor force and made to pay back their smuggling costs.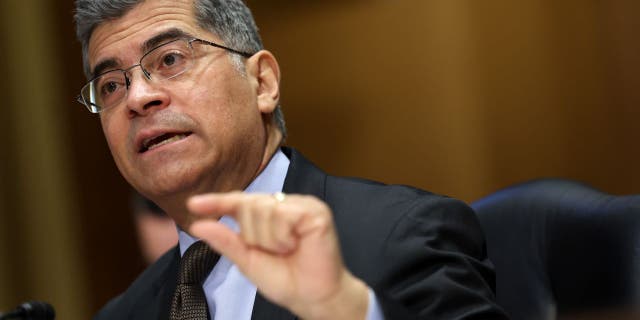 Children encountered without an adult are processed and then transferred into HHS custody, who then seek to unite them with a sponsor — typically a parent or relative already in the country. 
BIDEN ADMIN FAILED TO PROPERLY SCREEN STAFF AT EMERGENCY CENTERS FOR UNACCOMPANIED MIGRANT CHILDREN: WATCHDOG
But the New York Times reported how officials reportedly ignored signs of "explosive" growth in the child labor force, while staff members claimed Becerra pushed for discharging minors even quicker.
"If Henry Ford had seen this in his plants, he would never have become rich and famous," he was quoted by the Times as telling staff. "This is not the way you do an assembly line."
The number of unaccompanied alien children (UACs) who arrive at the border has increased from 33,239 in fiscal year 2020 to more than 146,000 in fiscal year 2021 and 152,000 in fiscal year 2022. 
The lawmakers had first requested Becerra's presence at the subcommittee's hearing in March. Last month, they wrote to him expressing frustration about how staff had since indicated that he would not testify before the subcommittee after all. The lawmakers said that the subcommittee sought to accommodate the change by offering a full committee hearing, but that accommodation was declined by staff, who said that the committee would first need to hold a hearing with a lower-ranking official before Becerra would consider testifying.
HOUSE REPUBLICANS INCREASE PRESSURE ON BIDEN ADMIN OVER REPORTS OF SURGE IN FORCED CHILD MIGRANT LABOR 
"This is not how the constitutionally mandated oversight process functions," the Republicans say. "The Committee gets to determine which witnesses it wishes to have testify."
The lawmakers said that if he did not agree to testify, they would explore "other avenues." A committee aide told Fox News Digital that those avenues included a potential subpoena.
Becerra has defended his agency's handling of the crisis. In March, Becerra pushed back against Senate lawmakers over a report in the Times that the agency had been unable to contact 85,000 minors, and he also said HHS authorities are limited by Congress.
CLICK HERE TO GET THE FOX NEWS APP
"Congress has given us certain authorities. Our authorities end when we have found a suitable sponsor to place that child with. We try and do some follow-up, but neither the child or the sponsor is actually obligated to follow up with us," he said.
This week, he appeared before a separate House committee and again said that HHS does not have jurisdiction over the children that are placed into the care of sponsors, blaming instead unscrupulous employers and companies willing to exploit vulnerable children.