Senate Republicans on Wednesday rolled out a new plan to address rising student debt and the soaring cost of college just as President Joe Biden's $400 billion student loan handout is expected to be struck down in the Supreme Court.
Instead of trying to forgive loans as Biden did, Senate Republicans are supporting programs aimed at making sure students understand the real cost of college and shutting off loans for programs that don't result in salaries that are high enough to justify those loans.
"President Biden's answer was to enact his $400 billion student debt scheme, which doesn't forgive debt. It really transfers the responsibility to pay it back away from the person who willingly took on the debt," Sen. Bill Cassidy, R-La., the top Republican on the Senate Committee on Health, Education, Labor and Pensions, said Wednesday.
Senate Republicans say their plan will tackle the rising cost of post-high school degrees and make it easier for students and families to navigate loan programs. It's a package of five bills collectively called Lowering Education Costs and Debt Act.
BIDEN VETOES CANCELING HIS $400 BILLION STUDENT LOAN HANDOUT, VOWS HE'S 'NOT GOING TO BACK DOWN'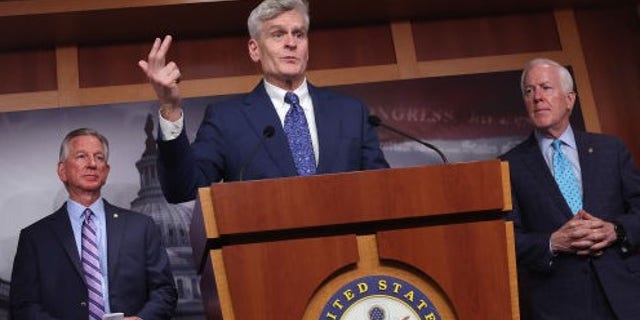 One of the bills from Sen. John Cornyn, R-Texas, aims to reduce confusion for federal student borrowers by narrowing the number of repayment plan options from nine to two – the standard 10-year plan as well as an option for low-income, low-balance borrowers.
Cornyn's bill also prohibits new undergraduate and graduate loans from being issued for programs where students are projected to make less than the average high school and bachelor's degree recipient, respectively.
Sen. Tommy Tuberville, R-Ala., introduced a second bill to end the government's Graduate PLUS loans, which have no borrowing limits, while keeping in place other federal loans that do. Republicans say the PLUS loans are helping drive up the cost of college.
"This would prevent some of the worst examples of students being exploited for profit. It would force schools to bring down cost and to compete for students. What an idea," Tuberville said on Wednesday. "It would also protect students from getting buried in debt they can never, ever pay."
BIDEN STUDENT LOAN 'REDISTRIBUTION' COULD BENEFIT FELONS, GOP OFFICIALS CLAIM IN LETTER DEMANDING DETAILS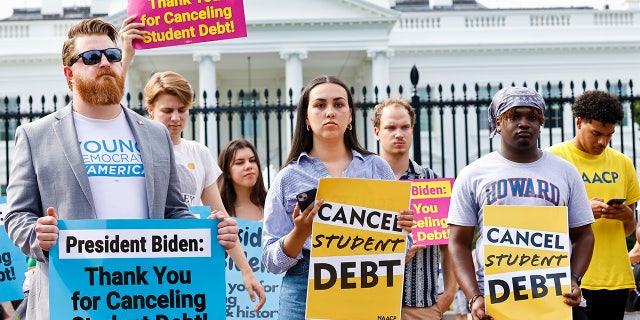 A third bill from Sen. Steve Daines, R-Mont., is the Informed Borrowing Act. Under that proposal, borrowers would be required to acknowledge receiving information that explains the cost of their loan and what their repayment windows look like, among other information, each year. It also calls for income projections for a student's desired trajectory based on their school and program of study.
Two other bills, from Cassidy and Sen. Chuck Grassley, R-Iowa, are specifically aimed at making sure students are fully aware of college costs and how far that investment would go.
Cassidy's College Transparency Act, which has bipartisan support in the House and Senate, would refine and update databases to give a more complete picture of schools' enrollment statistics and data on how students fare after graduation across all available majors and programs. Grassley's Understanding the True Cost of College Act is seeking to standardize colleges' financial aid offer forms so that students can better compare different options.
BIDEN ADMIN HAS FORGIVEN BILLIONS IN STUDENT LOAN DEBT DESPITE PROBLEMS WITH PLAN: REPORT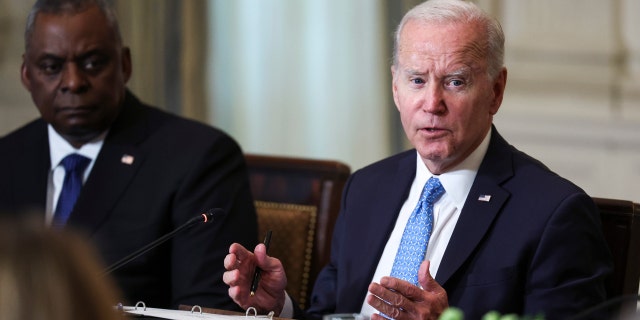 The Supreme Court is expected this month to decide the fate of the president's student loan plan, which would forgive up to $20,000 for federal student loan recipients whose income is less than a certain amount.
CLICK HERE TO GET THE FOX NEWS APP
Biden's plan also received bipartisan opposition in Congress. A resolution disapproving of the policy passed the House and Senate with bipartisan support.