House Democrats this week dismissed allegations President Biden improperly accepted money from a Ukrainian company during the Obama administration, but defended his administration for charging his likely 2024 rival, former President Donald Trump, with crimes.
"I've seen a lot of allegations against President Biden by MAGA Republicans, but the truth is they've amounted to nothing. … I don't think they have a lot of credibility. But, look, they can knock themselves out," Rep. Eric Swalwell, D-Calif., said when asked about whether there should be an investigation into the Biden allegations.
"All I want them to do is pay America's bills, fund the government and keep Ukraine in the fight. And if they want to waste their time on worthless investigations, they'll have to answer to the American people for why they chose to do that."
But he defended Biden's Justice Department for indicting Trump for allegedly mishandling of classified documents and attempts to obstruct officials' attempts to get them back.
NEARLY HALF THE COUNTRY SUPPORTS TRUMP FEDERAL INDICTMENT BUT BELIEVES POLITICS WERE INVOLVED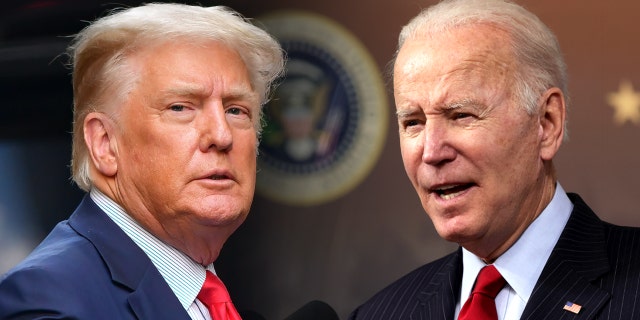 "I think the former president put the Department of Justice in an impossible position. I think if they wanted the documents back when it was clear that, not only would he not get them back, but he was going to have others lie on his behalf. There was really no alternative," Swalwell said. "I think if you take the politics out, you see, you can't have top secret documents that protect our troops outside of a protected area."
Republicans in Congress have seized on an FBI document they say shows Biden took $5 million from Burisma, the Ukrainian energy company that gave his son Hunter a seat on its board when he was vice president. A whistleblower has also allegedly come forward to congressional Republicans claiming audio recordings exist of a Burisma executive bribing Biden.
DEMOCRATS REACT TO TRUMP INDICTMENT: 'THE CHAOS CONTINUES'
Those allegations come as Trump, the front-runner for the GOP nomination to face Biden in 2024, entered a not guilty plea in a Miami court while facing 37 criminal counts. A grand jury voted on the charges after a months-long investigation by Special Counsel Jack Smith, who was appointed by Biden Attorney General Merrick Garland.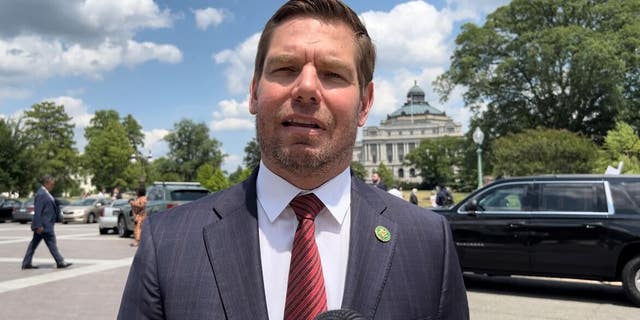 Both Rep. Ritchie Torres, D-N.Y., and Jason Crow, D-Colo., had little to say about the Biden allegations while sounding off about Trump.
"I have no reason to think that any of that is true,"  Torres said when asked if the Biden bribery claims have merit and should be investigated. However, he backed Garland's appointment of Smith as an "apolitical decision."
EXCLUSIVE: JOE BIDEN ALLEGEDLY PAID $5M BY BURISMA EXECUTIVE AS PART OF A BRIBERY SCHEME, ACCORDING TO FBI DOCUMENT
"The attorney general followed an apolitical process of appointing a special prosecutor who made the decision to indict former President Trump independently of the president," Torres said. "If former President Trump had never obstructed justice and had simply handed over the documents upon request, then there never would have been an indictment."
Crow said he does not "believe there's merit" to the Biden bribery allegations before pivoting to Trump.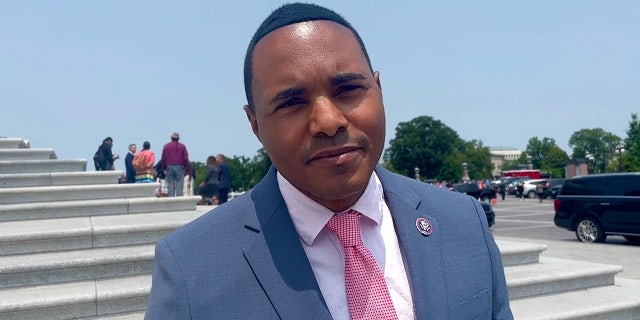 "You know, there's a lot of counter facts that people try to generate on their own. But the fact of the matter is, you know, I've spent my adult life serving this country and promoting U.S. national security," Crow, a former Army ranger, said. "And I was completely appalled when I saw these pictures of boxes of documents sitting in Donald Trump's bathroom. You know, I had to spend my life getting security clearances, being very careful about it.
"Now, I'm on the Intel Committee. I understand the risk that our intelligence officials, that our servicemen and women, face every single day if information gets leaked," he added. "And just the very cavalier way in which President Trump treated that, and even admitted on record and in recordings that he wasn't supposed to be showing stuff to certain people that weren't cleared. It's really appalling to me."
CLICK HERE TO GET THE FOX NEWS APP
He also pointed out that Trump had been indicted by a jury of Americans.
"That's how it works in America. It's not a political process, and we just have to let it play it out," Crow said.