Trans activist Rose Montoya doubled down Monday on her decision to go topless at President Biden's Pride Month event at the White House.
Montoya, a biological male who is transgender, defended the display of nudity, saying the laws in Washington, D.C., allow for going topless. The TikTok influencer expressed support for "freeing the nipple" and argued critics were only acknowledging that "trans women are women."
"I fully support the movement and freeing the nipple," Montoya said. "My trans masculine friends were showing off their top surgery scars and living in joy, and I wanted to join them. And because it is perfectly within the law of Washington, D.C., I decided to join them and cover my nipples just to play it safe.
"I had zero intention of trying to be vulgar or be profane in any way. I was simply living my joy and my truth and existing in my body."
US EMBASSY TO HOLY SEE FLIES PRIDE FLAG IN ROME
While Montoya is correct that Washington, D.C., laws allow people to be topless, the White House is federal land where local D.C. laws do not universally apply.
The original video, posted to TikTok, shows Montoya and another unnamed transgender activist, a biological female, baring their breasts on the South Lawn with the White House in view behind them.
DALLAS PRIDE FESTIVAL FOR 'ALL AGES' SELLS SEX TOYS, EDIBLE PENISES, GRAPHIC DISNEY ART
The montage of moments also shows an interaction with President Biden. The influencer smiles next to the president, saying, "It's an honor, Mr. President. Trans rights are human rights."
Biden is then seen holding the camera in an attempt to take a selfie with Montoya and other attendees, but the camera was set to video mode.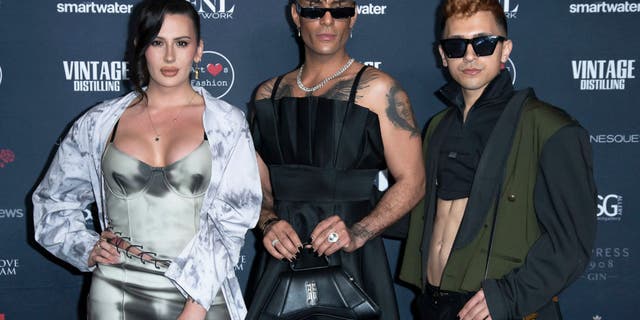 The White House condemned Montoya's actions in a public statement, however, saying Montoya and others seen stripping in the video would not be invited back to the premises.
CLICK HERE TO GET THE FOX NEWS APP
"This behavior is inappropriate and disrespectful for any event at the White House. It is not reflective of the event we hosted to celebrate LGBTQI+ families or the other hundreds of guests who were in attendance. Individuals in the video will not be invited to future events," the statement said.