GOP Congressman Jim Banks mixed it up with HHS Secretary Xavier Becerra over transgender ideology in a hearing Tuesday and told Fox News Digital that the interaction was an attempt by the Biden administration to "wiggle out" of defending "evil" policies it's pushing. 
"The Biden administration wants to force states like Indiana to greenlight harmful and irreversible transition procedures on minors, and if you resist by protecting your family from their radical gender ideology, they want to kidnap your child," Rep. Banks told Fox News Digital in a statement Tuesday following an exchange with Becerra during a House Committee on Education & the Workforce hearing. 
"It's indefensible, which is why Secretary Becerra tried so hard to wriggle out of answering for his evil policies."
Banks was referring to an exchange where he questioned why Becerra would support a law in his state that prevents 18-20 year olds from having a hunting rifle but at the same time supports children much younger being allowed to undergo gender reassignments.
DISNEY-OWNED ABC NEWS STORY ABOUT TRANSGENDER YOUNGSTER SPARKS INTENSE DEBATE: 'IT'S SICKENING'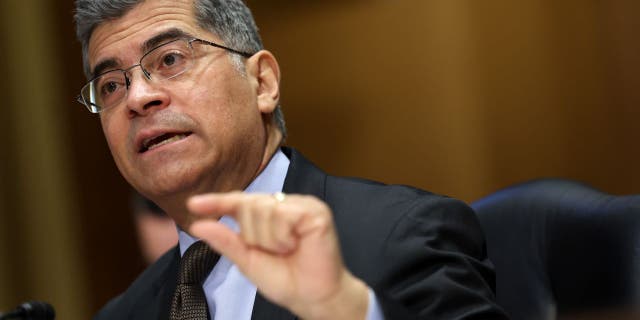 "I'm just curious, why do you think that 18-20 year olds can't be trusted with a firearm," Banks asked Becerra about the move in California while he was attorney general to ban 18-20 year olds from owning handguns, rifles, and shotguns. 
"For us here at HHS, gun violence is a healthcare crisis in this country and we have to do everything we can," Becerra responded. "I'm proud that my state has tried to take measures that would try to keep individuals,  especially assault weapons, for purposes that never should have been deployed in a civilian society."
Banks pressed Becerra again asking "what was it about that age" of 18-20 that worried California enough to limit gun rights and tried to push Becerra to answer whether he believed an 18-year-old should be allowed to own a hunting rifle.
MOST AMERICANS BELIEVE TRANS ATHLETES SHOULD COMPETE AGAINST THOSE WITH SAME BIOLOGICAL GENDER: POLL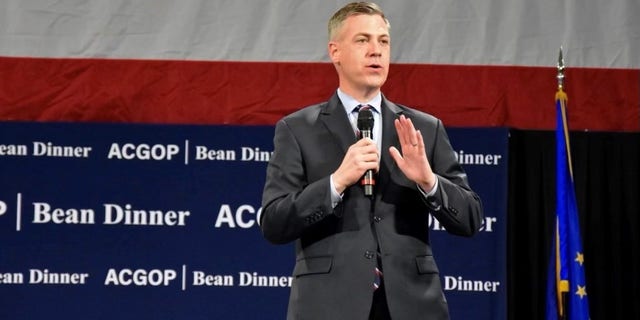 After not providing a direct answer with a response that Banks described as an "interesting way to dodge the question", he compared Becerra's support of children being allowed to undergo gender transition procedures to his perceived opposition to 18-20 year olds owning guns.
"I just want to ask this question, why do you think that children much much younger than 18 years old, 9, 10, 11 year-olds, are mature enough to make a decision to have a sex reassignment surgery," Banks asked. 
"Then you believed that an 18-year-old shouldn't be allowed to own a hunting rifle, today you believe a 9, 10, 11-year-old should be able to change their sex and have an irreversible surgery to do that, help us explain the logic."
Becerra responded to the Indiana Republican and said, "Congressman I would appreciate it if you let me characterize what I believe and we could have a good conversation rather than you characterize what I believe. What I would say to you is with regard to gun violence I do believe it is important we take action to protect our communities and our neighborhoods."
WISCONSIN COUNTY CONSIDERS SANCTUARY STATUS FOR TRANSGENDER KIDS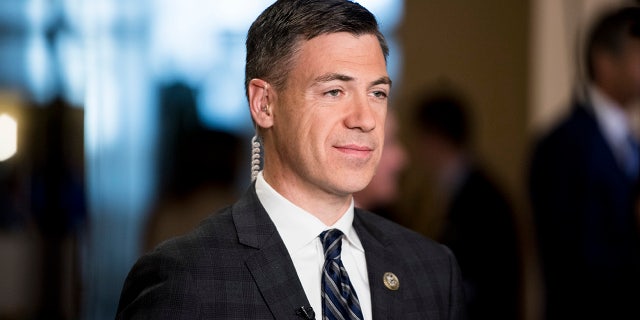 Banks then jumped in and said, "I don't think you want to explain it because you realize how crazy it is and that's why you're dodging the question."
"That's not the case," Becerra said back to Banks before the congressman moved on to a question about a report from HHS earlier this spring "claiming that gender affirmation including social transition, including changing one's gender pronoun name or appearance, is appropriate and beneficial for gender minority children and adolescents."
Banks said that the report recommends "cutting off" funds from states that "stigmatize transgender children."
"Mr. Secretary, does this mean that HHS is seriously threatening to withhold hospital grants from states like my own if they refuse to go along with surgeries or puberty blockers for kids?" Banks asked.
TRANS ACTIVISTS FLAUNT BARE BREASTS AT WHITE HOUSE PRIDE MONTH EVENT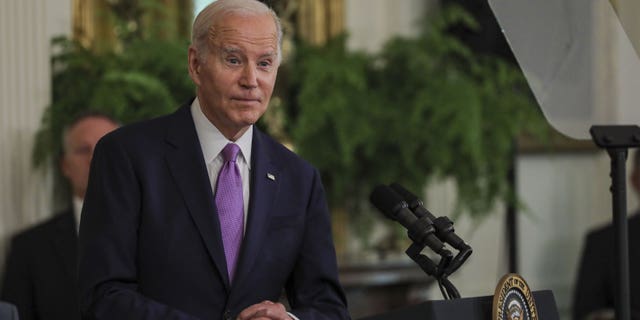 "We're going to protect the rights of any American to get the healthcare they're entitled to and if someone tries to stop them from that that's a violation of the law," Becerra responded at which point Banks pressed him again and Becerra responded with a similar statement.
"So that's a yes," Banks said, before asking Becerra whether he supports school lunch funding being pulled from a state like Arizona that "refuse to comply with your definition of gender identity?"
Becerra declined to answer directly saying that his personal definition is not the one being implemented but rather the rights of Americans in the law. 
"It's pretty clear what you believe the report says so and Madam Chair I hope today that the history books look back and realize just how crazy the politics of this administration are," Banks said. "Mr. Secretary your photo with the president is going to be in those history books as history will not look back fondly on those policies."
The Biden administration's HHS did not immediately respond to a request for comment from Fox News Digital.