Left-wing billionaire, investor and philanthropist George Soros' reported decision to hand control of his $25 million empire to his son, Alex Soros, has prompted a not-so-subtle jab from one European leader.
"Soros 2.0," Hungarian Prime Minister Viktor Orbán wrote on Twitter Monday, including a GIF depicting a scene from the movie "The Godfather" in which family patriarch and mafia head Vito Corleone is seen kissing the cheek of son, Michael Corleone. 
In the film, Michael takes over the crime family following Vito's death, and continues his father's work growing the organization and battling the family's enemies.
GEORGE SOROS' SON, 37, GIVES FIRST INTERVIEW SINCE TAKING OVER FATHER'S $25B EMPIRE: 'I'M MORE POLITICAL'
Orbán has a long history of clashing with Soros, a fellow Hungarian, who he has called "the condensed symbol of everything the Hungarian right hates." 
Orbán attended Oxford University on a Soros Foundation scholarship before delving into the world of politics. Despite entering university as a Soros protégé, Orban quickly forged his own identity as an anti-communist and Hungarian nationalist, diverging from Soros' globalist tendencies.
In his first interview following the reports of his ascension, Alex Soros told The Wall Street Journal he is "more political" than his father, indicating his intent on broadening his father's liberal goals. He reportedly plans on continue in his father's footsteps in backing left leaning politicians. 
GEORGE SOROS' SON BOASTS OF MEETING WITH KAMALA HARRIS; TWITTER REACTS: 'NOTHING TO SEE HERE FOLKS!'
"As much as I would love to get money out of politics, as long as the other side is doing it, we will have to do it, too," Alex said.
He went on to express concern over the prospect of former President Donald Trump returning to the White House in the 2024 presidential election.
Alex Soros has recently met with Biden administration officials, Senate Majority Leader Chuck Schumer, D-N.Y., and heads of state, including Brazilian President Luiz Inácio Lula da Silva and Canadian Prime Minister Justin Trudeau, The Journal reported.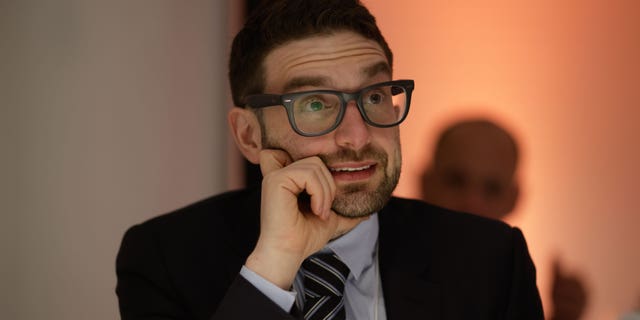 George Soros told the Journal he previously did not want one of his children to take over the foundation as "a matter of principle" because he believed it should be "managed by someone who is best suited." 
CLICK HERE TO GET THE FOX NEWS APP
Fox News' Nikolas Lanum and Danielle Wallace contributed to this report.