Sen. Sherrod Brown, D-Ohio, who often claims to have "fought" lobbyists and railed against them for having "too much power," has a history of hiring lobbyists to his own staff — including this year.
Last month, Brown wrote an op-ed for the Ironton Tribune in which he said lobbyists who work with big rail companies had "too much power and influence for far too long," pledging to "finally stand up to powerful special interests."
The op-ed built on Brown's previous remarks speaking out against lobbyists. In March, for example, the senator tweeted a video in which he slammed rail and banking lobbies and politicians who are friendly to them, saying their actions caused the East Palestine train derailment and Silicon Valley Bank collapse.
"I want to say a few words about the people in East Palestine, Ohio, and the aftermath of the Silicon Valley Bank collapse," said Brown. "They both have one thing in common: Companies followed the Wall Street business model, obsessed with short-term profits at the expense of everything and everyone else. They were aided and abetted by corporate lobbyists and the politicians here who do their bidding, weakening rules meant to protect the people whom we serve. And now working people in Ohio and around the country pay the price."
TOP BIDEN OFFICIAL RAISES EYEBROWS BY 'LOBBYING' FORMER AGENCY AFTER LEAVING GOVERNMENT, WATCHDOG SAYS
Months earlier, Brown touted on Twitter how he "took on" and "fought" corporate lobbyists to pass the Inflation Reduction Act.
Despite the rhetoric, Brown has a history of hiring lobbyists to his own staff.
Most recently, Brown hired former lobbyist Logan Basch to be the digital director at his Capitol Hill office in Washington, D.C. According to Basch's LinkedIn page, he began the role in February.
Logan Basch lobbied for Exact Sciences between the fourth quarter of 2021 and the fourth quarter of 2022, according to lobbying disclosure records. Some of the bills he previously lobbied on came before Brown in the Senate Finance Committee, particularly those concerning health care, such as the Medicare Multi-Cancer Early Detection Screening Coverage Act of 2021.
Beyond Basch, at least three of Brown's former chiefs of staff had worked as lobbyists. Jack Dover, for example, served as Brown's chief of staff between January 2005 and January 2007 and as his senior adviser between January 2007 and January 2013, according to Legistorm.
Lobbying disclosure records indicate Dover was a lobbyist from 1999 to 2004. And, according to Federal Election Commission (FEC) records, he donated nearly $7,000 to Brown's campaigns before joining his staff in 2005.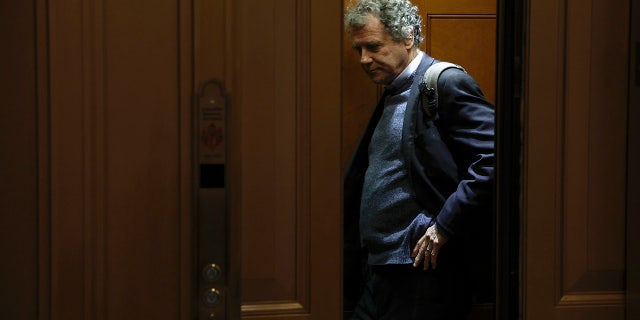 Dover's firm — known at the time as Griffin, Johnson, Dover & Stewart before later changing names — lobbied for the Hong Kong Trade Development Council on legislation meant to strengthen trade between the U.S. and China. Hong Kong stood to gain from the normalization of trade between the U.S. and China.
While Dover was a senior adviser in Brown's office, James Heimbach was serving as the senator's chief of staff from 2007 to 2009 after previously working as a lobbyist.
Heimbach lobbied for various clients from 2001 to 2007 and, since 2012, has given nearly $20,000 to Brown's campaign, according to FEC records.
DEMOCRAT OHIO SENATOR FUNDRAISES IN HOLLYWOOD AMID EAST PALESTINE TOXIC CHEMICAL SPILL
Heimbach is a lobbyist for Cigna Corporation, a company being sued by Ohio for allegedly driving up the costs of prescription drugs by charging high fees for pharmacy benefit management services.
In 2016, Congressional Quarterly Magazine called Heimbach a "hot commodity" in the lobbying world for his ties to powerful figures, including lawmakers on Capitol Hill.
As recently as the first quarter of this year, Heimbach was named as a lobbyist in a report for Bank of America, one of the country's largest financial institutions.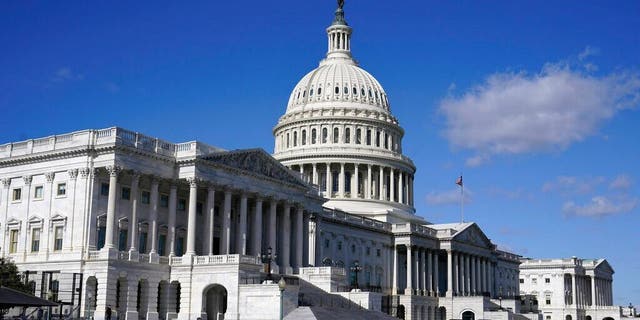 Former lobbyist Mark Powden worked for Brown from 2007 to 2019, including as his chief of staff from 2009 to 2015. He became staff director for the Banking, Housing, and Urban Affairs Committee in 2015, when Brown became the panel's top Democrat.
Before that, he lobbied for Education Finance Council, Inc., which seeks to make college more accessible, between 2002 and 2005, according to lobbying disclosure records.
Lastly, Elizabeth Farrar worked as a lobbyist for the Independent Telephone and Telecommunications Alliance before serving as Brown's press secretary from November 2005 to January 2007. Farrar had lobbied for the alliance just months before going to Brown's office.
OHIO REPUBLICAN SECRETARY OF STATE 'ACTIVELY' CONSIDERING SENATE RUN AGAINST SHERROD BROWN
Farrar lobbied on multiple bills that were directed to the House Telecommunications and the Internet Subcommittee, of which Brown was a member. 
"It's surprising that Sherrod Brown keeps railing against lobbyists while hiring them in key positions," Philip Letsou, spokesman for the National Republican Senatorial Committee, told Fox News Digital.
These are hardly the first examples of people switching between lobbying Congress and working on Capitol Hill. Many observers have raised issues about a so-called "revolving door" of Washington, D.C., insiders shuttling professionally between the federal government and outside special interest groups working as lobbyists, consultants and strategists able to influence public policy.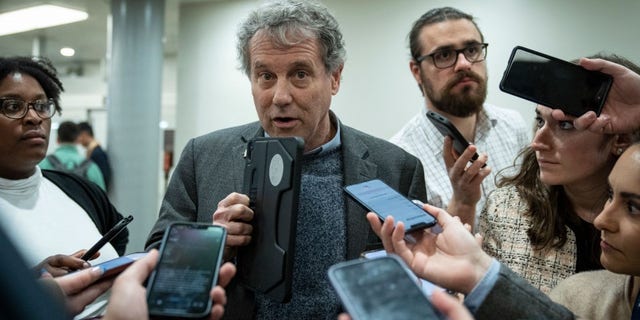 When lawmakers and top congressional aides leave Congress for lobbying jobs, they must undergo a "cooling-off period" when they can't contact former colleagues to seek official actions. However, lobbyists who take jobs in the House or Senate are not subject to such restrictions.
Some experts have raised concerns about potential conflicts of interest if members of Congress hire ex-lobbyists, arguing the staffers will give their one-time lobbying colleagues better access to lawmakers.
"They may give more access to their colleagues who they used to work with in the lobbying community," Donald Wolfensberger, a fellow at the Bipartisan Policy Center and former staff director of the House Rules Committee, told the Telegraph Forum.
CLICK HERE TO GET THE FOX NEWS APP
Still, other voices counter that former lobbyists have extensive legislative expertise and know how to accomplish tasks effectively, making them good hires for lawmakers.
Brown's office did not respond to a request for comment for this story.