A group of Navajo Nation citizens blocked two top Biden administration officials from crossing into their territory Sunday in response to a recent federal oil and gas leasing ban.
The Navajo protesters — who held signs saying "Go Home" and No Trespassing" — created a road blockade preventing Interior Secretary Deb Haaland and Bryan Newland, who heads the Bureau of Indian Affairs, from proceeding to a nearby event in northwestern New Mexico. Haaland and Newland were scheduled at Chaco Culture National Historical Park to celebrate a recent oil leasing ban.
"This morning was not ideal," Haaland said Sunday evening at an alternate location in Albuquerque following the protest. "To see any road — yes, less than ideal. That's the nicest thing I can say — to see any road into any of our national parks or our public lands blocked was heartbreaking because our public lands belong to all Americans."
On June 2, Haaland banned oil, gas and mineral leasing within 10 miles of the Chaco Canyon site for 20 years, an action strongly opposed by Navajo communities and government leaders. 
NATIVE AMERICAN TRIBE PLANS PROTESTS, CONSIDERS SUING BIDEN ADMIN OVER OIL-LEASING CRACKDOWN
Navajo Nation President Buu Nygren and other tribal leaders, in addition to locals, have argued that Haaland's action will harm low-income Navajo citizens who depend on revenue from leasing their allotments within 10 miles of Chaco Canyon mainly to fossil fuel companies. The allotments date back to the 1900s, when the government awarded them to Navajo citizens as a consolation when the tribe's territory was downsized.
NATIVE AMERICAN LEADERS REBUKE BIDEN ADMIN OVER OIL LEASING BAN: 'UNDERMINES OUR SOVEREIGNTY'
"To totally disregard those local communities – it's unfair," Nygren told Fox News Digital in an interview Saturday. "There's no need to celebrate putting people into poverty, to celebrate undermining the Navajo Nation's sovereignty, undermining everything that comes into working with tribes, in this case, Navajo Nation."
"You can't pound your chest on going after people in poverty," he said. "I don't know who would want to celebrate that. Personally, I think that's, I don't know, you got to not have a heart if you're going to put people that are already impoverished in third-world-country conditions and barely have enough to pay for gas, food, laundry, the daily necessities – to put them into an even tougher situation."
Overall, there are currently 53 Indian allotments located in the 10-mile buffer zone around Chaco Canyon, generating $6.2 million per year in royalties for an estimated 5,462 allottees, according to Navajo Nation data. In addition, there are 418 unleased allotments in the zone that are associated with 16,615 allottees.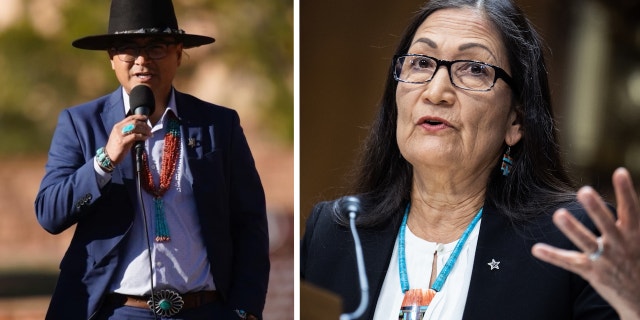 According to the Western Energy Alliance, an industry group that represents oil and gas producers in the area, Navajo members will lose an estimated $194 million as a result of Haaland's actions.
REPUBLICANS RAISE ETHICS CONCERNS OVER BIDEN CABINET OFFICIAL WHO ORDERED OIL LEASING BAN
In addition, Navajo leaders and allottees criticized Haaland for not properly consulting the Navajo Nation and the communities near Chaco Canyon that would be most impacted by the action. The tribe previously endorsed a five-mile buffer zone to protect the site while ensuring future drilling on oil-rich allotments, but has said Haaland never considered the compromise.
And while DOI has stated that the action won't impact existing leases or production on them, opponents of the 10-mile buffer zone said it would indirectly make Indian-owned allotments worthless. Because drilling on the Navajo allotments requires horizontal crossings that pass through federal land impacted by the ban, the action effectively ends all drilling in the area, they argued.
CLICK HERE TO GET THE FOX NEWS APP
"These Navajo landowners served up a much-needed dose of reality to Deb Haaland and Joe Biden," Daniel Turner, the founder and executive director of Power The Future, said in a statement. "The decision to cut off their land from oil and gas development was opposed by the landowners and the leadership of the Navajo Nation, yet the green agenda always comes first for Biden and Haaland." 
"We are grateful to these landowners for popping the distorted D.C. bubble where Joe Biden and Deb Haaland think they can ignore the voice of the people."