Republican presidential candidate Vivek Ramaswamy has filed a Freedom of Information Act (FOIA) request seeking communication between the White House and the Justice Department concerning the second indictment of his GOP rival, former President Donald Trump. 
Ramaswamy said he filed the request "to demand *exactly* what the White House Communicated to [Attorney General] Merrick Garland & [Special Counsel] Jack Smith about the unprecedented indictment of a former U.S. President & Biden's disfavored opponent in this election."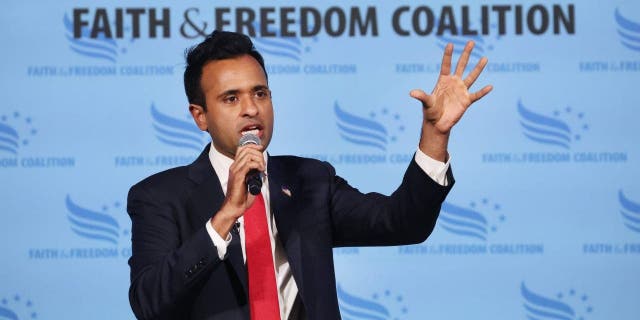 "Every American deserves to know," Ramaswamy said ahead of a Tuesday press conference in Miami. "If the captured media fails to do its job, real leaders in this country need to step up and do it instead." 
Ramaswamy, who is among an increasingly growing list of GOP candidates, said his bid for the White House would be easier if Trump "were eliminated from running, but that is not the right answer for our nation. America First Always." 
DESANTIS' CAMPAIGN TEAM MUST CREATE A 'PRESENCE' THAT IS 'SOMETHING NOT TRUMP': TERRY HOLT
Trump faces 37 counts related to the mishandling of classified documents, according to the indictment unsealed Friday. The charges include counts of retaining classified information, obstructing justice, and making false statements, among other alleged crimes. 
Ramaswamy has said previously he would pardon former President Trump on day one, were he to become president. The biotech entrepreneur and "anti-woke" activist has only doubled down on that position since the charges were unsealed.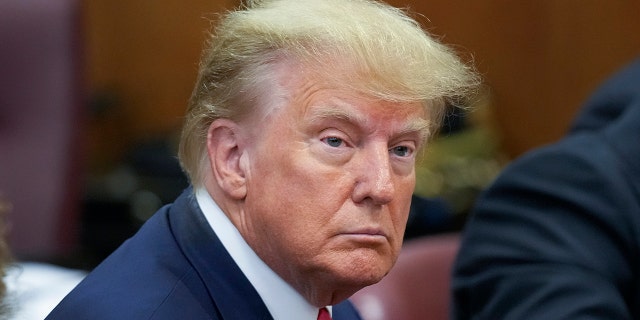 Asked Sunday during an appearance on CNN's "State of the Union" with Dana Bash whether he would stand by his promise, Ramaswamy said he was "even more convinced that a pardon is the right answer here." 
"The top question, actually, we should be asking is, what did Biden tell Merrick Garland? What did Merrick Garland tell Jack Smith?" Ramaswamy said, deriding the indictment as "deeply politicized." 
BILL BARR SAYS TRUMP'S INDICTMENT IS 'VERY DAMNING' IF 'EVEN HALF OF IT IS TRUE'
"[N]ot a single mention of the Presidential Records Act, the most relevant statute to the actual alleged crime here, selective statements from President Trump's, statements on the campaign trail in 2016 about classification and how he'd treat it, without one mention of the fact that he actually … said he would not prosecute Hillary Clinton and would not want to see her prosecuted," Ramaswamy said. 
"This is selective prosecution. I think it's irresponsible not to have included any treatment of those facts or law in this indictment. It reeks of politicization, which is why I want to go back to the top question that the media actually should be asking."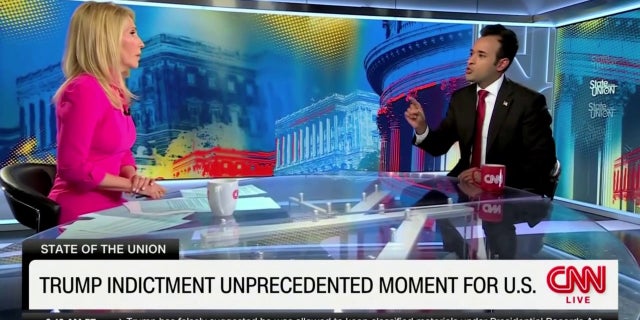 Last year, Attorney General Merrick Garland tapped Jack Smith, a veteran war crimes prosecutor with a background in public corruption probes, to lead investigations into the presence of classified documents at Trump's Florida estate, as well as key aspects of a separate probe involving the Jan. 6, 2021 riots.
TRUMP'S LAWYER SAYS SHE ADVISES AGAINST PLEA DEAL IN CLASSIFIED DOC CASE
Smith's appointment was a recognition by Garland of the politics involved in an investigation into a former president and current White House candidate. Garland himself was selected by Democratic President Biden, whom Trump is seeking to challenge for the White House in 2024. Smith's previous high-profile political cases include the conviction of former Republican Gov. Robert McDonnell of Virginia, which the Supreme Court vacated in a stinging rebuke, and the trial of former Democratic Senator John Edwards, which ended in a mistrial. 
President Biden said Friday he had not spoken to Garland and had no plans to do so.
"I have not spoken to him at all and I'm not going to speak with him," Biden said, when asked by a reporter if he would speak to the attorney general.
Special counsels are appointed in cases in which the Justice Department perceives itself as having a conflict or where it's deemed to be in the public interest to have someone outside the government come in and take responsibility for a matter.
CLICK HERE TO GET THE FOX NEWS APP
According to the Code of Federal Regulations, a special counsel must have "a reputation for integrity and impartial decision-making," as well as "an informed understanding of the criminal law and Department of Justice policies."
The Associated Press contributed to this report.