A recent effort to remove Supreme Court Justice Clarence Thomas was slammed by a former federal election official as the latest example of attack by the left on the country's government institutions.
Americans are taking notice of the trend, with polling results that fly in the face of popular media narratives and imply Republicans are more trusted to protect democracy than Democrats, according to law professor and former FEC Commissioner Brad Smith. 
"The ongoing Thomas smear campaign is one of many reasons why polling consistently finds that Americans are more prone to view Democrats than Republicans as a threat to democracy, despite a decade of Democratic campaigning on the claim," Smith recently tweeted.
Thomas has been under scrutiny and even facing calls to resign after a report outlined allegedly gifts and benefits he accepted while on the highest court in the land, but they are just the latest push to delegitimize Thomas or seek to upend the Supreme Court. The justice has long been a target of the left over the decades, though one ethics compliance expert characterized the current scrutiny as "grasping at straws."
"I began to notice, you know, some time ago, a series of polls by different pollsters, generally respected pollsters, asking some variation of the question, 'Which party do you think is a greater threat to democracy?'" Smith told Fox News Digital.
"And pretty consistently, those polls were showing that a plurality — in some cases a very narrow plurality, in some cases a larger plurality – were saying Democrats were greater threat to democracy," he added. "This goes so much against the narrative of most of the press, against the academic community, of which I'm a part and that, to me, was a very interesting thing."
FALSE LEFTIST ATTACKS ON JUSTICE THOMAS ARE PART OF PRESSURE CAMPAIGN TO UNDERMINE SUPREME COURT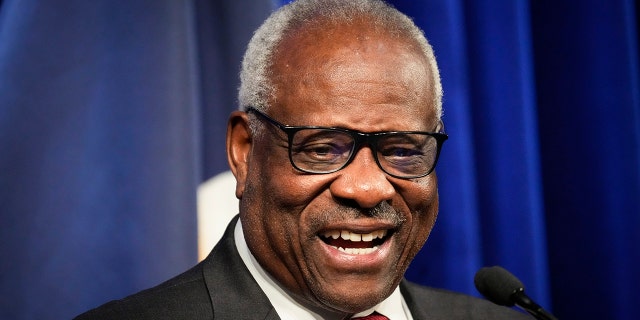 Smith pointed to a Marist poll in November 2021 that found Democrats, by 1-percentage point, were the party that posted the biggest "threat" to democracy as well as Rasmussen poll from December 2021 where 37% of voters saw Democrats as the bigger threat to democracy compared to 26% who felt that way about Republicans.
A Fox News poll also showed a similar result last June when 46% of registered voters said Republicans would do a better job of protecting democracy compared to 45% who said Democrats.
The left is also in the midst of a push to expand the Supreme Court in what critics call "packing," to add Democrat picks and shift its balance to more favorable to liberal ideology. These are only some examples of the politicization of government institutions and questioning of U.S. norms, according to experts. 
This comes after Democrats' highly publicized objections to the confirmation of Justice Brett Kavanaugh, violence surrounding the overturning of abortion precedent Roe v. Wade, and Democratic legislators in Tennessee and Minnesota recently refusing to follow House procedures, Smith said.
FRIEND RIPS MEDIA'S 'DESPICABLE' EFFORT TO 'SMEAR' CLARENCE THOMAS FOR GOP DONORS' PAYMENT TO SCHOOL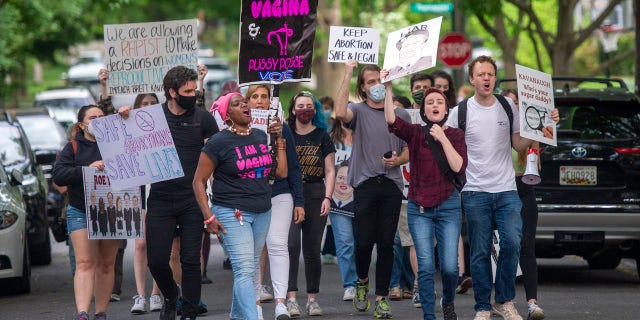 "Back in 2011, progressives basically physically took over the Wisconsin State Capitol," Smith recalled. "In 2013, they basically physically took over the Texas State Capitol, effectively attempting to shut down these legislatures from acting, that are elected legislatures with the elected majorities, acting within their sphere."
Although Smith said Democrats were right to criticize Republicans following the Jan. 6 Capitol Hill riot, he hypothesized that Democrats likely suffer in the polls because some members questioned or denied the results of the electoral vote counts in the 2000, 2004 and 2016 presidential races.
ACTOR JAMES VAN DER BEEK BASHES DNC FOR REFUSING TO HOLD BIDEN DEBATE: 'HOW IS THIS A DEMOCRACY?'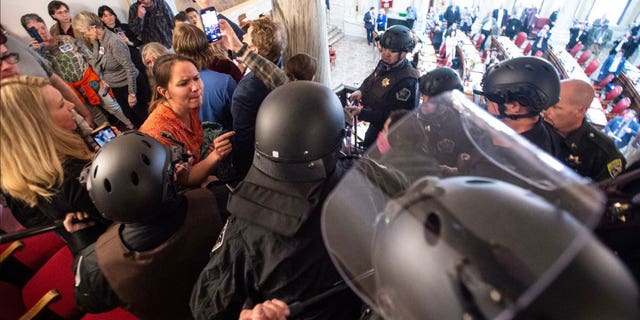 "I think people see all of these kinds of things, they're not really directly related they are different types of actions but all of these are things that one could easily say 'that sounds undemocratic to me' or 'contrary to our democracy,'" Smith said.
"Enthusiasm for packing the court — that certainly is something that people are leery of — so there's a whole host of things that I think could leave one at least to rationally conclude that the Democrats are a greater threat to democracy than Republicans."
CLICK HERE TO GET THE FOX NEWS APP
At the root of the issue is that many Americans have a perception that Democrats are "fundamentally opposed to the American project" and that is evident when the left attempts to rename schools that are named after Founding Fathers and generally seem to be "less interested" in the Constitution, Smith said.
Smith added that while both parties have their fair share of faults, it's worth asking the question why so many people view Democrats as a threat to democracy despite the prevalent media narrative that Republicans are the ones to fear.
"I'm not trying to draw comparisons here so much, I just focus on the Democrats simply because that's not part of the narrative at all," Smith said. 
"The narrative is Republicans are a threat to democracy," he said. "I think right now our political system has a lot of problems and they manifest themselves in both parties to different extents and if we're going to deal with them then people have to be honest about that and they've got to recognize it for themselves."