The unconventional nature of this year's top political race brought another surprise this week when a number of law enforcement officials across the Commonwealth of Kentucky endorsed the Democrat running for re-election rather than the Republican.
More than 35 law enforcement officials announced Tuesday their endorsement of Democratic Kentucky Gov. Andy Beshear over Republican state Attorney General Daniel Cameron, joining multiple major coal operators endorsing a candidate of the party not traditionally in tune with them on policy.
"Now more than ever, law enforcement needs a strong ally in Frankfort with a record of fighting for us and understanding the sacrifices our officers make to keep our Commonwealth safe," Floyd County Sheriff John Hunt, the co-chair of Law Enforcement for Beshear, said in a statement. 
"Governor Beshear's work to pass pay raises, deliver more resources and provide funding for training facilities throughout the Commonwealth are all evidence of his unwavering commitment to our law enforcement officers. While other candidates try to dodge responsibility in office, Governor Beshear has shown up and delivered for Kentucky law enforcement."
DEMOCRAT ANDY BESHEAR LAUNCHES RE-ELECTION TOUR AS REPUBLICANS LOOK TO UNITE AFTER BRUTAL KENTUCKY PRIMARY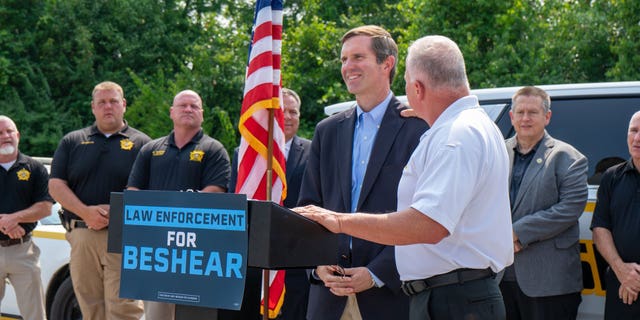 Hardin County Sheriff John Ward, also a co-chair of the pro-Beshear group, praised the governor for what he said was him standing up for the law enforcement community and having "a proven track record fighting for our men and women in uniform."
The two sheriffs were joined by 35 other current and former sheriffs and police chiefs from across the commonwealth in forming Law Enforcement for Beshear.
AMERICANS IDENTIFYING AS SOCIALLY, ECONOMICALLY CONSERVATIVE HITS HIGHEST POINT IN MORE THAN A DECADE: POLL
The endorsements come just weeks after the surprising move by leaders in the state's coal industry, a group not widely viewed as being line with national Democrats' environmental policy objectives, to throw their support behind Beshear. 
"Law enforcement officers work every day to help make us safer while serving on the frontlines of some of the most pressing and challenging issues we are facing, and I am honored to have their support," Beshear said in a statement. "We're asking our men and women in uniform to risk their lives, deal with some of the toughest crimes and see things that are difficult for anyone to handle."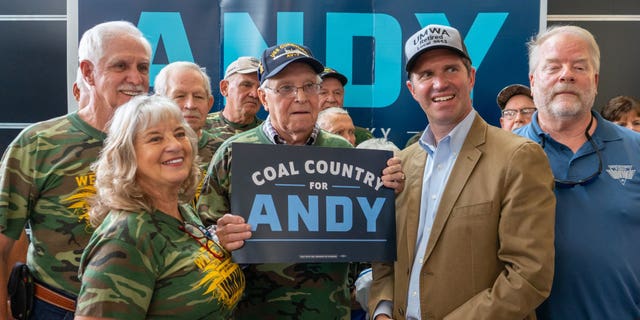 Beshear touted the $15,000 pay raises for the Kentucky State Police he said he worked with the state legislature to pass, fully funding the Kentucky Law Enforcement Foundation Program Fund in his budget proposals and providing more money to fund new training facilities and equipment.
"Everyone deserves to be safe, and that's what our law enforcement community has dedicated their lives to doing. I want to thank our law enforcement personnel for their bravery and service, and I am proud to have the bipartisan support of Law Enforcement for Beshear," he added.
BIDEN JOINS AOC IN LINKING CANADIAN WILDFIRES TO 'CLIMATE CRISIS'
Cameron's campaign responded to the endorsements by ripping Beshear over the early release of prisoners during his first year in the governor's office and touted the attorney general's own law enforcement support.
"Andy Beshear coddles criminals, and Daniel Cameron does not," Cameron campaign surrogate and Republican Party of Kentucky spokesman Sean Southard said in a statement. "In his first year in office, Andy Beshear released nearly 3,000 prisoners. Since then, a third of the Governor's Getaways have been charged with felonies."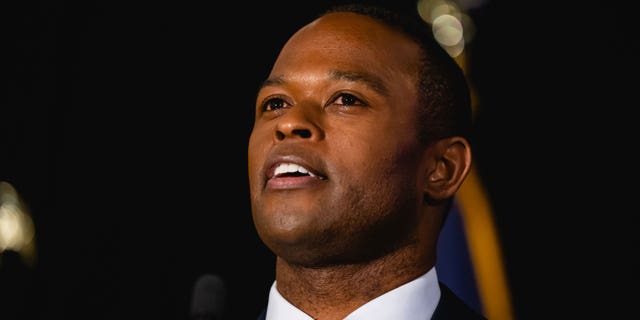 "Crime is bad enough without Andy's help. That's why Daniel Cameron has been endorsed by more than 100 members of our law enforcement community. Andy Beshear is the catch-and-release governor. Daniel Cameron will be tough on crime," he added.
Beshear's release of prisoners referenced by Southard coincided with the actions of a number of other states during the early months of the COVID-19 pandemic.
RESURFACED PHOTO OF DEM GOVERNOR POSING WITH ANTI-CHRISTIAN LGBTQ GROUP TAKES CENTER STAGE IN YEAR'S TOP RACE
Democrats have sought to make crime a central focus in the race. They hit the ground running following primary elections last month by taking a swing at Cameron and what they've called his refusal to address another early release of criminals — by Beshear's predecessor, former Republican Gov. Matt Bevin.
In a new TV ad released Friday, a pro-Beshear group backed by the Democratic Governors Association blasted Cameron for hiring what it said were the same advisers who pushed Bevin to issue the pardons of convicted murderers and rapists.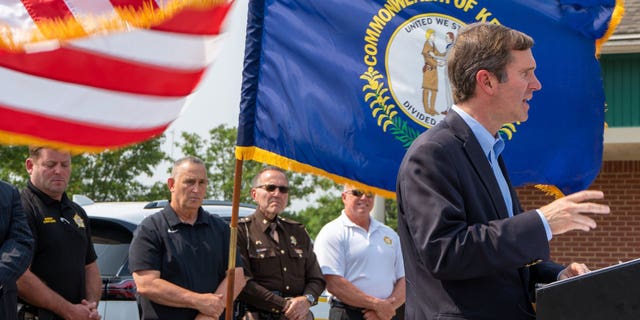 CLICK HERE TO GET THE FOX NEWS APP
The race between Beshear and Cameron is being largely viewed as a bellwether for the 2024 presidential election and Republicans' hopes to win back control of the Senate and widen their slim majority in the House of Representatives.