The Department of Homeland Security (DHS) on Friday announced it will replace outgoing Border Patrol Chief Raul Ortiz with the current head of the Del Rio Sector.
DHS announced that Jason Owens, who currently serves as the Del Rio Sector Border Patrol chief, will take over after Ortiz retires on June 30.
Owens has been with the Border Patrol for over 25 years and takes the position just as apprehensions at the border have dipped in the wake of the expiration of the Title 42 public health order — although officials have expressed caution about believing that situation will hold in the long-term.
The agency also announced that acting Deputy Customs and Border Protection (CBP) Commissioner Benjamine "Carry" Huffman will also retire and will be replaced by Executive Assistant Commissioner for the Office of Field Operations Pete Flores.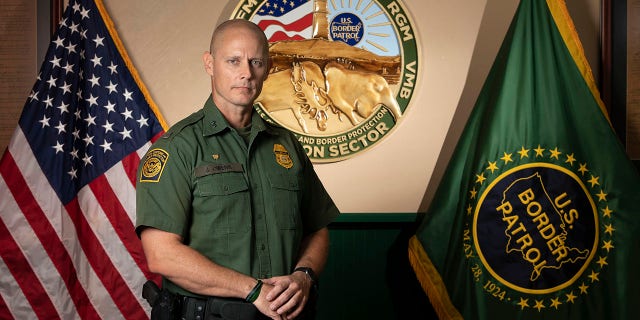 "Acting Deputy Commissioner Huffman and Chief Ortiz embody the ideals of public service. They have dedicated their careers to the safety and security of the American people and the betterment of the great CBP for which they have sacrificed so much," DHS Secretary Alejandro Mayorkas said in a statement. "Their legacy of service is enduring and will forever be a part of the fabric of the entire Department of Homeland Security. Their legacy includes the many men and women whom they have inspired to serve and lead with honor and integrity. I congratulate them on their retirement and am profoundly grateful to them for everything they have done."
US BORDER PATROL CHIEF RAUL ORTIZ, WHO HAS LED BORDER ENFORCEMENT SINCE 2021, IS RETIRING
The DHS chief called Owens a "talented, selfless, and inspiring leader who is dedicated to the Border Patrol's law enforcement mission, the men and women who fulfill it, and the country that we all serve."
"I have worked with Chief Owens; I am inspired by his commitment to the mission, and am grateful to him for his continued service in this new leadership role," he said.
Ortiz's end to his time in office came after he had guided Border Patrol through the busiest months in its history as the agency dealt with a historic migrant crisis into its third year.
Notably this year, Ortiz appeared at a Homeland Security hearing in which he publicly disagreed with the Biden administration's decision to end border wall construction, and also publicly backed agents who were falsely accused of whipping migrants in Del Rio Sector in 2021. 
BORDER PATROL CHIEF PUBLICLY BACKS AGENTS FALSELY ACCUSED BY BIDEN OF WHIPPING HAITIAN MIGRANTS
He also described sectors as overwhelmed and said in response to questioning the agency does not have "operational control" of the border, although DHS officials have noted the definition he was quizzed about — where operational control means there are no unlawful crossings — has never been achieved by any administration.
CLICK HERE TO GET THE FOX NEWS APP
Ortiz's departure comes as acting Immigration and Customs Enforcement (ICE) Director Tae Johnson is also set to leave his post.
CBP is headed by acting Commissioner Troy Miller, who was briefly replaced by then-Commissioner Chris Magnus, who later resigned after clashing with senior DHS officials.