Illinois Gov. JB Pritzker signed the state's $50.4 billion budget for the next fiscal year into law Wednesday, hailing it for being balanced and what he called its "transformative investments" in early childhood, K-12 and higher education.
Pritzker, flanked by fellow Democrats Senate President Don Harmon and House Speaker Emanuel "Chris" Welch, signed the budget at Christopher House, a pre-K through eighth grade nonprofit school, to highlight state spending on early childhood development with an initial $250 million investment in a new program called Smart Start that aims to expand preschool access.
The budget also invests $350 million for K-12 education throughout the state as well as $100 million for college scholarships and to provide free access to community colleges.
ILLINOIS BUDGET-MAKERS UNFAZED BY $1.8B APRIL REVENUE DROP
It also has funding to hire and train 200 state police officers, contributes an additional $200 million to the state's pension systems beyond what's required and makes ongoing contributions to the state's budget stabilization fund, set to surpass $2 billion.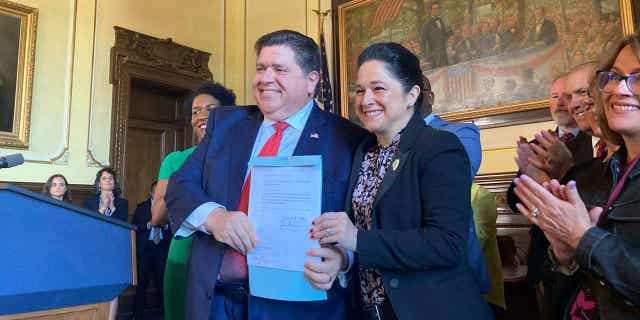 "Our budgets have allowed thousands more students to stay in Illinois because they can afford a college degree. Balanced budgets have allowed us to modernize our infrastructure, build nation-leading clean energy production, attract industries of the future like quantum computing, and prioritize childcare for working families and our youngest children," Pritzker said in a statement.
ILLINOIS' 'ASSAULT WEAPONS' BAN COULD BE ON THE CHOPPING BLOCK — AT LEAST TEMPORARILY
"Passing this budget," Harmon said, "was an exercise in trust, working together to prioritize paying down debt, shoring up our Rainy Day Fund and ensuring a durable, balanced budget."
Welch said that "with this budget we're building a stronger economy and putting our state back on sound fiscal footing, while also making smart investments in priorities like education, health care, and local communities."
The budget reflects projected revenues of $50.6 billion and expenditures of $50.4 billion, resulting in a $183 million surplus.
CLICK HERE TO GET THE FOX NEWS APP
No Republicans in either chamber of the General Assembly supported the budget.
The fiscal year 2024 budget takes effect July 1.