A federal judge on Tuesday halted two New York counties' orders designed to block New York City from sending migrants to hotels in their jurisdictions as the Big Apple scrambles to tackle a migrant crisis.
Judge Nelson Roman of the Southern District of New York blocked the enactment of orders by Orange County and Rockland County that barred local hotels and motels from making rooms available to migrants from New York City.
The counties acted after New York City officials announced May 5 they would transport hundreds of migrants to the counties ahead of the end of Title 42 on May 11. 
Civil rights groups challenged counties' moves, arguing that they are illegal and discriminatory.
FLORIDA OFFICIALS CONFIRM STATE BEHIND MIGRANT FLIGHTS TO CALIFORNIA AS NEWSOM THREATENS 'KIDNAPPING CHARGES'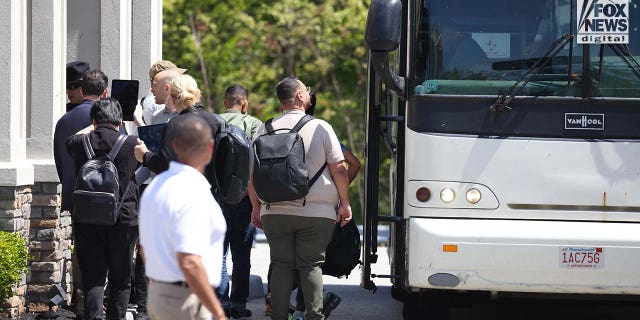 Over 60,000 migrants flooded into the "sanctuary" city in the last year, quickly overwhelming social services and homeless centers. NYC Mayor Eric Adams' administration has tried a number of creative ways to house migrants, including using school gyms and police training facilities. He recently proposed housing migrants in private homes.
RFK JR. VISITS SOUTHERN BORDER IN ARIZONA, CALLS MIGRANT CRISIS 'UNSUSTAINABLE'
Adams declared a state of emergency May 5 and a "new voluntary program" to transport migrants to other parts of New York state.
The judge found convincing the plaintiffs' arguments that migrants were being discriminated against on the basis of national origin, alienage and race, which violates the equal protection clause under the Fourteenth Amendment.
The controversy is one of a number that arose between cities and states across the country as they seek to shift migrants to different jurisdictions. New York City's migrant crisis was exacerbated by Texas Gov. Greg Abbott's program to bus migrants to sanctuary cities including NYC, Philadelphia, Chicago and Washington, D.C.
Cities in Texas have also bussed migrants to cities deeper into the interior. It was revealed this week that Florida officials, who have previously sent migrants to Martha's Vineyard, have also been flying migrants to California.
Those flights sparked a furious response from California officials, who accused Florida Gov. Ron DeSantis of kidnapping and exploiting the migrants involved. Florida officials pushed back, publishing video they say shows the flights were voluntary.
DeSantis on Wednesday said it was right that states and cities with "sanctuary" policies bear the brunt of the migrant crisis.
CLICK HERE TO GET THE FOX NEWS APP
"If there's a policy to have an open border, then I think these sanctuary jurisdictions should be the ones that have to bear that," he said. "We're not a sanctuary in Florida."