Florida Gov. Ron DeSantis on Wednesday defended sending migrant flights to California in recent days, arguing that states and cities with "sanctuary" policies in place should bear the brunt of the ongoing migrant crisis.
DeSantis, who is running for the Republican 2024 presidential nomination, visited the border in Arizona and was asked about the pushback his state has received from California for sending two migrant flights there – the state's sanctuary policies limit cooperation with federal immigration officials.
"These sanctuary jurisdictions are part of the reason we have this problem because they have endorsed and agitated for these types of open-border policies," DeSantis said. "They have bragged that they are sanctuary jurisdictions."
FLORIDA OFFICIALS CONFIRM STATE BEHIND MIGRANT FLIGHTS TO CALIFORNIA AS NEWSOM THREATENS 'KIDNAPPING' CHARGES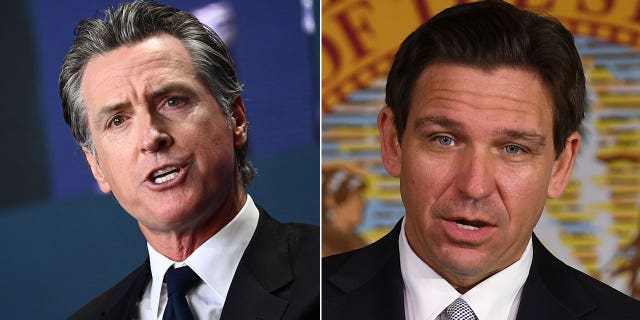 California officials have accused Florida of exploiting vulnerable migrants and have even raised the possibility of filing criminal kidnapping charges against the Floridian officials responsible.
"The state of Florida needs to be held accountable for these actions," California Attorney General Rob Bonta said this week. "These actions are cruel, they're inhumane, they're morally bankrupt, they're wrong."
He said it was a "cheap political act to get cheap political points." Bonta had previously issued a statement that called the move "state-sanctioned kidnapping" and that his office was evaluating criminal or civil action against those involved in the transports.
California Gov. Gavin Newsom told NBC News on Wednesday that he believes a crime has been committed "on the basis of all the interviews and all the facts that are now in evidence."
The Florida Division of Emergency Management told Fox News in an email that Florida flew the migrants to California as part of a voluntary relocation.
NEWSOM THREATENS DESANTIS WITH 'KIDNAPPING CHARGES' OVER MIGRANT FLIGHTS TO SACRAMENTO
"Through verbal and written consent, these volunteers indicated they wanted to go to California. A contractor was present and ensured they made it safely to a 3rd-party NGO," the email said.
The controversy is part of an ongoing battle over migrant transports, which began last year when Texas began bussing migrants to New York City, Chicago, Washington, D.C., and other sanctuary cities. Florida has also sent migrants to Martha's Vineyard in Massachusetts. New York City has sought to bus migrants to other parts of the state.
CALIFORNIA OFFICIALS INVESTIGATING MIGRANT ARRIVALS IN SACRAMENTO: 'WITHOUT ANY ADVANCE WARNING'
DeSantis shrugged off the controversy Wednesday, saying it's right that sanctuary cities that have encouraged migrants to travel to the U.S. border should also receive the migrants.
"They attacked the previous administration's efforts to try to have border security. And so that's the policies they're staking out. And then what? When they have to deal with some of the fruits of that, they all of a sudden become very, very upset about that?"
He echoed his previous comments that the border should be "closed."
CLICK HERE TO GET THE FOX NEWS APP
"I don't think we should have any of this. But if there's a policy to have an open border then I think the sanctuary jurisdictions should be the ones that have to bear that," he said. "We're not a sanctuary in Florida."