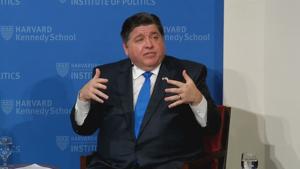 (The Center Square) – Effective immediately, Illinoisans wanting to challenge the constitutionality of state laws or executive actions in state court can only file litigation in two of the state's 102 counties. 
The contentious measure passed both chambers along party lines and says citizens can only file litigation in state court in either Sangamon or Cook counties. Gov. J.B. Pritzker signed the bill Tuesday. 
House sponsor of the bill, state Rep. Jay Hoffman, D-Swansea, said the measure seeks to limit venue shopping by litigants. 
Republican state Rep. Dan Caulkins, R-Decatur, who sued the state in Macon County challenging the state's gun and magazine ban, said the bill, now law, is similar to the tyranny of King George III from which the founders of the United States declared independence. 
"The Democrats today are doing the very same thing. They pass unconstitutional laws to make law-abiding citizens criminals and then they make those same citizens travel hundreds of miles to a kangaroo court that they control," Caulkins said during debate. 
Senate President Don Harmon, D-Oak Park, said the measure limits venue shopping. But, Republican state Sen. Terry Bryant, R-Murphysboro, blasted the bill. 
"This is a terrible bill," Bryant said during debate. "We have circuit courts in this state for a specific reason and that is so that people are able to go to their courts and have their grievances heard. Not so that we can make it more convenient for the person that was mentioned previously which is the attorney general. This is a very bad bill." 
Pritzker signed the bill Tuesday without any fanfare. The law takes effect immediately. Opponents say the measure denies citizens access to court and it's possible the law could be challenged in federal court.