Republican presidential hopeful Vivek Ramaswamy does not agree with those who say former President Donald Trump has no shot to win the White House in 2024.
But his campaign clarified it will take more than "vengeance and grievance" to advance America First principles and unite the country.
The 37-year-old Ramaswamy, a self-styled "anti-woke" CEO and political newcomer, has differentiated himself from the growing field of 2024 GOP contenders by declining to take direct swipes at the Republican front-runner, Trump. In an interview with Politico published Monday, he disagreed with the view held by many of Trump's critics that the former president is too unpopular to defeat President Biden. 
However, Ramaswamy did tell Politico he would win a general election by a much bigger margin than Trump, even "a landslide." 
TRUMP CAMPAIGN CONTINUES TO PUSH FALSE NARRATIVES ABOUT DESANTIS: HERE ARE FIVE EXAMPLES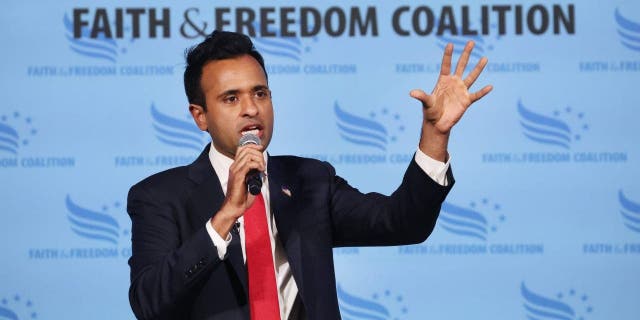 Ramaswamy's campaign press secretary Tricia McLaughlin elaborated on his point in a statement to Fox News Digital.
"Vivek believes he can take America First even further than Trump, and unify the country while doing it, by leading with first principles and moral authority. Not just vengeance and grievance," McLaughlin said. "He would do this by embracing the principles that this nation was founded upon: free speech, merit, democracy over aristocracy. The same principles that bound the nation together and set us into motion 250 years ago."
'ANTI-WOKE' GOP PRESIDENTIAL CANDIDATE SAYS HE WOULDN'T BAN TRANSGENDER ERVICE IN MILITARY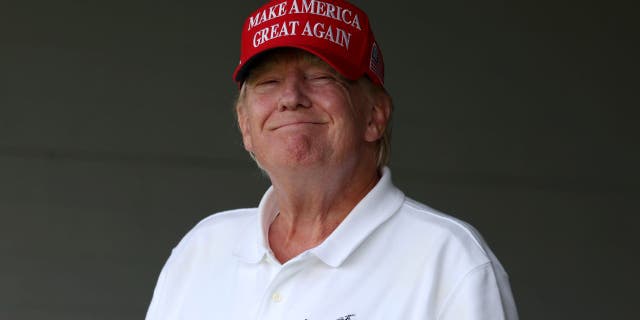 The Trump campaign did not respond to Fox News' request for comment. Though the former president has his fair share of critics both inside and out the Republican Party, he continues to dominate the national conversation and GOP presidential primary polls. Confident in his early advantage, Trump has suggested he'll skip the first few primary debates rather than contrast his vision for the country with the other candidates on stage.
Ramaswamy, who is self-funding his campaign out of his multimillion-dollar fortune, is looking forward to drawing that contrast.
PENCE, HALEY AND DESANTIS SLAM TRUMP FOR CONGRATULATING NORTH KOREA'S KIM JONG UN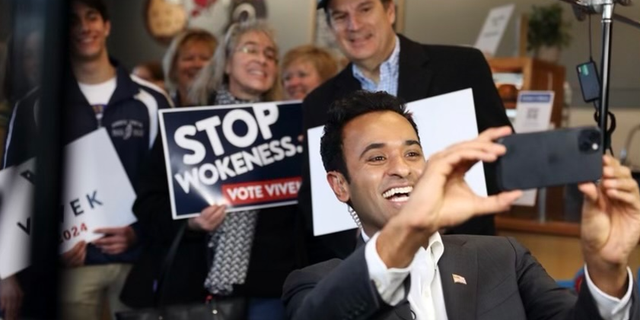 "I fully expect to see Donald Trump on that debate stage. It is my expectation that Trump will be there because as I've known him, he's not a man that I know of to be afraid. He's not somebody who's made a habit of himself to be a coward," Ramaswamy told Fox News last month. 
But taking a swipe at the former president, he added that if Trump "doesn't show up on that debate stage I think that will be the best proof that the Donald Trump of today is not the same Donald Trump as in 2015. Because that guy was unafraid, an outsider, showed well on the debate stage. Didn't hide from a debate."
CLICK HERE TO GET THE FOX NEWS APP
And he touted that if Trump "doesn't show up on that debate stage, I think that will be the best proof that I'm the new outsider in this race."
Fox News' Paul Steinhauser contributed to this report.