New York City Mayor Eric Adams asked residents to welcome the tens of thousands of migrants pouring into the five boroughs, and even suggested the idea of paying homeowners and landlords to house them, the New York Post first reported.
During a press conference on Monday, Adams announced the creation of a two-year partnership with New York Disaster Interfaith Services (NYDIS) that allows up to 50 houses of worship or faith-based spaces to offer overnight shelter for up to 19 single adult men at each location.
The city will also open five offsite daytime centers to provide programming and support for asylum seekers during the day, allowing the faith-based spaces to resume normal activities.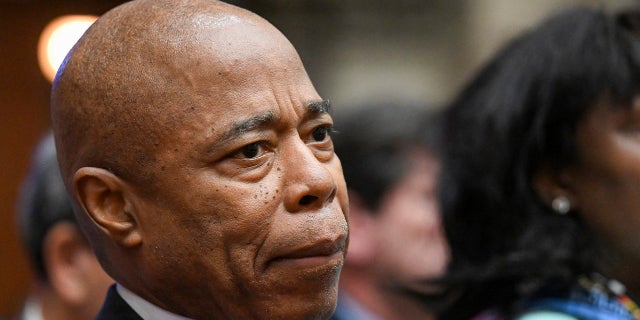 The mayor said partnerships with faith-based organizations have played a critical role in the city's response to migrants being dropped off in New York City, and at full scale, this program should be able to offer housing for 1,000 asylum seekers while also having the potential to expand and house more.
NYC MAYOR ADAMS, AFTER BEING BOOED AT CUNY LAW GRADUATION EVENT, CHALLENGES SCHOOLS TO BE 'FREEDOM FIGHTERS'
"No matter what faith you practice, caring for those in need is part of every spiritual tradition," Adams said. "As we continue to tackle this humanitarian crisis, I'm proud that through this new partnership…, New York City's faith community will be able to provide shelter to asylum seekers in need at houses of worship throughout the five boroughs."
Along with announcing the partnership with faith-based organizations, Adams floated the idea of eventually housing thousands of migrants in private dwellings and paying landlords and homeowners to do so.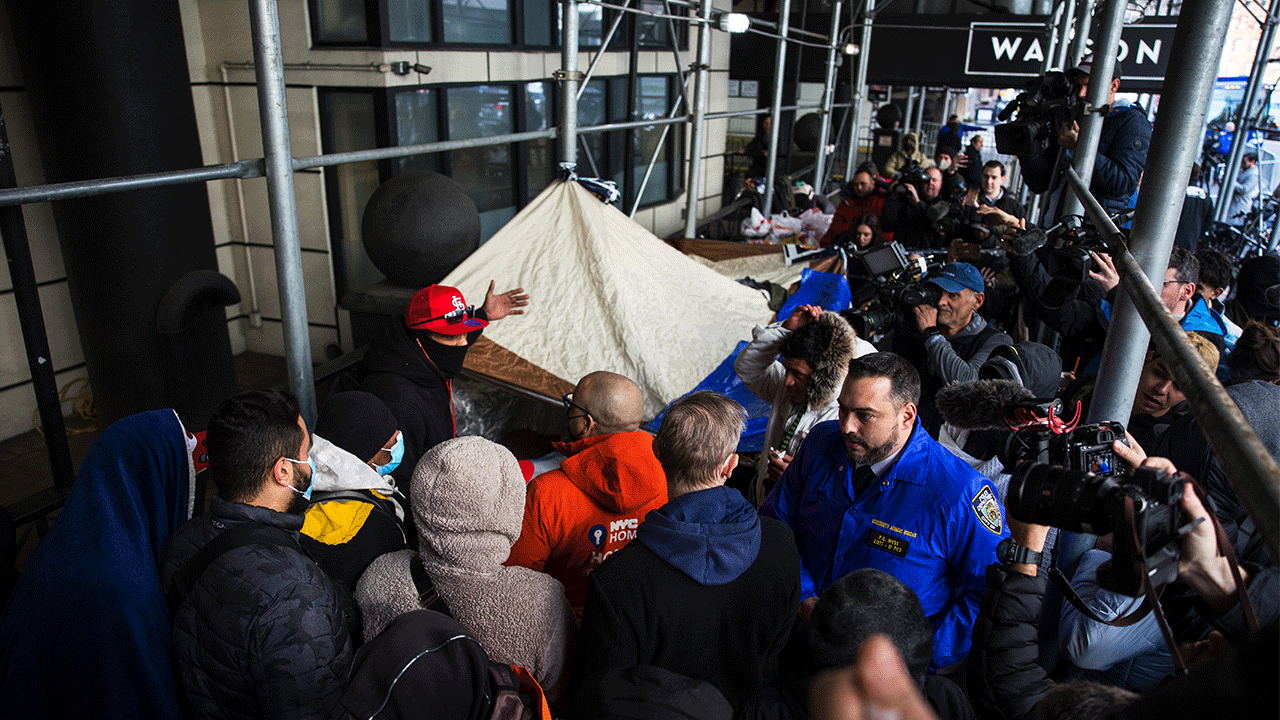 "It is my vision to take the next step to this faith-based locales and then move to a private residence," he said. "We can take that $4.2 billion, or $4.3 billion maybe now, that we potentially have to spend, and we can put it back in the pockets of everyday New Yorkers, everyday houses of worship instead of putting it in the pockets of corporations, and some of those corporations come from outside of our city.
NEW YORK CITY MAYOR ERIC ADAMS BLASTS 'NEGATIVITY AND DIVISIVENESS' IN CUNY LAW STUDENT'S COMMENCEMENT SPEECH
"We should be recycling our own dollars," Adams added. "We should take this crisis and go to opportunities. That is how we can deal with this."
The mayor said the city would have to get over a "30-day rule," but he did not go into details of implementing his plan.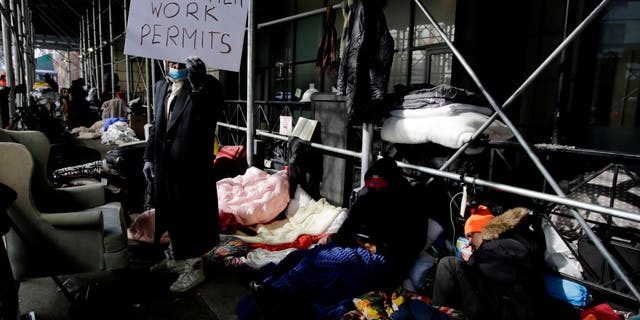 Over the past year, more than 72,000 illegal migrants people have poured into the Big Apple, and over 45,000 of them are currently living in shelters and hotels paid for with tax dollars.
FORMER EMPLOYEE REVEALS SHOCKING CONDITIONS IN NYC MIGRANT HOTEL: 'FREE FOR ALL' 
Adams said this is not sustainable.
"We cannot continue to sustain this with the inflow that we're receiving," he said. "I don't want anyone to believe that this is sustainable because it is not."
But the proposed plan, Adams claims, will help and is cheaper.
NYC MAYOR ERIC ADAMS ACCUSES TEXAS GOV. GREG ABBOTT OF TARGETING 'BLACK-RUN CITIES' WITH MIGRANT BUSES
The immediate needs the city needs to address are getting work permits, a decompression strategy and "real" immigration reform, according to Adams.
The city, he said, will look for a way to get around rules that bar the city from housing homeless people in homes. He added that his team is pushing for a deal with state legislators to bring basement apartments typically deemed illegal, up to code.
"First of all, it's cheaper and it's an investment for us to go to a family and assist them instead of placing people in large congregate settings or all these emergency hotels," he said.
CLICK HERE TO GET THE FOX NEWS APP
The New York Post reported that the city's Office of Management and Budget pays about $380 a night for a household to eat, sleep and get services at hotels turned into shelters. Under Adam's new plan, houses of worship would be significantly cheaper at about $125 per night.