DES MOINES, Iowa – Addressing a crowd of roughly 1,000 Republican activists in the state that leads off the GOP presidential nominating calendar, former Vice President Mike Pence this past weekend teased a major announcement.
"Come this Wednesday, I'm announcing in Iowa, Pence said to cheers and applause as he spoke at Sen. Joni Ernst's Roast and Ride, her annual motorcycle ride and barbeque that benefits veterans.
This year Ernst's gathering attracted all the declared Republican presidential candidates except former President Trump. Pence's running mate in the 2016 and 2020 presidential elections is the commanding front-runner in the GOP nomination polls as he makes his third straight White House run.
The former vice president, who joined Ernst on her motorcycle ride, was the only one of the 2024 speakers at the senator's event who's yet to launch a White House campaign, but that will change on Wednesday when Pence is expected to declare his candidacy at an event just outside of Des Moines, Iowa's capital city.
WHY PENCE, HALEY, AND DESANTIS ARE TAKING AIM AT TRUMP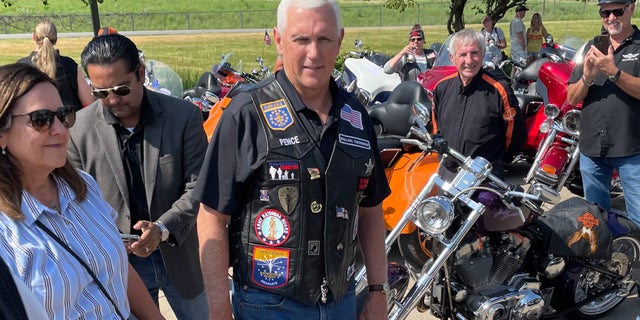 Pence will enter the 2024 race polling the mid-single digits, far behind Trump and also significantly trailing Florida Gov. Ron DeSantis, who trails Trump by double-digits but is firmly in second place, ahead of the former vice president and the rest of the field of actual and likely candidates.
"Should we enter the race later this week I'm very confident that we'll have the support to be able to carry our message, tell our story, which is not just my years as vice president but also years as governor of a conservative state leading a conservative agenda, record employment, as also being a conservative leader in the Congress of the United States, fighting against the big spenders in my own party," Pence emphasized in a Fox News interview this past weekend.
PENCE EXPECTED TO LAUNCH 2024 PRESIDENTIAL CAMPAIGN ON WEDNESDAY
He pledged that "we'll have the resources to tell our story and my hope is, should we enter the race, that by the time people are making decision, we won't just be well known, we'll be known well. They'll know who the Pences are. They'll know what our values are, our sense of calling, and I'm confident we can do that."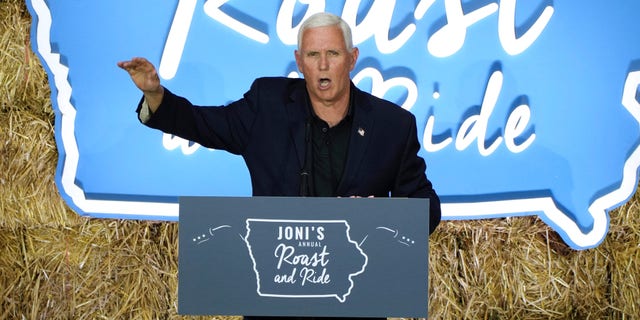 Pence was Indiana governor when Trump named him his running mate in 2016. For four years, Pence served as the loyal vice president to Trump.
However, everything changed on Jan. 6, 2021, as right-wing extremists — including some chanting "hang Mike Pence" — stormed the U.S. Capitol aiming to upend congressional certification of President Biden's Electoral College victory that was overseen by Pence.
In the more than two years since the end of the Trump administration, the former president and vice president have further drifted apart. Pence has rebuked his former boss, calling him out by name while discussing Trump's claim that Pence could have overturned the results of the 2020 presidential election.
DOES THE EXPANDING GOP PRESIDENTIAL FIELD HELP OR HURT TRUMP?
Pence has described the deadly attack on the Capitol as "tragic" and that "it dishonored the millions of people who had supported our cause around the country." He has emphasized that he did "the right thing" and performed his "duty under the Constitution." He has also noted a number of times that he and Trump may never "see eye to eye on that day."
Hardcore Trump loyalists will likely never forgive Pence, whom they view as a traitor for refusing to reject the 2020 election results.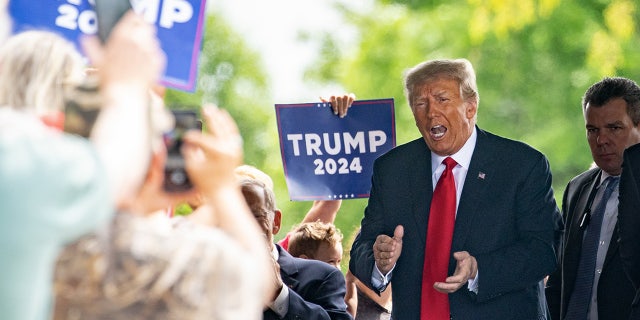 When asked in recent months about Trump's third White House run, Pence has reiterated that "I think that we'll have better choices in 2024."
Pence will become the first running mate in eight decades to run against his former boss, since Vice President John Nance Garner unsuccessfully challenged President Franklin Roosevelt in the 1940 election.
Pence, in his stump speeches, touts the Trump-Pence administration's policy successes but contrasts himself with the controversial former president in terms of tone and tenor.
"People around the country want us to see us restore a threshold of civility in our political debate," Pence emphasized. "You can disagree without being disagreeable. People that know me know I take very strong stands. I'm conservative, but I'm not in a bad mood about it."
He stressed that "should we enter the fray in this campaign in the days ahead, we're going to bring those principles, but we're going to bring a commitment to civility that I think the American long to see."
Pence is not the only veteran of the Trump White House who's challenging the former president. Former South Carolina Gov. Nikki Haley, who served as ambassador to the United Nations during the Trump administration's first two years, declared her candidacy in February. However, Pence likely faces the trickiest path forward, due in part to his role in the attack on the U.S. Capitol.
"There are some unique challenges to being Mike Pence having to do with Jan. 6, having to do with the fact that he's running against his old boss. If you want another Trump-Pence administration, you've got another choice, and it's not Mike Pence," longtime Republican consultant Dave Kochel told Fox News.
Pundits had long viewed Pence as a likely 2024 contender, as he spent the past two years crisscrossing the country to campaign and help raise money for Republicans running in the 2022 elections. Those travels took Pence multiple times to Iowa, New Hampshire, South Carolina and Nevada — the first four states to vote in the Republican presidential nominating calendar — as he strengthened relationships in the early voting presidential primary and caucus states that usually precede the launch of a White House campaign.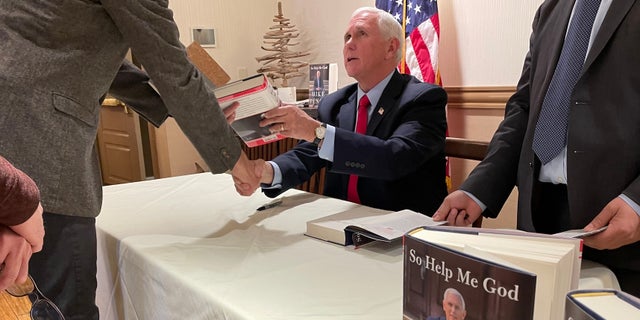 The former vice president also spent a couple of months late last year and early this year making stops nationwide as part of a book tour for his memoir "So Help Me God." The autobiography gives an account of his career, including his four years serving under Trump. And behind the scenes he was busy adding to his core team of long-standing advisers and building a team in the key early voting states. And in recent days a pro-Pence super PAC launched.
Pence, who has long been a champion for social conservatives, has been placing much of emphasis on Iowa, where evangelical voters play an outsized role in Republican presidential politics.
He reiterated to Fox News that he has long stood "without apology for the sanctity of life and traditional values."
Pence has made roughly a dozen trips to Iowa the past two years, and his advisers see a path to the nomination that relies on a strong finish in the first caucus state. So, it's no surprise that the former vice president will launch his campaign in Iowa, and his advisers say he's prepared to visit all 99 of the state's counties.
CLICK HERE TO GET THE FOX NEWS APP 
"He's got a very familiar message to most Iowa Republicans. It's a message that would sell pretty well," Kochel, a veteran of numerous GOP presidential campaigns in Iowa and nationally, said "On paper he fits very well with the kind of candidate who has won Iowa in the past."
However, Kochel, pointing to the potential hurdles ahead for Pence, added "it's not the past. It's a different time now."