FIRST ON FOX: Former Ambassador to the United Nations Nikki Haley is gaining attention from high-profile donors across Texas as she doubles down on fundraising in the state for her 2024 presidential campaign.
Amid her efforts to win the GOP nomination, Fox News Digital obtained multiple fundraiser invitations that reveal the who's who on Haley's long list of supporters and donors. The former South Carolina governor will participate in a three-day, three-city fundraising tour across the Lone Star State from June 6 through 8.
Each fundraising stop seeks to collect $13,200 per couple for "platinum sponsors" or $6,600 per individual for "gold sponsors," the maximum allowable amount that can go towards the primary and general elections. Couples or individuals who give $1,000 will carry the title of a "supporter," while $500 from individual donors will have the "guest" title.
NIKKI HALEY WARNS US 'COULD END UP WITH A PRESIDENT HARRIS' IF BIDEN RE-ELECTED AFTER LATEST TRIP AND FALL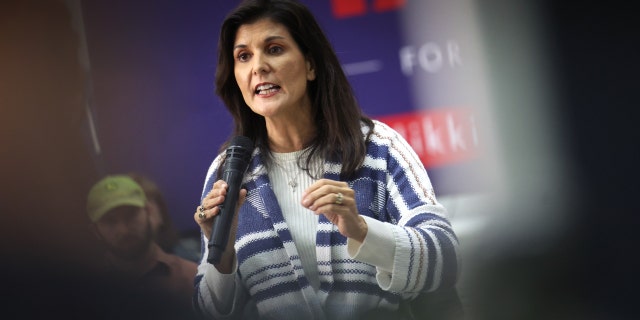 Haley's Dallas fundraising host committee consists of more than five dozen individuals, including Sarah and Ross Perot Jr. and real estate developer Harlan Crow, who has garnered attention after reports surfaced on unreported gifts he has provided to Justice Clarence Thomas, though Thomas' defenders have maintained the justice has complied with the court's reporting guidelines and that they have been friends for decades.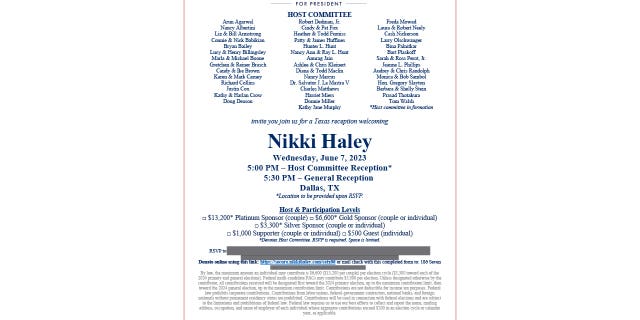 Many high-profile women also appear to be supporting Haley's 2024 presidential aspirations as she remains the only female to enter the GOP presidential field thus far, according to the reception invites.
PENCE, HALEY AND DESANTIS SLAM TRUMP FOR CONGRADULATING NORTH KOREA'S KIM JUNG UN
Haley's Texas women backers include former George W. Bush White House Counsel Harriet Miers, Perry Homes chairman Kathy Britton, real estate mogul Beth Robertson, philanthropist Nancy Kinder, attorney Cynthia Picket-Stevenson, businesswoman and former diplomat Jeanne Phillips, developer Lucy Crow Billingsley and attorney Jane Macon, among others.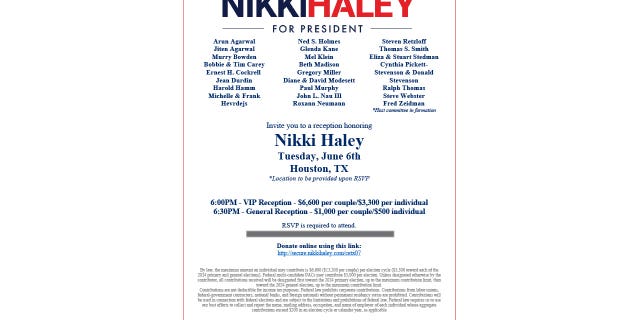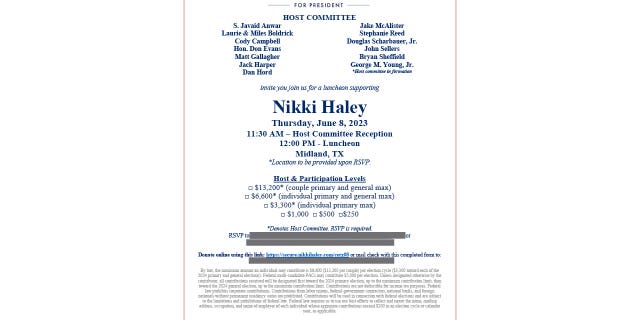 By the end of this fundraising trip, Haley will have held one fundraiser in Austin and Midland, two in Fort Worth and San Antonio, four in Dallas and five in Houston by the end of the swing. Texas is one of the top donor states to Haley's campaign.
Haley visited the U.S.-Mexico border in Eagle Pass, Texas, back in April, when she criticized the Biden administration's border policies. 
"This is a crisis for every American family," she said. "When they leave Del Rio or Eagle Pass, they're not staying here. They're coming to your states; they're going to your schools and your hospitals. They are now taking up your taxpayer dollars."
"We are a country of laws. The second we stop being a country of laws, we give up everything we believe in," she added.
CLICK HERE TO GET THE FOX NEWS APP
According to recent polls, former President Trump maintains a commanding lead among the Republican field with 53% support, while Florida Gov. Ron DeSantis sits at 20%.
The next tier includes Mike Pence at 5%, Nikki Haley and Vivek Ramaswamy at 4%, and Liz Cheney and Tim Scott at 2%. However, a couple recent primary polls show her in a distant third place behind Trump and DeSantis.