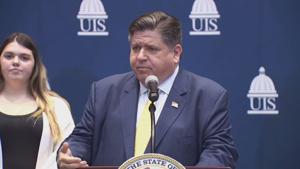 (The Center Square) – Crime in Chicago has continued to increase over the past several years, leading to calls for a reversal of recent criminal justice policies.
Over the Memorial Day weekend, 11 people were killed after more than 50 were shot across the city. Chicago Police statistics show 73 shootings over the last seven days, an increase of 36 compared to the previous year.
Asked about the violence in Chicago, Gov. J.B. Pritzker said the state needs to support its officers and address the causes of crime.
"Public safety is a huge, high priority, and we want to make sure that we're supporting that in every way we can," Pritzker said at an unrelated event in Springfield Wednesday. "One of the ways we are doing that is by addressing the root causes of crime."
Pritzker said helping underfunded communities could help address the violence they experience.
"When there is more poverty in a community, there is more likely to be criminal activity that arises in that community," Pritzker said. "The more we can lift people up, and we are doing that in a number of ways, one of which is providing more education funding, early childhood education and alleviating some of the burdens on young families."
City activists have called for change. Tio Hardiman of the group Violence Interrupters said police need more authority.
"Some of the policies that law enforcement needs to change like you can not chase somebody in the car, you can not chase somebody on foot. Those policies need to be reversed," Hardiman said.
If the state wants to slow crime in the city, they must look at the crime as a public health emergency, Hardiman said.
"If we don't address this epidemic of gun violence as a public health emergency or public health issue, we may miss the opportunity to really change the landscape overall," Hardiman said.
Two weeks ago, Cook County Sheriff Tom Dart told The Chicago Sun-Times state legislators need to repeal a law allowing criminal defendants on home confinement two furlough days for personal business, noting 129 rearrests.