Belk has scrubbed virtually all of its kids' LGBTQ pride apparel from its website after FOX Business inquired about a transgender pride T-shirt being sold for children as young as 2.
Until Tuesday, Belk's website was selling a boys' T-shirt that displayed the words, "So happy to be me," and featured a blue, pink and white happy face — the colors of the transgender pride flag.
The shirt was removed from Belk's website just hours after FOX Business reached out asking if it was aware of the merchandise.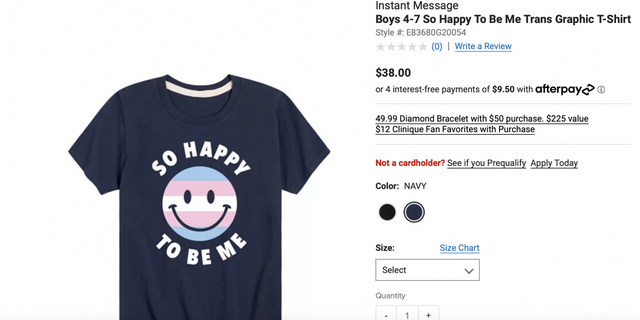 BELK SELLING TRANSGENDER PRIDE SHIRTS FOR TODDLERS: 'SO HAPPY TO BE ME'
"Show support with this kids Pride graphic t-shirt. Our toddler and youth t-shirt is soft and durable for everyday wear," Belk's description for the shirt stated. 
While the description of the shirt said it was meant for boys ages 4 to 7, it was available in sizes as small as 2T (toddler).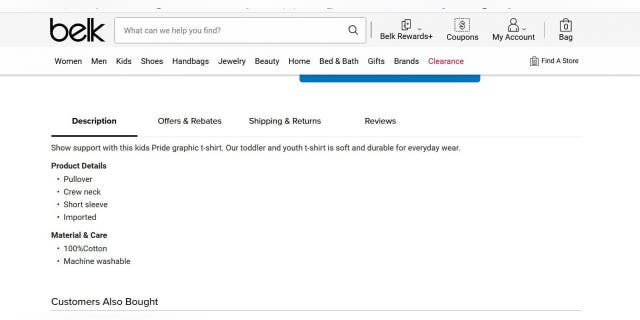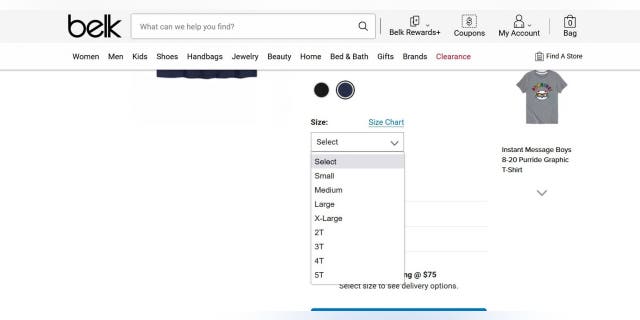 Another pro-LGBTQ shirt for boys that was on Belk's website didn't have any words but featured various ice cream confections bearing the colors of the lesbian flag, transgender flag, gay pride flag, bisexual flag and a milkshake with the letter Q for "Queer."
Both shirts on Belk's website, which were being sold via online retailer Instant Message, have been removed from the website following Fox's inquiry.
Instant Message did not respond to Fox News Digital's request for comment.
Belk also previously boasted a "Pride" section on its website that featured several dozen LGBTQ-themed shirts and products, some geared toward boys and girls as young as 4.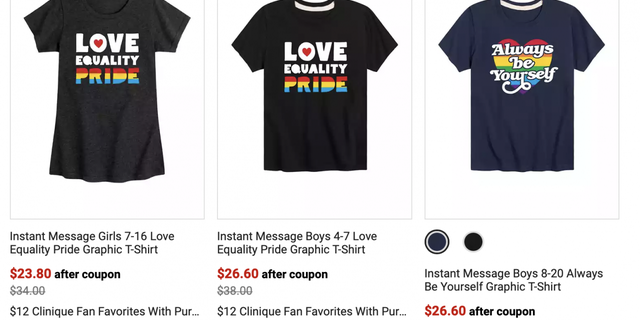 After FOX Business reported the story Tuesday, those items quickly started to disappear from the website, with an error page saying Belk "no longer carries" the item. 
As of Thursday morning, only 21 pieces of Pride "apparel" remain on the website, and only a few specify young ages.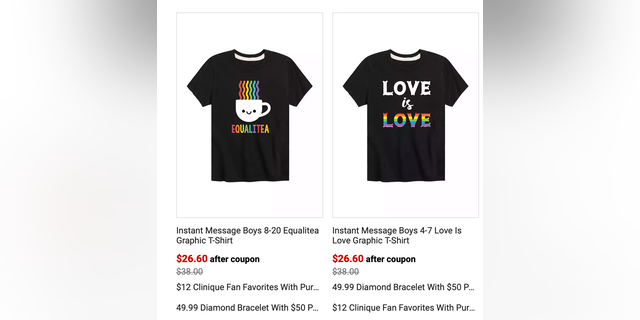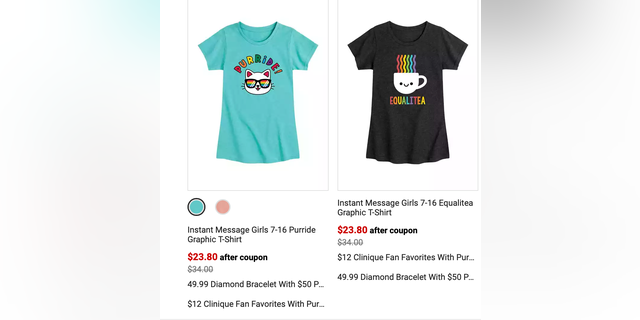 One Disney shirt with a rainbow that reads, "Think happy thoughts," is marketed toward boys ages 4 to 7, but the item currently says its "out of stock."
At least three girls' shirts that are not in the "Pride" section still appear to promote LGBTQ themes, including a shirt that says "Pride," one that says "Love Wins," and another that says "Love" in rainbow colors — all marketed toward girls ages 7 to 16.
Belk did not respond to Fox News Digital's repeated requests for comment.
CLICK HERE TO GET THE FOX NEWS APP