Former President Donald Trump's campaign falsely claimed Tuesday that Florida Gov. Ron DeSantis, a former member of the House, "voted for" Trump-nominated Christopher Wray to become the next FBI director in 2017.
"DeSanctimonious is now making a show of promising to fire FBI Director Christopher Wray, but DeSantis voted FOR Wray's confirmation in 2017, praising him as 'talented, capable & highly respected,'" the campaign wrote in a tweet, less than a week after DeSantis vowed to replace Wray if he's elected president.
The remarks quoted a 2017 tweet from DeSantis that read: "Christopher Wray is talented, capable & highly respected. POTUS has made an inspired choice & I look forward to working with Director Wray." DeSantis' remarks at the time came in response to a tweet from Trump, who announced that he would be nominating Wray to lead the FBI. In the 2017 announcement, Trump described Wray as "a man of impeccable credentials."
DESANTIS PLEDGES TO FIRE CHRIS WRAY, SAYS FBI, DOJ HAVE 'LOST THEIR WAY'
DeSantis – who announced a challenge to Trump last week for the Republican nomination for president next year – served in the House from 2013 to 2018. But he did not vote in favor of Wray's confirmation because that's a role fulfilled by Senate members, as outlined in the U.S. Constitution.
"The United States Constitution provides that the president 'shall nominate, and by and with the Advice and Consent of the Senate, shall appoint Ambassadors, other public Ministers and Consuls, Judges of the Supreme Court, and all other Officers of the United States, whose Appointments are not herein otherwise provided for,'" the Senate website states.
Last week, during an interview with Fox News' Trey Gowdy on "Fox News Tonight," DeSantis vowed to dismiss Wray, saying the bureau and the Justice Department have "lost their way" and allowed themselves to be "weaponized" against Americans.
"No, I would not keep Chris Wray as director of the FBI. There'll be a new one on day one," he said.
DESANTIS SAYS HE'LL 'COUNTERPUNCH' AGAINST TRUMP BUT AIMS TO KEEP FOCUS ON POLICY RATHER THAN PERSONAL ATTACKS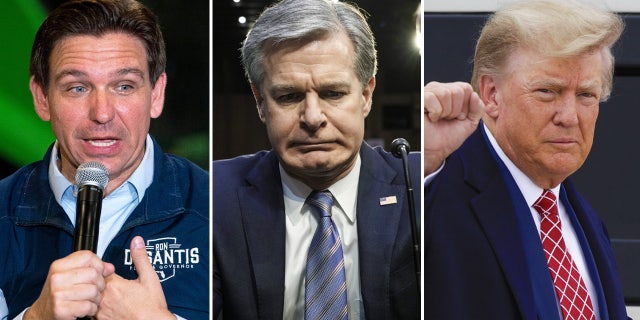 Speaking to Fox News' Sean Hannity in March, Trump said he chose Wray for the role in 2017 because he "wanted to have somebody in there that everybody, including the other side, really wanted."
"It may not have been the right move. Let's see. Time will tell, OK? … I may have made a mistake. But I put somebody in that the other side, everybody agreed to. You know who recommended him to me? Chris Christie. He recommended him. And that's okay, I don't mind that. I've taken Chris Christie's recommendations before."
Several Trump campaign critics were quick to point out the inaccuracy in the tweet, including Ken Cuccinelli, who served as the acting deputy secretary of the Department of Homeland Security under Trump from 2019 to 2021.
"How did the incompetent #Trump team screw up something so basic as which body confirms Presidential nominations," Cuccinelli asked in a tweet. "And if you think nominating #Wray to appease Dems was bad, how about gun grabbing to appease Dems? How about caving on omnibus and giving up Wall funding?"
Christina Pushaw, the rapid response director for DeSantis' 2024 campaign, also pointed out the false claim in a tweet.
"1. The House does not vote to confirm presidential appointments. You're thinking of the Senate, which @RonDeSantis did not serve in," Pushaw wrote. "2. On March 27, 2023 (not a typo, that's 2 months ago) Trump defended his choice of FBI director, saying he chose Wray to appease Democrats."
The Trump campaign's Twitter account was slammed last week after they resurfaced DeSantis' tweet, cropping out that he was quote tweeting Trump's tweet praising Wray.
Wray, who previously served as then-New Jersey Gov. Chris Christie's attorney during his George Washington BridgeGate scandal, has been widely criticized as the bureau continues being accused of politicking.
Most recently, three FBI employees testified before Congress they were retaliated against for questioning the January 6 narrative, while the bureau has also taken criticism over its purported threat-tagging of school board meeting attendees, and raids on individuals like pro-life activists and longtime Republican consultant Roger Stone.
DeSantis said he would nominate an attorney general with a "strong backbone" who must be able to do his job in the face of attacks by left-wing media like the Washington Post and New York Times.
"You're going to get attacked by CNN. And you've got to wear that as a badge of honor. You can't try to please polite society because otherwise you'll just get captured by the institution itself," he added.
"And I think the DOJ and FBI have lost their way. I think that they've been weaponized against Americans who think like me and you. And I think that they become very partisan."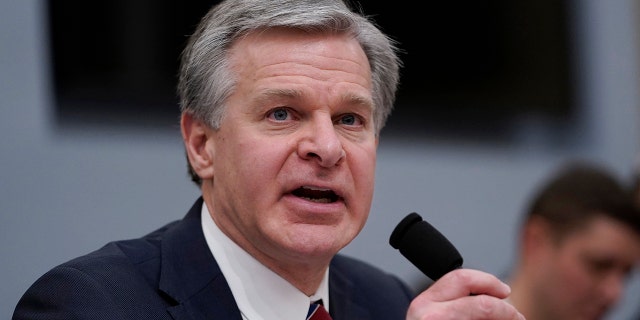 DeSantis suggested the FBI and other agencies have been able to become partisan is because Republican presidents still subscribe to the idea they are "independent" when in fact they are executive branch agencies.
"They answer to the elected president of the United States. So as president, you have a responsibility to be involved in holding those agencies accountable, clearing out people who are not doing the job, and making sure that they're doing the people's business, and they're not abusing their authority," he said.
The presidential campaigns for both DeSantis and Trump did not immediately respond to a Fox News Digital request for comment.